Winning is easy with the Wintastic Rewards game from RaceTrac! One of three wins when scanning the App when you pay for your participating favorite products, it's very easy!
This is a sponsored blog post in collaboration with RaceTrac. #WintasticRewards
Have you already played with RaceTrac's Wintastic Rewards promotion?
It's very easy to win, plus just by downloading the RaceTrac App you win! I won a hot dog and a soda, apart in my first purchase of participating products, I won several coupons with which I saved myself a good money in food.
To participate you only have to download the updated RaceTrac App, buy participating products, scan when paying and check if you won!
Most of the time we get to put gas in the car in RaceTrac, we take the opportunity to buy some snacks, whether it's a snow, a soda or some food like pizza, burritos, empanadas. Etc.
Just as when we travel by road and now more since we downloaded the RaceTrac app and we have won coupons for our favorite snacks and they always have news, here i tell you some of the season.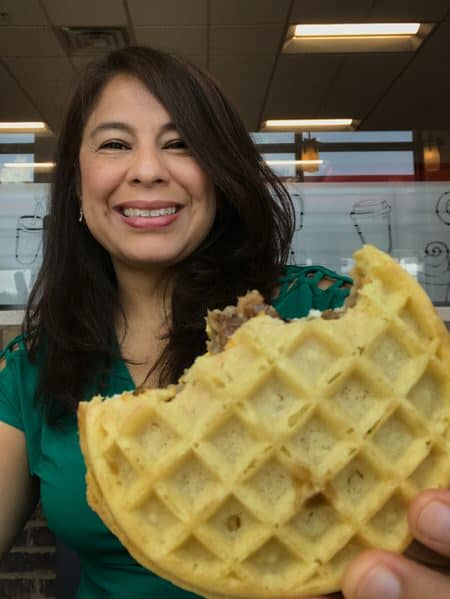 Kellogg's Eggo Waffles
My kids love Kellogg's Eggo Waffles and this August they can find breakfast sandwiches made with Kellogg's Eggo Waffles at RaceTrac! These sandwiches are doraditos, warm and crispy, I already tried them; include honey, sausage, egg and cheese. They will be available until November 7.
Breakfast sandwiches
On some road trips, we've come for breakfast sandwiches or breakfast takeaway sandwiches, which are made right there with high quality ingredients and there are a good variety of flavors.
Newer sandwich combinations include ham, egg, cheese croissant or sausage, egg and cheese biscuit; among others, these sandwiches are made early in the morning and are available in a warm takeaway box.
Sandwiches RaceTrac
There are also RaceTrac sandwiches of flavors such as Turkey & Swiss with Tomato, Italian Sub, Club Stacker and Chipotle Kickin' Chicken Wrap, which are made daily and shipped fresh to stores every day, are available all day.
Nashville Hot Chicken Taquito
Did you know RaceTrac recently arrived in Nashville? For a limited time, you'll find the Nashville Hot Chicken Taquito in the Southern convenience stores, as spicy chicken or hot chicken is Nashville's most iconic food: simple concept, but with a complex flavor.
Hot chicken is a typical Nashville fried chicken, topped in a sauce that has cayenne pepper and this makes it picosito. Then it's wrapped in a fried omelette. Don't forget a water or soda so you don't get in any enced! RaceTrac's unique and exclusive offer until November 7.
Nathan's Famous 100 percent Premium All Beef Hot Dog
My kids go from time to time to buy hot dogs and snow swirl dogs with their friends because the RaceTrac store is very close to the park and gets excited every time they win!
Nathan's Famous 100 percent Premium All Beef Hot Dog, is the best-selling, it's very rich for any time of day
Participating with RaceTrac Wintastic Rewards is very easy:
1. Download the updated RaceTrac app.
2. Buy selected products.
3. Scan the app when you pay.
4. Check if you won!
Prizes are digital coupons in your app to get free pizza, hotdogs, snow, coffee, sodas, sandwiches, etc; also BOGO coupons, i.e. buy one and the second is free that you can use in your next purchase.
Download the RaceTrac app and participate!
The Wintastic Rewards promotion ends on September 4, 2018.
"RaceTrac partnered with influencers such as me for its Wintastic Rewards campaign. As part of this Program, I received compensation for my time. RaceTrac believes that consumers and influencers are free to form their own opinions and share them in their own words. Ensure policies align with WOMMA Ethics Code, Federal Trade Commission (FTC) guidelines and social media engagement recommendations."