Keep Mexican traditions alive with a Day of the Dead Altar at home. Teach your kids how we remember our loved ones on this day.
Whether it's with an Altar, praying for them, a sugar skull, Catrina's makeup, attending Latin museums or simply remembering those who have already pass away, let's celebrate our deceased.
Now that I am far from my country, I feel nostalgia; my granny passed away earlier this year, my dad eleven years ago. I don't go to the pantheon so often, because we are so far away; I have other relatives who have already gone on to better life, but they're all in cemeteries of
Monterrey.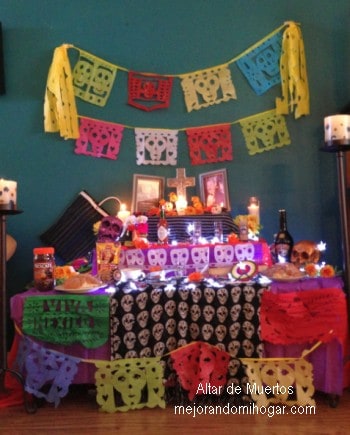 IThat's why I made an Altar to honor them and also for my children to remember their great-grandmother and grandfather. I also wanted that they learn about this Mexican tradition, I explained that it is an offering for them, that they will come to visit us and now they are asking what time they will arrive.
I made the altar using a table, boxes and dry ice that came in a package. As you may know I like to recycle and spend as little as possible. I bought some marigold flowers but I also made others with paper.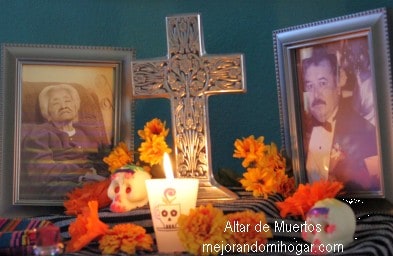 I made papel picado with tissue paper and yellow tape, because I had no cord; I liked it because it was yellow and because it is easier to stick the papel picado.
I searched my house for Mexican items, which I know my grandma and dad used. I added lights, instead od candles, because here the candles are very dangerous. Not only because the children, but also because the house is made out of wood.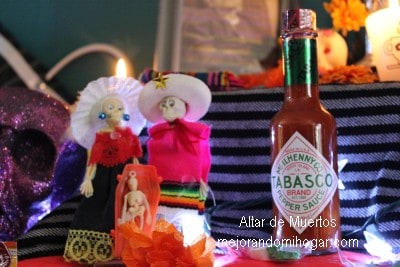 To hang the papel picado I used some crochets that are used to hold the Christmas lights, they stick tightly to the wall and leave no residue when removing them.
Elements that can not be missing in the Altar of the Dead
A Glass of Water
Flowers of Cempaxúchitl
Food or Drink favorites of the deceased
Veladoras,
A Cross
Sugar Skulls
Papel picado
Paper or decorations of yellow and purple color.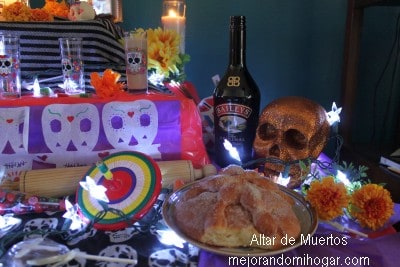 What would you give as an offering to your deceased?
In my case my offering is very peculiar, because in addition to the traditional Pan de Muerto of these dates, I am offering them spicy sauces, that they loved, so they can see a bottle of spicy sauce, either in the food or in the snacks we can not miss.
My Dad favorite's drinks were beer, tequila and coffee. My Grandma loved café de la olla, my ad for instant coffee, she liked Nescafe, so I also add it in the Altar.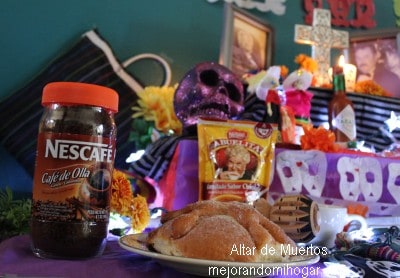 Another drink was hot chocolate specially in cold weather. My Grandma used to prepare it for all the grandchildren, as well as champurrado and mole.
You still have a chance to make your Altar. I have seen some small Altars made with a shoebox, or you can make one in a corner of your house. You don't have to spend too much. The important thing is to remember and honor our loved ones and keep our traditions alive.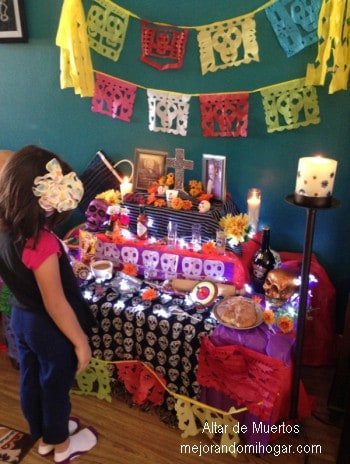 You can also invite your friends to pray a rosario for your deceased. After that you can offer them pan de muerto and hot chocolate. The rosario night may turn into a big party, just like Mexicans like it. Then you can sing those songs that hit the heart and that remind so much of our country and our muertitos.
Anyway, Death is very sad, but as one aunt says: "You have to turn the page" o Hay que darle vuelta a la hoja.
So, not because people don't see us sad or crying in every corner, it means it doesn't hurt. The pain is inside.
Other people can see us partying, even when our heart is aching remembering our loved ones.
As people in Mexico says: "The dead to the grave and the living to the party" El muerto al pozo y el vivo al gozo.