Famous Mexicans, the blessing, the digital offering and the emotions they wanted to provoke with the film are some of the secrets of COCO revealed to us by the creators of the film.
Disney invited me with all the expenses paid for the press trip in Los Angeles.
This artcile is also in Spanish: Secretos de Disney COCO y datos curiosos
If you haven't seen the movie, I invite you to read all about COCO without spoilers or tell you more about this link, but without not seeing it yet, what I tell you could reveal some scenes and secrets.
It was very exciting to talk again, but now after the premiere of COCO with director Lee Unkrich, CO-director and writer Adrian Molina and producer Darla k Anderson. The creators revealed COCO's secrets: Emotions, celebrity appearances, blessing, offering, and more.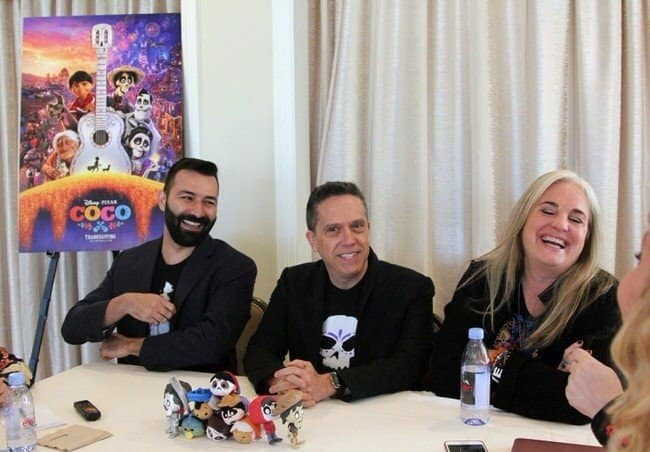 COCO Secrets revealed
Personal emotions with COCO
They probably told you, if you're going to see COCO, get ready because you're going to cry. On this the Director of COCO told us, that he wanted to make us feel something, some emotion that stays with us after seeing it. "It's very satisfying if we can make the audience feel personal," Lee Unkrich said.
COCO, took six years to produce. From the beginning the creators were very clear that Miguel would sing to Mama COCO to get her out of her dementia. It was until years later that they refined the story and changed it to that moment, they had to trust what they felt at first when they thought of that scene.
"To achieve those feelings, you have to make the journey with our character, meet him, laugh with them, follow his adventure to relate to them. We have to win all that excitement, so the result comes from a multitude of emotions in the movie.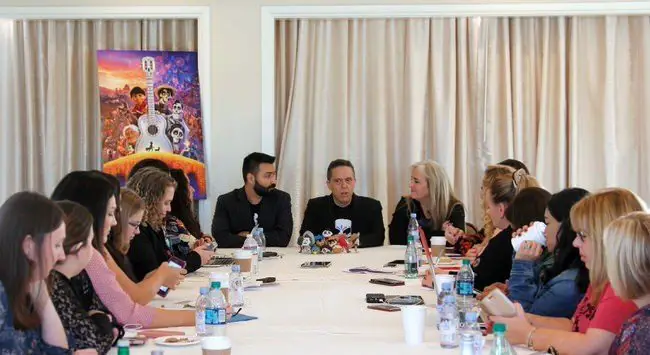 Celebrities Cameos in COCO
There are two cameos of living people in COCO: Michael Giacchino and Camilo Lara, (Mexican Institute of Sound), music consultant at COCO, who plays the DJ at the party.
Also Director Lee Unkrich had a cameo, told us that he always likes to appear, not physically, as in this case, only with his voice at the end of the concert of Ernesto de la Cruz is the character that arrives with two sides and says "I missed something?"
For his part the Writer and Co-Director Adrian de Molina gives the voice to the guard of the pantheon, the one who enters the mausoleum of Ernesto de la Cruz, when Miguel takes the guitar and says: "The guitar, is not".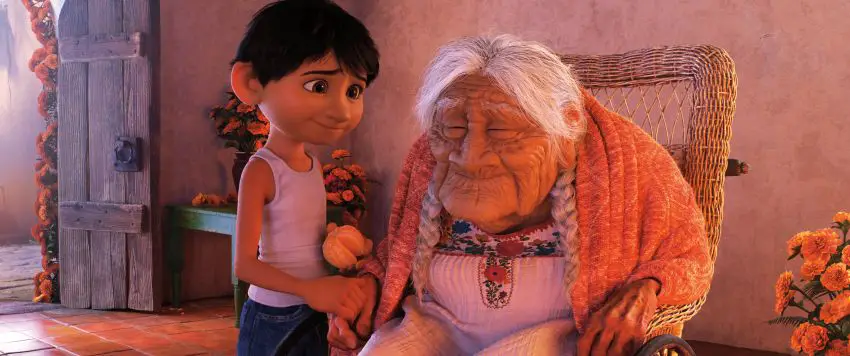 Cameos or Celebrity appearances in coco
The land of COCO's dead is full of cameos or special appearances by Mexican celebrities, who, as Lee Unkrich commented, "some will only be recognized by the people who grew up in Mexico." Coco Director Lee Unkrich told us.
Some Latin celebrities depicted in COCO are Pedro Infante, Jorge Negrete, Cantinflas, Maria Felix, El Santo, Juan Carlos Esquivel, the boy who plays the glass harmonica before the talent show, and of course, Diego Rivera and Frida Khalo.
Co-Director and Writer Adrian Molina told us that many of the cameos were inspired by the fact that they only had one chance to show those characters, Mexican icons who throughout history used their art to change the world. In COCO are the role models for Miguel, who wants to use music to connect, but has no role models, they let these characters be their models to inspire and push him.
COCO is an all-time movie.
They told us that with COCO they wanted to make it a film in no time, that it doesn't matter when you see it, but you see stretches there, even if you don't know them, you know they were famous at some time.
When you see Hector, he's got some Cantinflas, he wears a vest and his pants to his hip, "we wanted these characters to exist in the movie, it feels like we're back to the era of Mexican cinema.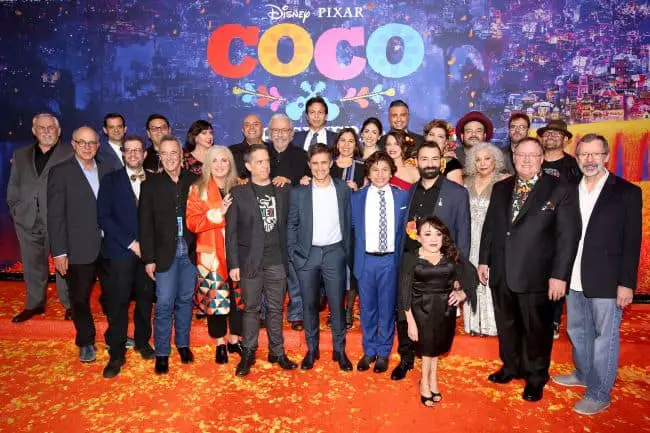 Latin protagonists with one exception
All of COCO's protagonists are Latinos, with the exception of John Ratzenberger, "we weren't going to break the enchanted song," COCO Director Darla K Anderson said between smiles. It is a tradition for John Ratzenberger to appear in every Pixar film, this time he has a small appearance, like John Orthodontics.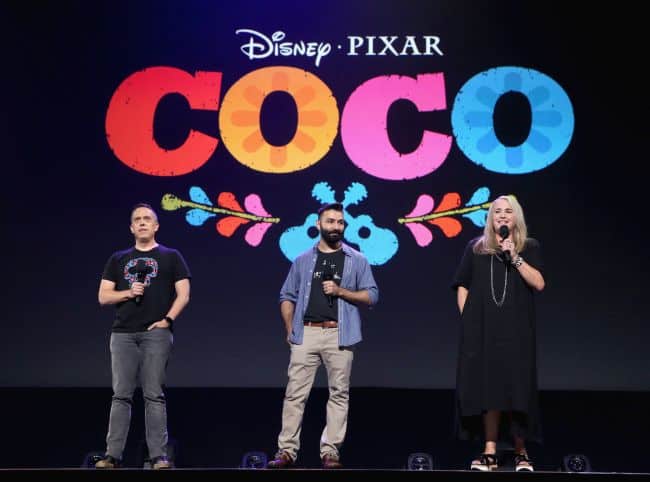 About COCO Premier in Mexico
The creators told us that it was very important to them, that COCO premiered in Mexico, because as part of their research, they met families, made friends and collaborated with artists from all over Mexico. They wanted to pay homage to the beauty of this tradition and the place where it comes from, they were very excited to premiere the film at the Palacio de Bellas Artes in Mexico.
Die several times.
Director Lee Unkrich told us that one of the things he learned while doing COCO was the belief that we can all die, several times. The belief is that we first die when our hearts stop beating. Then we die when we are buried and no one can see us again.
But then there's this idea of the third and final death: when there is no longer anyone among the living who remembers you and can tell your stories. That's the final death. "When we heard that, it became very clear to us that it had to be an important part of the story we were telling," he told us.
The biggest challenge of COCO.
It was a great challenge to get to invite people who are not familiar with the tradition and at the same time try not to slow the story for people who already know it. And that it didn't feel like a school lesson. So finally the tradition is passed through the family, Granny for that tradition to Miguel, at the same time to the audience in a very natural way, giving people to understand because it is important to culture and family.
Blessing.
One of the rules of the world of the dead in COCO is the blessing, and Adrian Molina, Writer, and Co-Director of COCO told us a personal story about this: "Blessing is the idea of sending you home" and that was the idea when I started writing, I began to suggest it in the room. Because first of all, we always knew what Miguel wanted (he's a musician and he loves his family, and all he wants is to be accepted and given his approval).
So we decided, why don't we make a manifesto? Why don't we make Miguel literally need his family's blessing to go home and do things correctly?
The blessing was inspired by Adrian Molina's own blessing from his parents as he left his home to study only for the first time. "It's a very powerful moment and I don't know if anyone has experienced it, but it's something that came from my family's life that I thought if we can know how it feels, it has the power to be very meaningful," he said.
With Mama Imelda, her blessing changes in the course of the film. She is conditional and then becomes unconditional and that transition says a lot when she's fully motivated to protect her family, but she also needs to analyze what that really means.
Check out this Disney COCO Video
The Digital Ofrenda in COCO Credits
They learned so much about the Day of the Dead, they have incorporated it into their lives. For the second year, they made a big offering at Pixar, inviting members of the company to bring pictures of their loved ones.
So they thought about thanking all the people who have supported them over time and asked them to bring a picture of someone they've lost and it was very important to them.
Among the photos of the digital offering at the end of the film's credits are Lee Unkrich's granny, Darla K Anderson's mom, Adrian Molina's grandparents, different animators, Walt Disney, Steve Jobs, Don Rickles, among many other loved ones.
how they would like to be remembered.
Co-Director and Writer Adrian Molina: "I would probably like to be remembered as someone who tried to use his art to improve the world.
Director Lee Unkrich. "I would add to that what I always say to my children: All I want is for them to be kind, good people. That's always the most important thing to me. So I'd like to be remembered as someone who was fair and kind."
Producer Darla K Anderson: "I would say the above and I think especially as a woman who had the courage to learn to find my voice and be the example for others. I'm always aware of that in the world, if you're any kind of public figure, be an example to find your voice and talk out loud about important things."
Have you seen Disney COCO? Did you get to see the cameos?
Check out: