Disney me invitó con todos los gastos pagados al viaje de prensa.
Con ritmos y sonidos mexicanos, alegres y variados, así es como se creó la música de COCO, la película que está rompiendo records en Estados Unidos y México.
Pixar siempre trata de contar la mejor historia lo mejor que se pueda y en COCO querían que la música fuera crucial; y lo lograron, cada una de las canciones de COCO es espectacular. "COCO es una gran celebración de familia, música y alegría y tuvimos un gran equipo trabajando con nosotros". Nos dijo el Co-Director y Escritor Adrián Molina.
COCO cuenta la historia de Miguel, un niño de doce años que quiere ser músico, pero lo trata de hacer a escondidas, pues su familia no se lo permite, ellos tienen prohibido toda clase de música, todo esto, mandará a Miguel en una aventura para lograr sus sueños.
El proceso de la creación de la música
En el proceso de la música de COCO participaron talentosos artistas y compositores: Michael Giacchino compositor de la música de todas las películas de Pixar, Germaine Franco Compositora y Arreglista, el artista Camilo Lara, como asesor musical (Mexican Institute of Sound DJ).
Desde el principio tuvieron bien claro que querían que COCO "oliera a México" y para eso, los creadores de la música viajaron a este País y se reunieron con cincuenta músicos, "la creme de la creme" como nos dijo Camilo Lara. Estuvieron grabando melodías y sonidos, de diferentes estilos, lo que ellos quisieran tocar. Los creadores nos dijeron que fue interesante sentir las emociones de cada estilo de música.
Entre la fantástica selección de músicos que grabaron, hubo algunos que podían leer música, otros no. Grabaron todos los sonidos y eso sirvió para que los animadores recrearan los movimientos en la película, de tal forma que lo que vemos en el filme, es como realmente se escucha.
Por ejemplo en la escena del ático, en donde aparece Miguel tocando la guitarra frente al televisor, cada movimiento de sus dedos es como si estuviera tocando una guitarra de verdad.
Además de la música grabaron sonidos muy mexicanos, como el sonido del zapateado sobre la madera. "México tiene una gran variedad de sonidos y estilo de música", dijo Germaine Franco, el son jarocho, música de tríos, banda, marimba; no solo la música de mariachi que todos conocemos.
En COCO trataron de contar la historia con la música; incorporaron música clásica, tradicional, folclórica, dependiendo de los momentos de la película. "Tener acceso a todo este tipo de sonidos música fue muy bueno para los creadores de la música" dijo Michael Giacchino .
Por ejemplo, cuando Miguel y Héctor llegan a la parte de la tierra de los muertos, en donde están los casi olvidados, se escucha la música de banda, dando un toque de misterio pero a la vez alegre, de camaradería. Trabajaron con la Banda Tierra Mojada de Oaxaca, el grupo de Son jarocho Mono Blanco de Veracruz y Celso Duarte; algunos de estos músicos hacen sus propios instrumentos.
Remember Me / Recuérdame
La canción emblemática de COCO, fue compuesta por Kristen Anderson-Lopez y Robert Lopez, los mismos que hicieron la famosa canción de Frozen. En COCO podemos escuchar Remember me o Recuérdame en diferentes versiones, dependiendo del momento.
"Queríamos que COCO tuviera una canción que expresara el poder de esta estrella (Ernesto de la Cruz) de la época de oro del cine mexicano, en su mejor momento. Recuérdame, expresa el carácter de este personaje, da la idea de ser recordado y de tener a alguien que te recuerde", nos dijo Adrian Molina.
Germaine Franco Compositora y Arreglista, sobre Recuérdame, nos dijo que es una canción que todos cantarían, "queríamos una canción como las mañanitas, una canción que todos conocen".
Sobre Un Poco Loco nos contaron que trataron de obtener una canción dinámica. Miguel la canta en el talent show, al que va con Héctor y aunque están trabajando en equipo, se están volviendo un poco locos. La canción tiene toques jarochos; los jarochos, cuentan la historia en la canción, así como en los corridos.
La icónica guitarra de Ernesto de la Cruz
La famosa guitarra de Ernesto de la Cruz es blanca, está bellamente decorada como si fuera una calaverita de azúcar y hasta tiene un diente de oro! Sobre la guitarra icónica nos contaron que la fabricó German Vazquez Rubio, un experto fabricante de guitarras.
El Guitarrista Federico Ramos es quién toca muchas de las canciones de guitarra en COCO y estuvo tocando la famosa guitarra en la reunión que tuvimos con ellos y en la fiesta de la premier de COCO en Hollywood.
Adrian Molina, Co-Director y Escritor de COCO nos contó que él vive en una familia generacional, en donde sus abuelos traían música de todo tipo, la música le trae recuerdos y le da un lenguaje para conectar con su familia.
La Banda sonora o Soundtrack de COCO
Ya está disponible la banda sonora de COCO en inglés y en español. El soundtrack en inglés, incluye 38 temas, entre ellos "Remember me" de Kristen Anderson y Robert Lopez, canciones originales adicionales compuestas por Germaine Franco y el co-director y guionista Adrian Molina; y música original del compositor Michael Giacchino.
El soundtrack de COCO en la versión en Inglés incluye:
1 Remember Me (Ernesto de la Cruz). Benjamin Bratt
2 Much Needed Advice. Benjamin Bratt & Antonio Sol
3 Everyone Knows Juanita. Gael García Bernal
4 Un Poco Loco. Anthony Gonzalez & Gael García Bernal
5 Jálale (Instrumental). Mexican Institute of Sound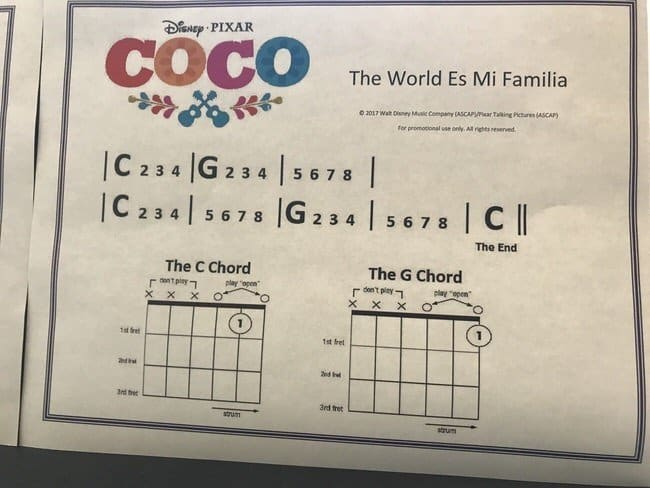 6 The World Es Mi Familia. Anthony Gonzalez & Antonio Sol
7 Remember Me (Lullaby). Gael García Bernal, Gabriella Flores & Libertad García Fonzi
8 La Llorona. Alanna Ubach & Antonio Sol
9 Remember Me (Reunion). Anthony Gonzalez & Ana Ofelia Murguía
10 Proud Corazón. Anthony Gonzalez
11 Remember Me (Dúo) [feat. Natalia Lafourcade] Miguel
12 Will He Shoemaker?. Michael Giacchino
13 Shrine and Dash. Michael Giacchino
14 Miguel's Got an Axe to Find. Michael Giacchino
15 The Strum of Destiny. Michael Giacchino
16 It's All Relative. Michael Giacchino
17 Crossing the Marigold Bridge. Michael Giacchino
18 Dept. Of Family Reunions. Michael Giacchino
19 The Skeleton Key to Escape. Michael Giacchino
20 The Newbie Skeleton Walk. Michael Giacchino
21 Adiós Chicharrón. Michael Giacchino
22 Plaza de la Cruz. Michael Giacchino
23 Family Doubtings. Michael Giacchino
24 Taking Sides. Michael Giacchino
25 Fiesta Espectacular. Michael Giacchino
26 Fiesta con de la Cruz. Michael Giacchino
27 I Have a Great-Great-Grandson. Michael Giacchino
28 A Blessing and a Fessing. Michael Giacchino
29 Cave Dwelling on the Past. Michael Giacchino
30 Somos Familia. Michael Giacchino
31 Reunión Familiar de Rivera. Michael Giacchino
32 A Family Dysfunction. Michael Giacchino
33 Grabbing a Photo Opportunity. Michael Giacchino
34 The Show Must Go On. Michael Giacchino
35 For Whom the Bell Tolls. Michael Giacchino
36 A Run for the Ages. Michael Giacchino
37 One Year Later. Michael Giacchino
38 Coco – Día de los Muertos Suite. Michael Giacchino
Y tu ya viste COCO? Qué te pareció la música de la película?
Cuál es tu canción favorita?