En el Día del Amor y la Amistad podemos regalar a nuestras amigas, a las maestras o hasta a la suegra, unos ricos Dulces de Mocha y Canela, o Mocha Cinnamon Fudge
seguro les encantaran! Yo los voy a preparar para mis hijos!
Tiempo para Preparación: 10 min, Tiempo para Cocción: 10 min, Tiempo para Refrigerar: 2 hr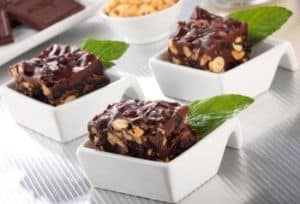 Foto Cortesía de Nestlé

 
Ingredientes: 
Rinde 48 porciones

3 tazas de chips de chocolate semidulce NESTLÉ TOLL HOUSE Semi-Sweet Chocolate Morsels
1 lata de Leche Condensada Azucarada Sin Grasa LA LECHERA de NESTLÉ
1 taza de cacahuates picados (opcional)
4 cucharaditas de Café Puro Soluble NESCAFÉ CLASICO SUAVE, disuelto en 1 cucharada de agua caliente
1/2 cucharadita de canela molida
1/8 cucharadita de sal
Instrucciones:
Forramos un molde de 8 pulgadas con papel de aluminio.
Calentamos los trocitos de chocolate y la leche condensada azucarada en una olla mediana a fuego bajo mezclando constantemente hasta que se derrita completamente. Retíralo del fuego y agrega los cacahuates, el café disuelto, la canela y la sal.

Vaciamos
en el molde preparado. Refrigéralo durante 2 horas o hasta que quede firme. Retíralo del molde y quita el papel aluminio. 
Córtalo en 48 pedazos. Puedes cortarlo en forma de corazón,
Acomodamos en empaques coquetos y se los repartimos a nuestras amigas! 
O las invitamos a un cafecito y servimos!
Esta receta esta incluida en el #SabrosoSaturday de Latina on a Mission
Mocha Cinnamon Fudge
Preparation Time: 10 min Cooking Time: 10 min Refrigerating Time: 2 hr
Servings: 48
Ingredients:
3 cups NESTLÉ® TOLL HOUSE® Semi-Sweet Chocolate Morsels
1 can (14 ounces) NESTLÉ LA LECHERA FAT FREE Sweetened Condensed Milk
1 cup chopped peanuts (optional)
4 teaspoons NESCAFÉ CLASICO SUAVE Pure Instant Coffee Granules, dissolved in 1 tablespoon hot water
1/2 teaspoon ground cinnamon
1/8 teaspoon salt
Instructions:
Line 8-inch-square baking pan with foil.
Heat chocolate morsels and sweetened condensed milk in medium saucepan over low heat, stirring constantly, until chocolate is completely melted. Remove from heat; stir in peanuts, dissolved coffee, cinnamon and salt.
Pour into prepared pan. Refrigerate for 2 hours or until firm. Lift from pan; remove foil. Cut into 48 pieces.
Give them to your friends in a lovely package!
Happy Valentine's!