*We received a kit to prepare the recipe.
Smores regularly prepare at the steakhouse, but also check out this recipe to make S'mores baked, there is no excuse!
Summer comes and if you don't plan to use the grill soon, help your children prepare this baked S'mores recipe. My kids love to make Hershey's S'mores, every time their dad pulls out the grill or grill they're ready with everything they need to do S'mores, as Hershey's website says , "The Richness of Life."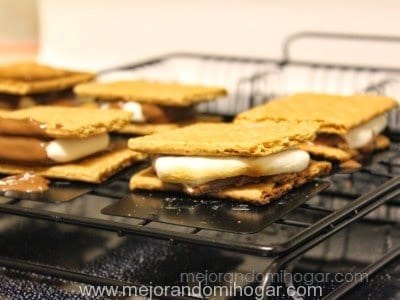 Hershey's S'mores are very easy to prepare either grill or grill and now in the oven, so there is no excuse to wait for the dad, the mom can help, the S'mores take less than five minutes to be ready and the children are happy , especially if they prepare them. I share the recipe at the end of the article.
I share the Recipe to Prepare S'mores baked, let your children participate, but help them when putting them in the oven or if you prefer to roast them the grill or grill, yo
u can see the recipe here.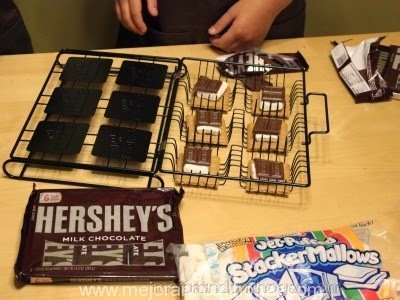 Baked S'mores Recipe
Rinde for 8 S'mores
Ingredients
2 Hershey's Chocolate Bars
2 packets of Graham Honey Maid cookies
1/4 Kraft Stackermallows Bag of Chocolates
Aluminum paper or
S'mores to Love utensil (like the prize)
We put together the S'mores making a sandwich type: We placed a Graham Honey Maid cookie, added on top of two squares of Chocolate Hershey's and a chocolate, covered with another cookie of the same type.
We twind in foil or accommodate them in the S'mores to Love.
Let's turn on the oven grill at the bottom. Place in the middle tray and let it last 3 minutes or until the chocolate is roasted and the chocolate melted, taking care that the cookie does not burn.
Carefully remove from the oven and serve hot.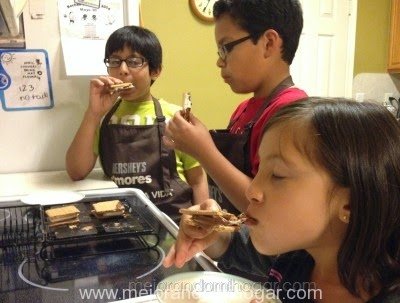 I hope you enjoy them !