Surprise your kids with a Batman V Superman Super Hero cereal table, after a sleepover or birthday party!
Spanish version: Mesa de cereal de super héroes batman V Superman
When we celebrate our children's birthday at home, at a certain age it is likely that some of their little friends will stay to sleep or make sleepovers; it's kind of like the party we make adults do after the hehe party.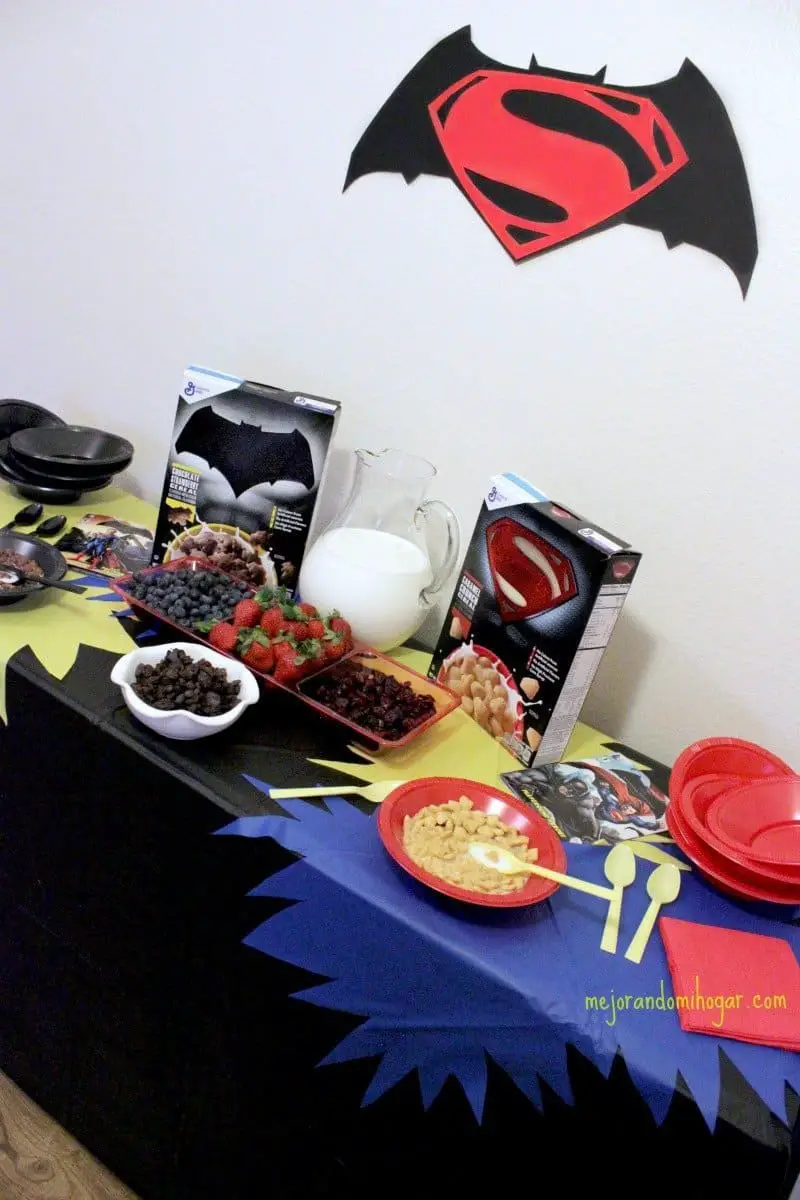 The sleepovers have been very frequent in my house or those of my friends, we have time to get to know each other and we have no problem with the children to sleep, so if there is a birthday party in one of our houses it is most likely that the children extend it with a sleepover gives; you better continue the party with a surprise breakfast, a bar or cereal table from Super Heroes Batman™ V Superman™ for kids.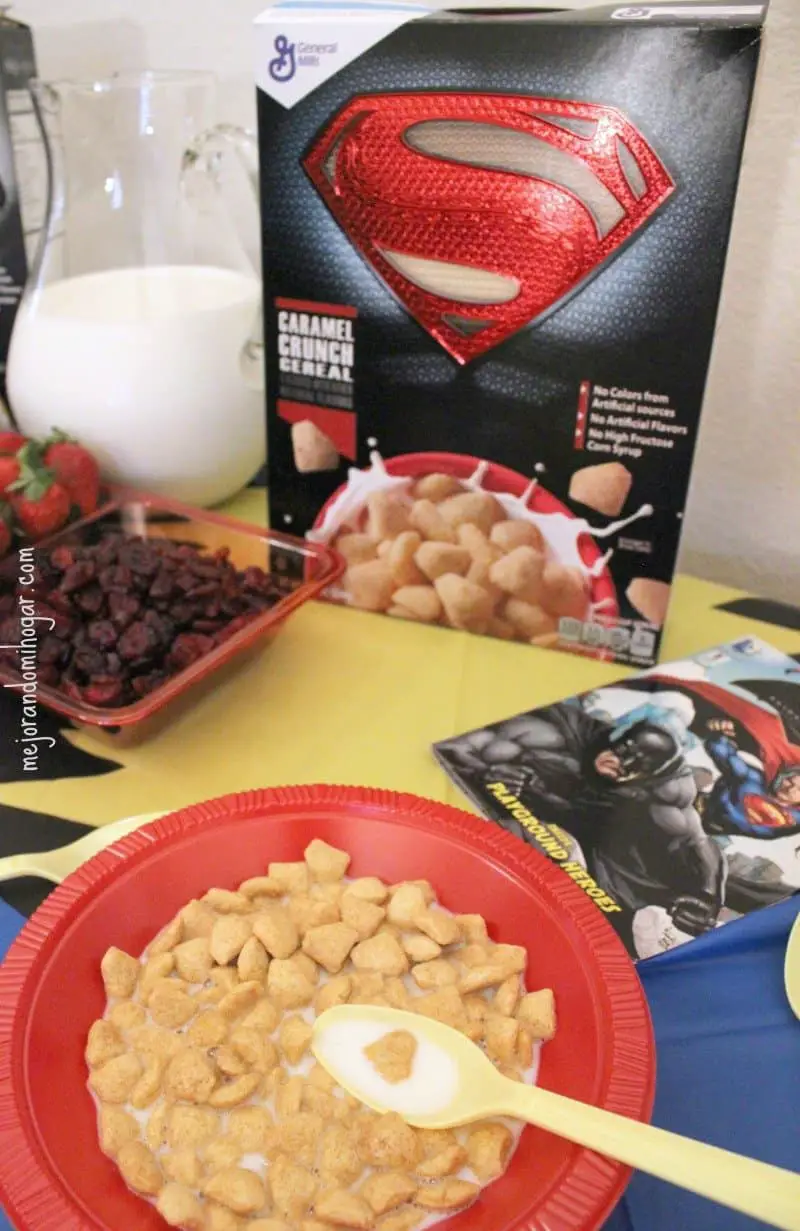 I just discovered these general mills: Superman™ Caramel Crunch and Batman cereals™ Strawberry Chocolate, just in time for the release of the Batman and Superman: Dawn of Justice movie where we'll see the two famous super heroes together.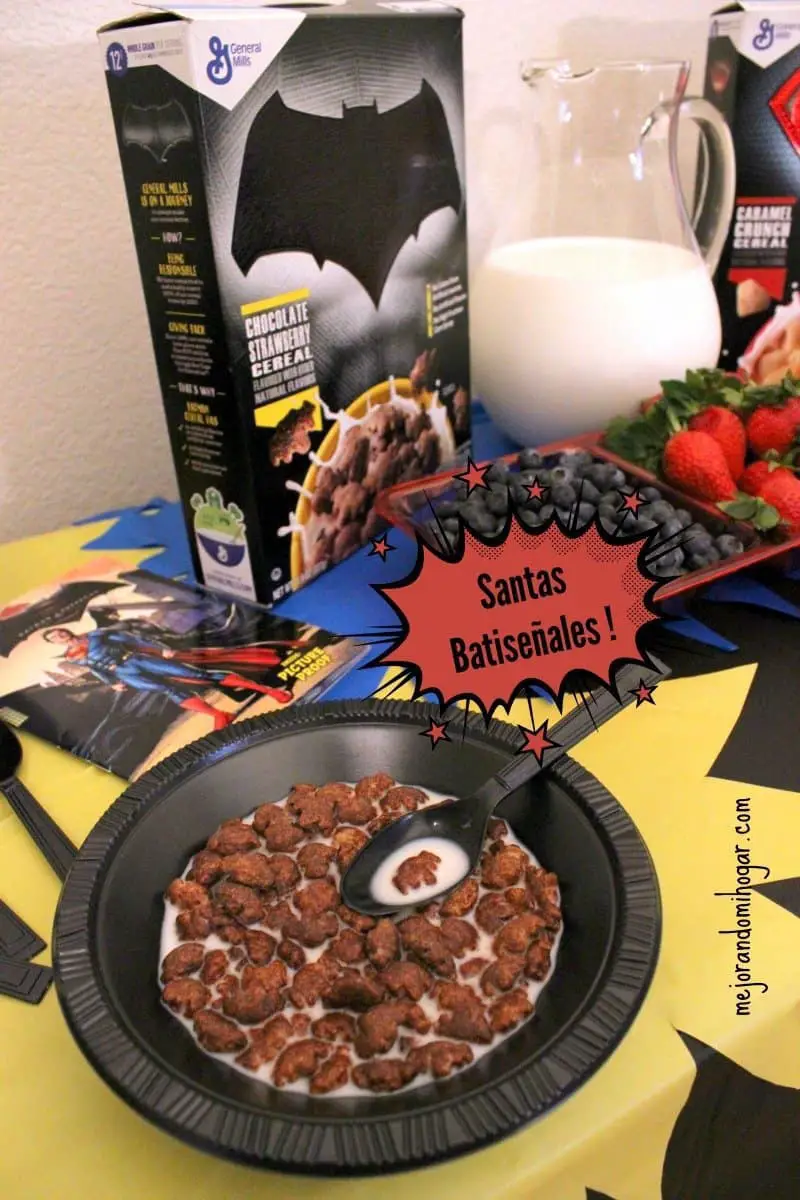 The two cereals are very rich, but like my favorite super hero, I liked the Batman™ Strawberry Chocolate plus, the strawberry-chocolate combination is one of my favorites!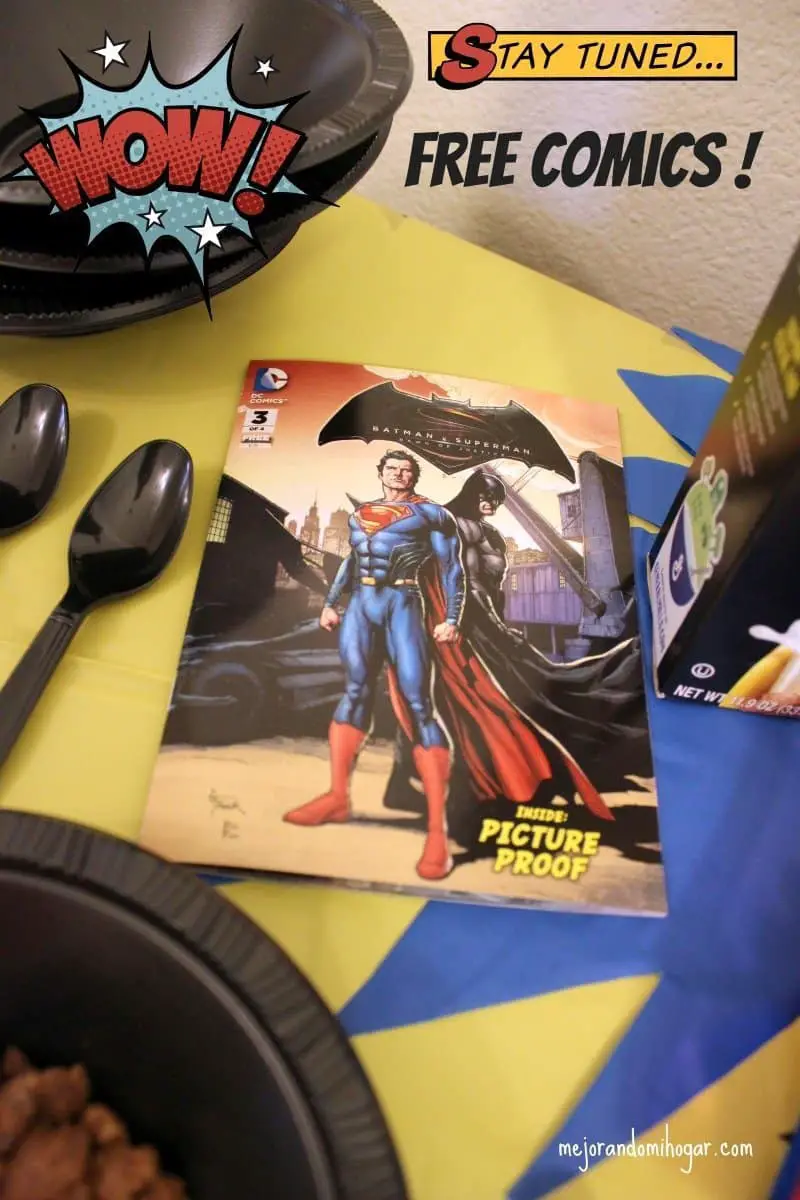 Just as there are candy bar or candy bars at parties, we can assemble a bar or cereal table with everything you need for kids to eat breakfast after their sleepover or even if you offer an early party or brunch.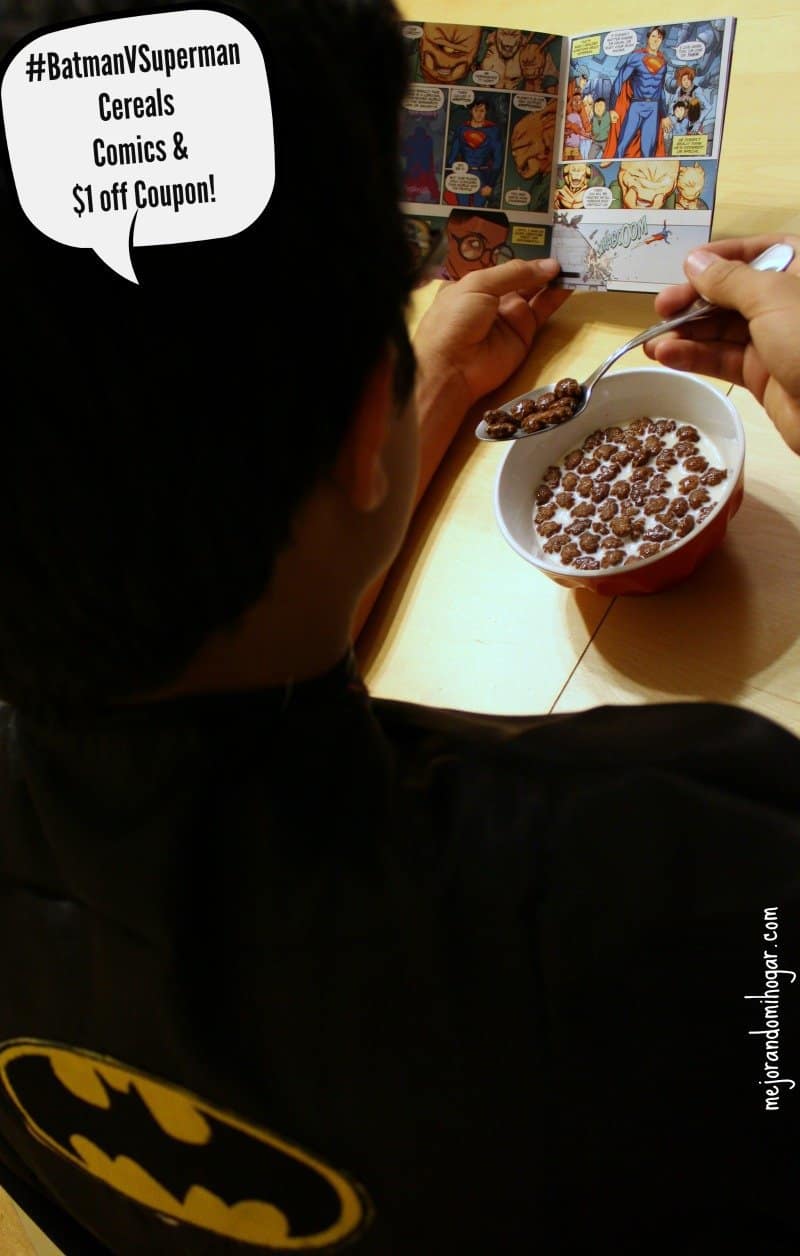 You don't have to spend much, I used dollar store decorations and for the cereal bar occupy the following:
BATMAN V SUPERMAN SUPERHERO CEREAL TABLE
Superman™ Caramel Crunch Cereal
Batman™ Chocolate Strawberry Cereal
Milk
Bananas
Blueberries or Cranberries
Strawberries
Chocolates
Blueberries
Decorations (plastic and cardboard tablecloths)
Dishes, Glasses, Napkins and Spoons
Buy your decorations and toppings from days before.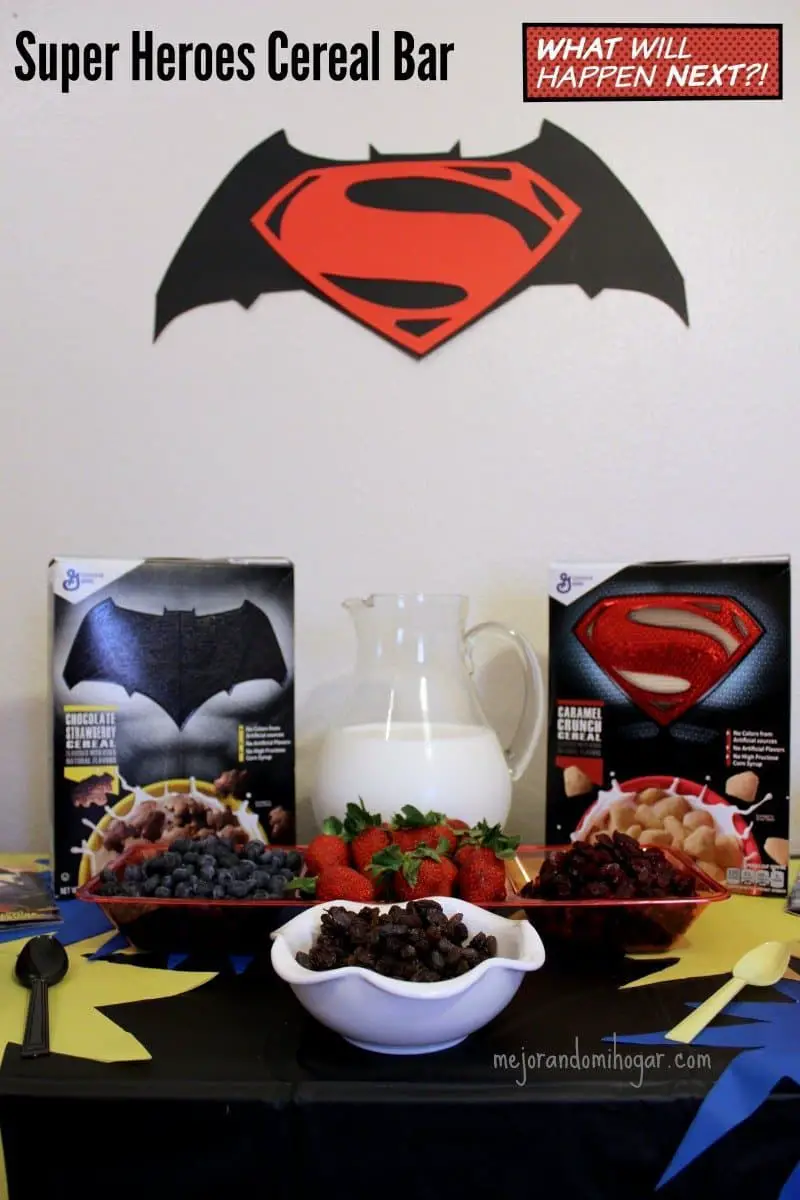 Decorate a table before preference before the children wake up, so it's a surprise. You don't have to spend much on decorations, I spent a total of $10 on plastic tablecloths, cutlery and two cards for the Batman™ V Superman™ logo.
Wash and place toppings in some colorful containers or dishes; they can be the same disposable, so that each child will choose what he will add to his cereal, I assure you that they will love it and they will have fun!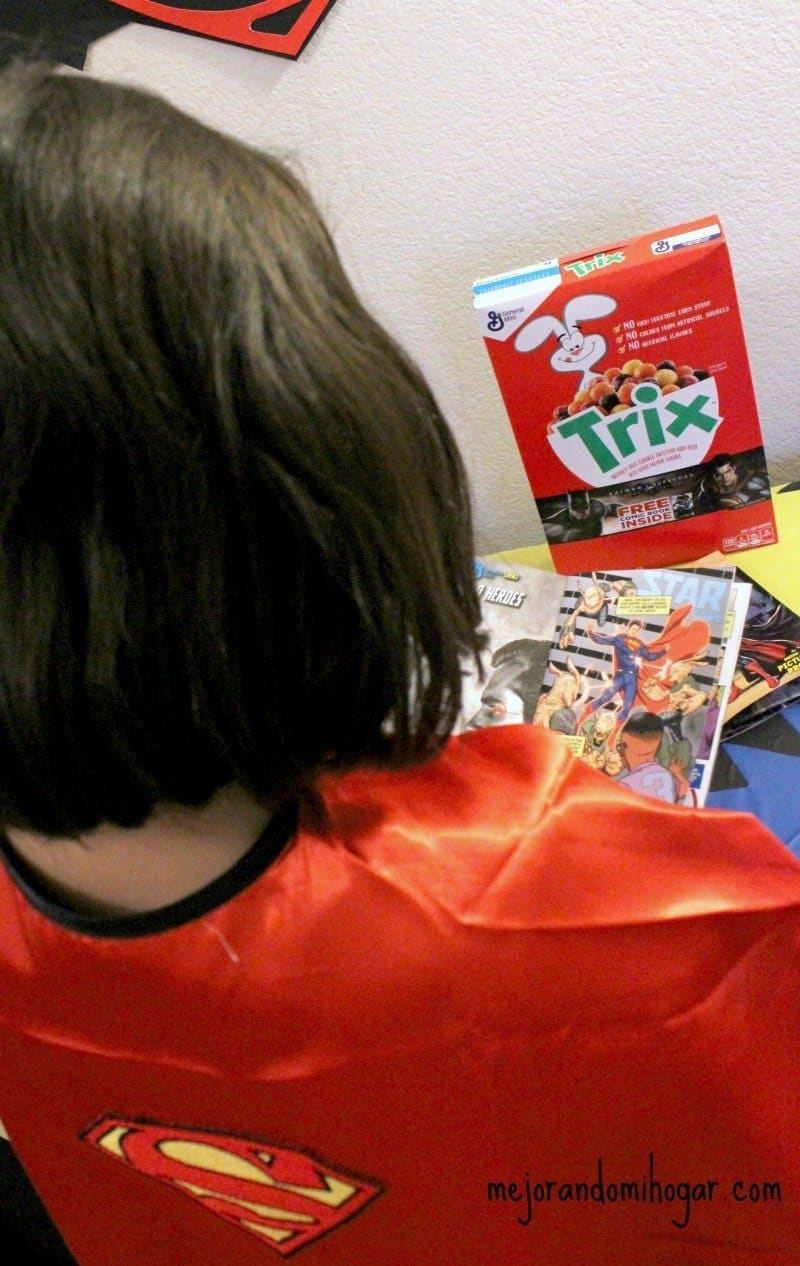 Get ready because from March 1, 2016 you can find for a limited time, a free comic inside the selected boxes of General Mills cereals, Honey Nut Cheerios, Trix and Lucky Charms, remember to search for your coupon by clicking on any of the photos Previous.
Superman™ Caramel Crunch and Batman cereals™ Strawberry Chocolate:
They don't have artificial colors or flavors.
Don't have high fructose corn syrup
It's only 9 grams of sugar per serving
They are a good source of calcium and vitamin D.
They have 12 grams of whole grain per serving
They have a shiny and highlighted emblem of the Superman™ and Batman Super Heroes™
And what's your favorite Super Hero? Are you Team Superman™ or Batman™?