Te muestro paso a paso como hacer un tambor de el ciclo de la vida inspirado en el Disney DVD The Lion Guard: The Rise of Scar.
Click for English version How to make a drum
Si viste el Rey León, debes de saber quien es Scar y si no, te cuento que Scar es un villano malvado (tío de Simba) líder de un grupo de hienas.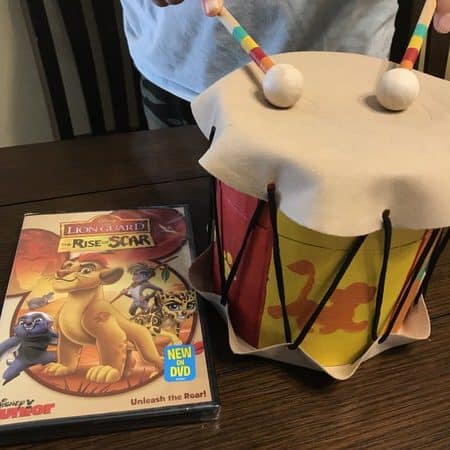 Scar murió al atacar a Simba, pero esta vez, sin darse cuenta, Kion convoca al peor villano de las Tierras del Orgullo, que amenaza al círculo de la vida en el nuevo Disney DVD, THE LION GUARD: THE RISE OF SCAR.
Para celebrar este lazamiento nos enviaron material de Seedling.com con instrucciones de como hacer un tambor del ciclo de la vida.
Pero lo podemos hacer con material reciclado o material que tenemos en casa como con una lata, bote o un cilindro que tengas por ahí.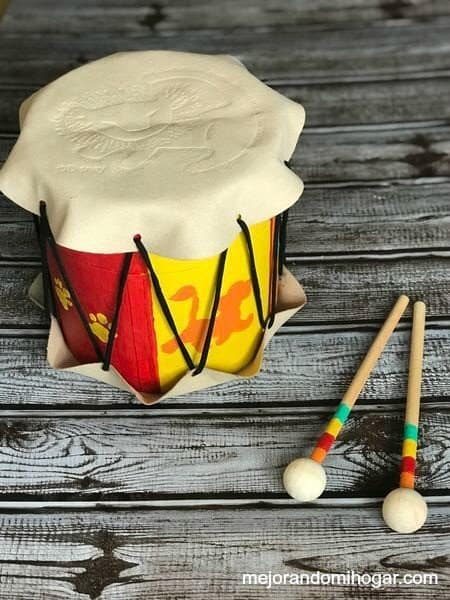 El tambor fue una manualidad muy fácil de hacer, lo hicimos mi hija y yo, puede servir como una actividad o manualidad para niños en una fiesta o simplemente para jugar haciendo música.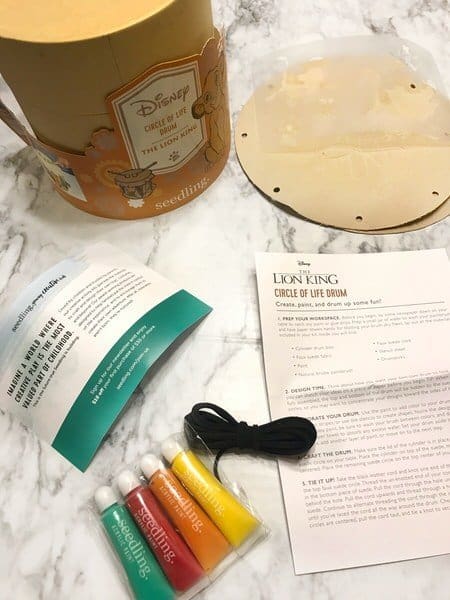 COMO HACER UN TAMBOR casero
Material
1 Cilindro de cartón, bote o una lata
2 Círculos de tela tipo piel de gamuza (si el tambir es de adorno, puedes utilizar foamy o peyón)
Pintura acrílica
Brocha de fibras naturales
Cordón tipo piel
Hoja de stenciles
Palitos para tocar el tambor (baquetas)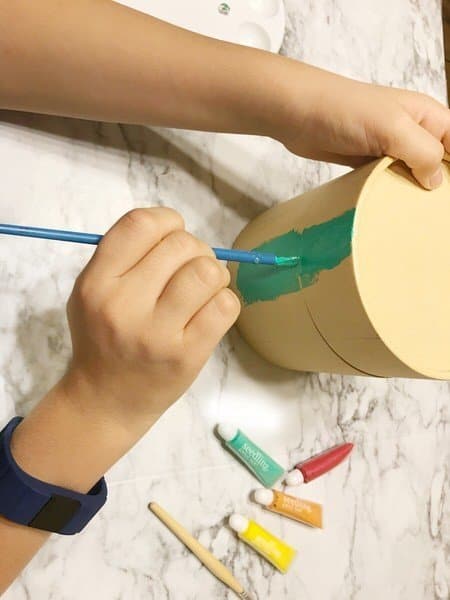 Decora el cilindro de cartón como tu prefieras, utilizando las pinturas y el stencil con las figuras del Rey León.
Recuerda dejar secar la pintura entre capa y capa para lograr un mejor acabado.
Asegúrate que la tapa del cilindro esté bien cerrada, puedes utilizar pegamento para asegurar.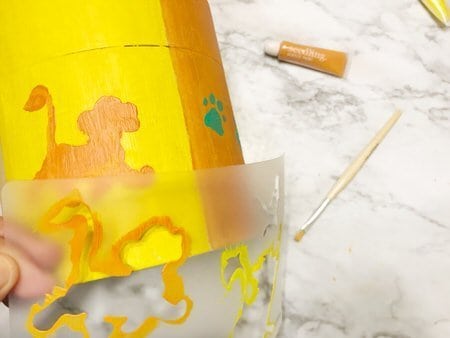 Coloca uno de los círculos sobre la mesa y encima el cilindro de cartón, agrega el otro círculo de tela arriba del cilindro.
Pasa el cordón por uno de los agujeros del círculo y asegúralo, haciendo un nudo en un extremo.
Ve entrelazando el cordón alternando arriba y abajopor los agujeros que tienen los círculos de tela hasta terminar y haz un nudo al final.
Puedes decorar las baquetas o dejarlas así como están.
Espero que te guste el tambor y que participes en el sorteo!
SORTEO/GIVEAWAY – terminado
2 Disney DVD de The Lion Guard: The Rise of Scar
Ya está disponible en Disney DVD desde 9 de Enero. Incluye cinco episodios de la serie de Disney "The Lion Guard"  con la voz de David Oyelowo ('Queen of Katwe") como Scar
Sinopsis: ¡Prepárate para el ascenso de Scar! Con la llegada de la temporada de sequía, la tensión aumenta, la paciencia disminuye y los temperamentos sedientos explotan.
Y para empeorar la situación, las hienas de Janja, con la ayuda de la serpiente Ushari, ¡descubren un secreto que podría traer de regreso al vengativo espíritu del legendario villano Scar!
Reparto de voces: David Oyelowo ("Queen of Katwe") como Scar; Rob Lowe ("St. Elmo's Fire") como Simba; Gabrielle Union ("Being Mary Jane") como Nala; Max Charles ("The Amazing Spider-Man 2") como Kion; Joshua Rush ("Andi Mack") como Bunga; Atticus Shaffer ("The Middle") como Ono; Diamond White ("Sofia the First") como Fuli; Dusan Brown ("Blaze and the Monster Machines") como Beshte; Landry Bender ("Fuller House") como Makini; y Christian Slater ("Mr. Robot") como Ushari.
Productor ejecutivo: Ford Riley ("Special Agent Oso")
Coproductor ejecutivo/ Supervisor de dirección: Howy Parkins ("Jake and the Never Land Pirates")
Episodios:
The Rise of Scar.
The Trouble with Galagos.
Janja's New Crew.
Baboons!
Lions of the Outlands.
Lanzamiento: 9 de Enero de 2018
Formato: DVD
Calificación: TV-Y (EE.UU.); G (CE/CF)
Duración: Aproximadamente 132 minutos
Formato de pantalla: Pantalla ancha 1.78:1 (mejorada para televisores 16×9)
Audio: Inglés 5.1 Dolby Digital, francés y español 2.0 Dolby Digital
Subtítulos: Inglés SDH, francés y español
Subtítulos ocultos: Inglés
Sorteo terminado
Para participar realiza AL MENOS UNA de las siguientes reglas Y DEJA UN COMENTARIO aquí mismo abajo, por cada regla que realices.
Comparte el sorteo en Facebook, click en el siguiente enlace y después "Share"o "Compartir". https://www.facebook.com/mejorandomihogar/posts/2027391010620940
2. Comparte el sorteo en twitter así: Participo con @mejoramihogar para la oportunidad de ganar un Disney DVD de #The Lion Guard #The Rise of Scar #giveaway 
3. Sígueme en Instagram (solo nuevos seguidores). Click instagram.com/mejoramihogar
Rules to enter the giveaway: Make at least one of the following rules and leave a message below this post.
Share the giveaway on Facebook https://www.facebook.com/mejorandomihogar/posts/2027391010620940
Share this tweet: https://twitter.com/mejoramihogar/status/952368261684973569
Follow me on Instagram https://instagram.com/mejoramihogar/
El sorteo termina el 22 de Enero del 2018. Válido solo en USA. Serán dos ganadores de un Disney DVD de
The Lion Guard: The Rise of Scar cada uno. Los ganadores se elegirán al azar, se anunciarán aquí mismo y en nuestra página de Facebook. Cada comentario o regla realizada es una entrada al sorteo.
Ganadoras/Winners Jina Prez y Nily Figueroa, Felicidades!