Some days ago, we made another Piñata for my daughter's friend. He loves Thomas the Tank Engine.
As we didn't have too much time we needed to make an easy pinata, that's why we choose a typical star with a picture.
So, if your kid likes another character just change the picture!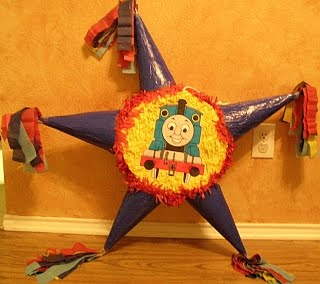 Material
1 Cardboard Box
2 thin cardboard box or layers
Wheatpaste
Tissue paper
Solid color wrapping paper
30 cm String
Brown Packaging Tape