We made a Thomas the Train piñata for my daughter's friend. He loves Thomas the Tank Engine.
We didn't have too much time we needed to make an easy pinata, that's why we choose a typical star with a picture. So, if your kid likes another character just change the picture!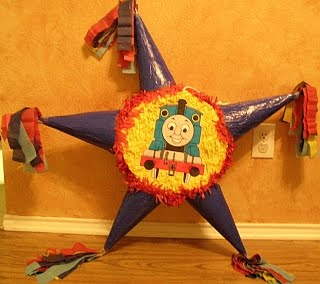 THOMAS THE TRAIN PIÑATA
Material
1 Cardboard Box
2 thin cardboard
Wheatpaste / glue
Tissue paper
Solid color wrapping paper
30 cm String
Masking tape
We made it for a little friend of my daughter, the theme of her party was Thomas and Friends. Since there wasn't much time to make the whole train figure, we made a pinata out of spikes and added an image of Thomas and Friends to it.
This piñata was hit by 15 three-year-olds and it didn't break!
As the party and piñata were in the kindergarten, time was limited.
We had to take the candies out of the piñata since the children were excited waiting for them….and well, our little friend keeps hitting the piñata at home. dale, dale, dale!