Homemade glue is cheap and very easy to do, for this recipe you only need two ingredients you can find in your kitchen. This is natural and it's a great adhesive substitute.
This homemade glue is ideal for making piñatas, papier-mache figures, sticking wallpaper, and making other crafts.
I make this sticky glue frequently for my children's crafts. My mom used to do this DIY adhesive to stick the lottery stamps, when we made cards to play or when we ran out of glue or glue.
This glue paste is very used in Mexico to create piñatas, marionettes, and other crafts like the alebrijes from COCO.
Making homemade glue is cheaper than buying glue at the store. This adhesive is also natural, safe to use, and easy to prepare. Even the kids can help to make it just be careful because you will need hot water.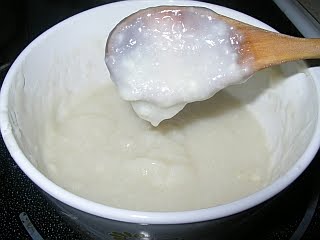 TIPS FOR MAKING GLUE at home
Pre-cooked flour (like that used to make tamales) should not be used to make this glue.
This type of DIY glue it is the best glue for paper or cardboard. It does not work for metal, plastic, glass, porcelain, wood, or others.
It can be used in mixed materials such as paper or cardboard on the rest of the materials mentioned above, such as plastic or wood.
It can be used for paper crafts and even for pasting wallpaper on the wall.
The paste can attract insects, you can add a few drops of formaldehyde or liquid insecticide to avoid pests where you use homemade glue.
I hope you make this organic adhesive at home, it is a good way to save and teach our children what we can prepare with the things we have at home.
Kids will love it as an experiment. It's very handy when it's night and you're making crafts and realize the glue is over.
How to make homemade glue
Ingredients
1/2 cup Flour
3 cups water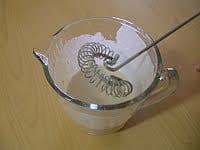 Place the flour in a container and add only one cup of cold water.
Mix with a fork or whisk until it's all incorporated.
Apart, heat the remaining two cups of water.
Add the flour mix gradually, moving constantly; with a wooden spoon until there are no lumps.
Let it boil, while still moving, remove the glue paste from the heat and leave it to cool.
The homemade glue will be ready to use when cool.
How to store homemade Adhesive
If you have glue left, put it in a closed container and store it in the fridge. It can last up to a week.
I hope you enjoy the recipe!
Which crafts would you be doing with this homemade glue?