Disney and Pixar invited me to Pixar Studios in San Franciso to learn all about COCO. My opinion is personal.
Meet Dante and Pepita, a xolo and a home cooking very peculiar characters from Pixar COCO, check out some curious facts and the alebrijes workshop we had with the animators of the film.
As we watched a DISNEY Pixar COCO preview I went transporting to Mexico, Miguel's family, very similar to mine, the images of where they live, the music, the idolo that looks like Pedro Infante and later with some very peculiar characters : Dante and Pepita.
Dante is a dog xoloxcuintle or xolo, it is the national dog of Mexico.
Pepita is inspired by the alebrijes, which are colorful sculptures, animal mixes, of Mexican folklore.
We had the opportunity to make our own Pepita, I show you the workshop below, but before…

Do you know how the alebrijes were born?
The alebrijes are the result of the hallucinations of Pedro Linares, a person who was dedicated to making piñatas in 1936, he while he slept had a very strong fever and in his dreams had visions of creatures with a body composed of parts of different animals. After this, Pedro Linares began to make these creatures with papier mache resulting in the alebrijes.
Curious facts about Dante and Pepita, and the alebrije I made in Pixar's workshop
During the visit to Pixar, we were with Christian Hoffman, character supervisor of COCO, Alonso Martinez, animator of Pepita and Dante, and Nicolás Rosario, animation director of COCO. They explained some curious facts about Dante and Pepita, in addition, we had the opportunity to color our own alebrije, which I show you below.
Some cheesy facts about Dante
– Dante is a very funny stray dog, friend of Miguel, a twelve-year-old boy passionate about music. It is a Xoloitzcuintle or Xolo, a Mexican breed of dog without hair, they are also known as Aztec dog.
– In the old way, it was believed that the Xoloitzcuintls protected the house from the entrance of intruders and evil spirits. In Mexico and Central America it was believed that this breed of dogs had some epowers and that they were guides of the spirit when they died.
– Dante has smooth skin but with texture and wrinkles on the neck, has a cheerful personality.
– Dante's tongue is very long and as the dog has lost some teeth, the tongue hangs and goes out through those spaces, so he always brings it from outside, that helped make it look funnier, more cartoonish.

Fun facts about Pepita
– Pepita is inspired by the alebrijes of Mexico, which were created in 1936 by Pedro Linares, who made piñatas.
– Pepita, is the spiritual and protective guide of Mama Imelda, Miguel's bisabuelite.
– Alebrijes are not related to the Day of the Dead, but they wanted to incorporate them into the film so that the world knows them, it is a way to celebrate them.
– These creatures are not religious. Each artist puts their touch on each alebrije, some put some symbology in them.
– Alebrijes are creative animal combinations, very colorful.
– With Pepita, they wanted to do something between the real, lively and at the same time believable.
– Pepita is a hybrid animal has tiger face, but has characteristics of other animals such as wings, feathers, iguana tail, eagle feet.
– We were shown several tests of Pepita, where they sought to give him an aggressive personality, for that they used traits of angry cats as a reference.
– Pepita skin is covered by a very bright lint.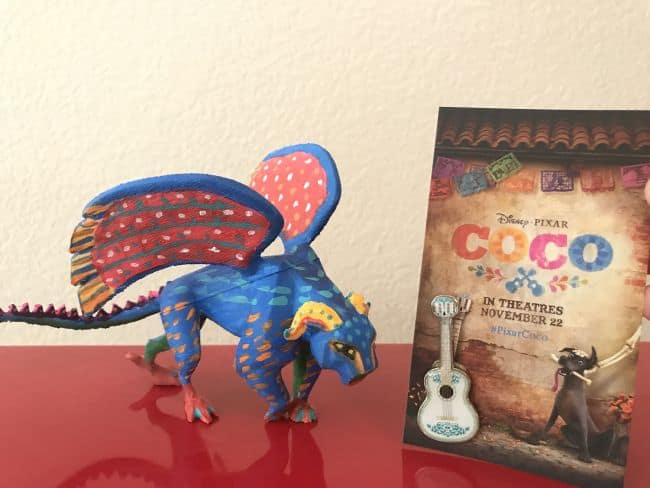 Alebrijes Workshop
The bloggers and the press we were visiting Pixar, we had the opportunity to attend an alebrijes workshop (workshop). We were given an uncolored Pepita (imrpesa in 3D) and Alonso Martinez showed us the basic coloring techniques to our own Pepita.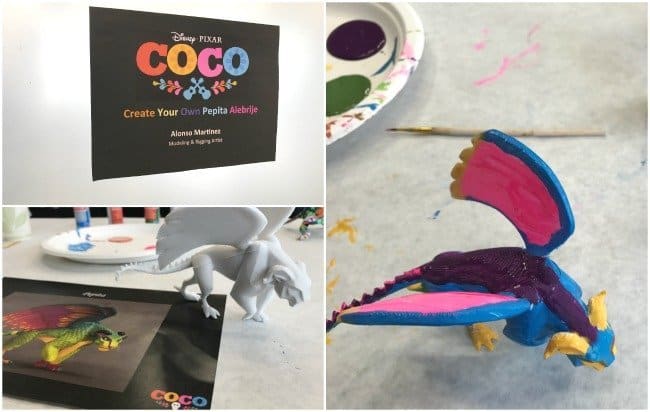 At first I didn't know where to start and I brought it home incomplete, almost only with the base colors, but I finished it at my house, the good thing is that my daughter has several cans of acrylic paint with which she makes her paintings.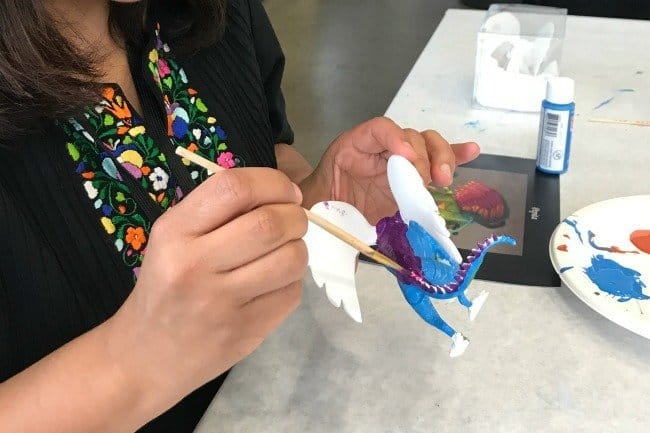 I gave several layers to my Pepita to see the uniform color, because the material is plastic. Then I did tests on a sheet combining the colors, which I had and I think it improved quite a bit. I had to paint the wings again because it didn't have pink.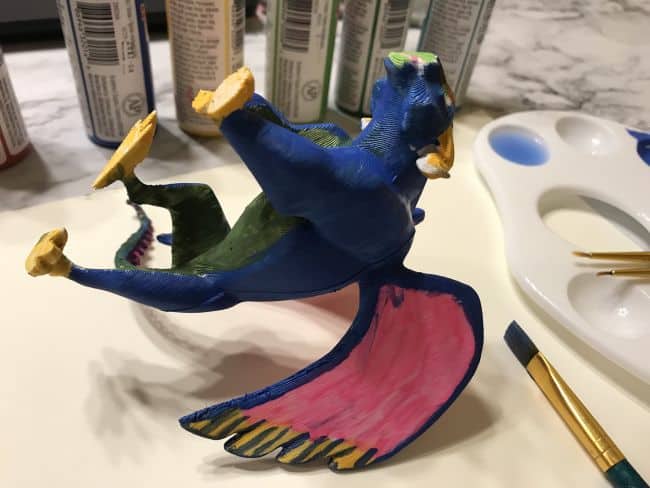 I can tell you that painting alebrijes is addictive. When you already have the base and you're going to add details, the alloy takes shape, suddenly you don't want to leave a space free of details.
Scratches, dots with contrasting colors and any detail you can add to your albrije, I outline Pepita's eyes to make it look more fierce. In the end, the wings inadvertently left me like Mickey Mouse with the white balls and red background, so in the end I added other details to change it a little.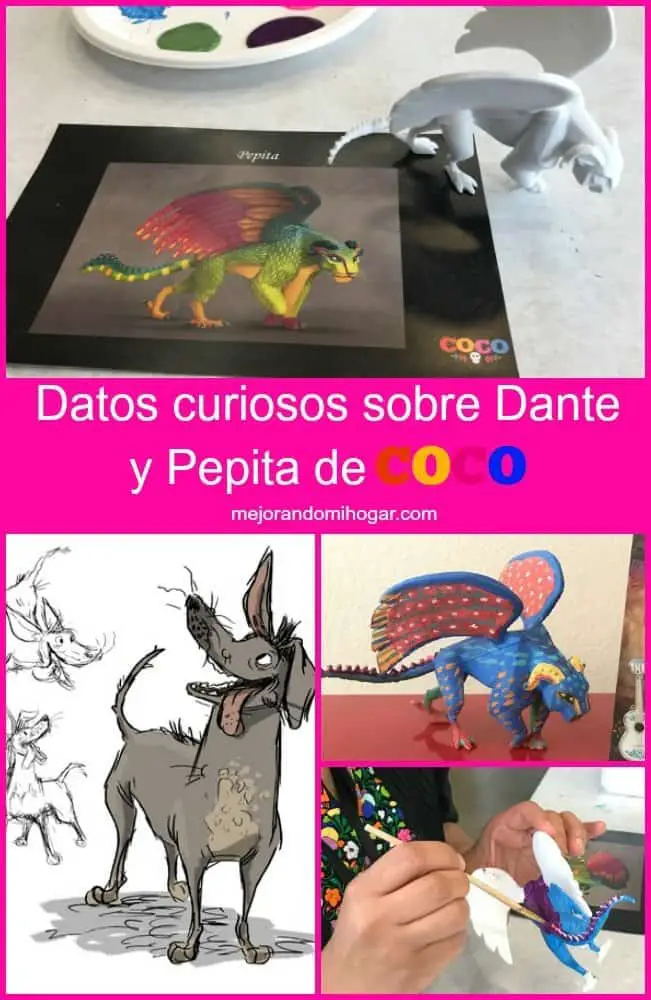 Tell me, did you already know Dante and Pepita? What do you think of these characters? Did you know the history of alebrijes?
Don't miss Disney Pixar's COCO, premiere in USA theaters on November 22, I'll tell you about the music in the movie soon!