Updated: With the premiere of Toy Story 4, I remembered this article, I hope you enjoy it!
You've probably chosen a Disney character for your Parties.Disne
y Side invites you to show your Disney side and offers you crafts, recipes, activities and ideas on its Disney Side Celebrations page.
*We received some party products, as part of the Disney Side Campaign.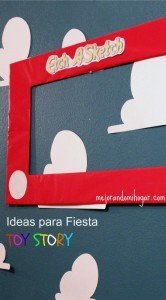 As I told you days ago, we had a Disney Side party, with the Toy Story theme, which ended in a surprise party for my eldest son.
It was easy because he knew he was participating in the campaign, but he didn't imagine the party was for him.
For this Toy Story party we use some details from Andy's room, more focused on Buzz Lightyear.
Tips for a Toy Story Party
Decoration
Look for tablecloths and theme decorations, if you prefer to save choose plain colors, in green and blue, if the party is Buzz Lightyear as in this case. Balloons don't fail, they decorate without spending much.
You can also decorate with boxes, remember that toys are donated in a box to a nursery?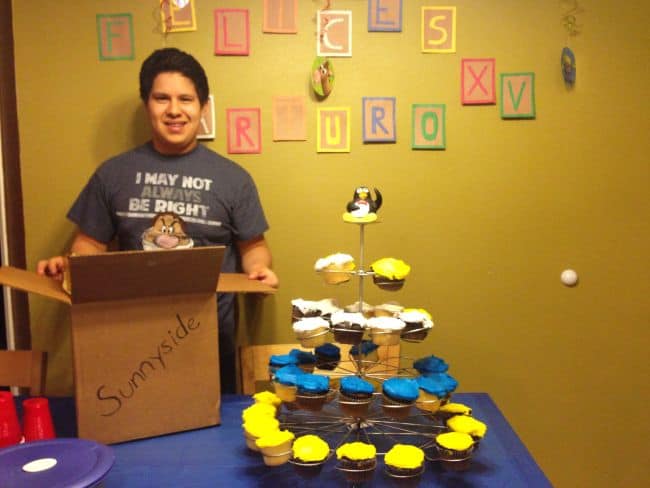 As my son's party was a surprise, we placed a box at the entrance as a decoration, which read "Sunnyside".
My son did not imagine that the guests, without saying anything would come to leave his gifts there, we gave it to him later, when we sang the mornings to him.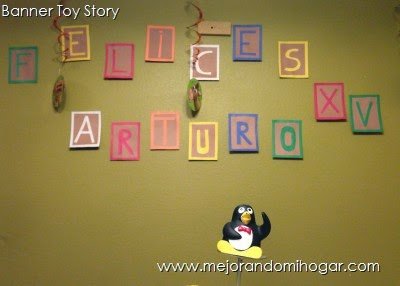 Arrange boxes with contruction paper, or lutrine, such as the letter cubes in the movie, arrange them above or below the table. Make a Birthday banner in the same style.
Snacks
Make vegetable pizzas that look great with the theme of Pizza Planet, the video game venue featured in Toy Story.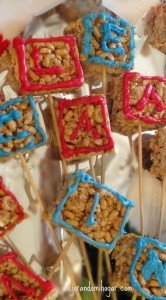 To continue with the letter cubes, you can prepare a few popsicves or snacks, using a cereal bar, split in half and decorated with bitumen of different colors.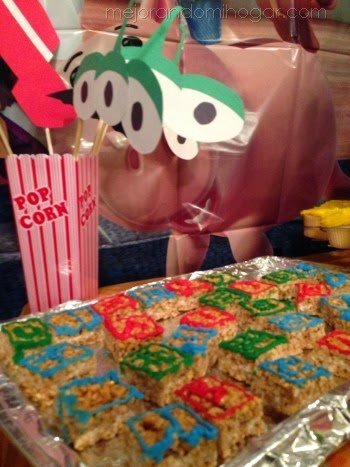 You can also offer cupcakes with the Alien Green figure, this and other Disney Side recipes can be found on Spoonful.com
Alien Piñata or Toy Story's Green Martian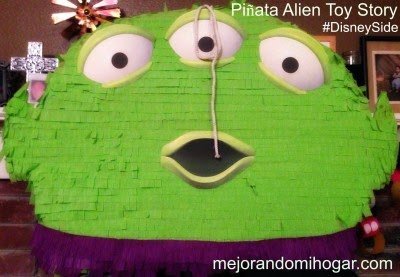 Make a piñata of one of the characters in Toy Story, you can watch the video of the piñata we made of the Alien Green, if those little men who said to Buzz: "You saved us, we are grateful."
Toy Story Photo Frame
It is very fashionable to have a photo booth or frame for guests to take photos. You can make a thick cardboard frame, like this type Etch a Sketch, is easy and economical.
Using a white cardboard, draw and trim the typical clouds of the film. Cover a wall with a sky blue plastic tablecloth and stick the clouds over it. It serves as a background for your photos, in my case it was easy, I did not cover it, because the wall of my room is blue.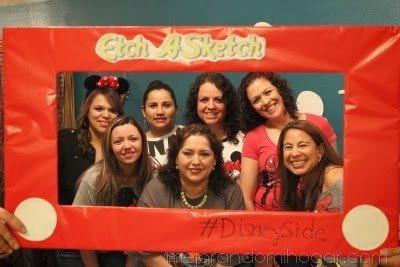 Have some props or accessories on hand for guests to dress. You can make them yourself with a little imagination and colored paper, like the ones in the photo, or you can get accessories and costumes on Birthday Express.
Bags or Goodie Bags
One of the activities for children may be that they decorate their own candy bag with the figure of Mr. and Mrs. Potato Face.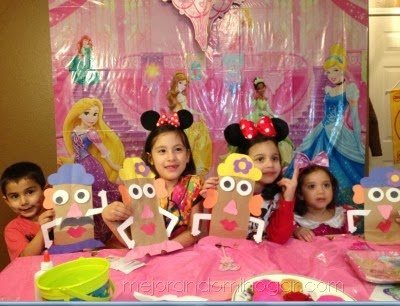 Before the party, print the details of the face: whiskers, eyes, nose, hat, etc. and cut them into contruction paper.
During the party, give your guests their paper bag, place a jar of glue and face details on the table, so that they themselves assemble their bag
Activities or Souvenir
As a detail you can give your guests a portrait with the figure of Etch to Sketch. Do it with foami, with a magnet on the back, print one of the photos you took of them and take it into your portrait holder.
You can watch the video with the step-by-step portrait holder.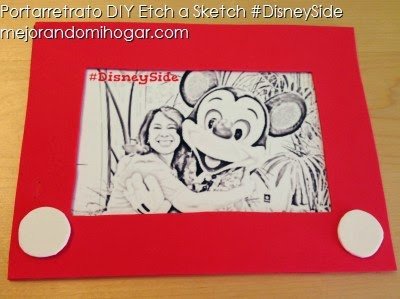 I hope you enjoy preparing your party with Disney characters.
Check out other crafts here and the trailer for Toy Story 4 here https://youtu.be/wmiIUN-7qhE