Doctor StrangeBenedict CumberbatchThe female protagonist of Doctor Strange; Rachel McAdams, in an exclusive interview, told us details about her character as surgeon Dr. Christine Palmer in the Marvel film.
Rachel McAdams arrived very beautiful with a dazzling smile to the interview with the twenty-five bloggers at the Montage Hotel in Bevery Hills.
The female protagonist of Doctor Strange, told us that working with Marvel has been all I was waiting for and more. "I figured I'd be working with the cream cream and it really was," everything, from the costumes, was perfectly well done, I didn't even have to imagine so much with the green screen.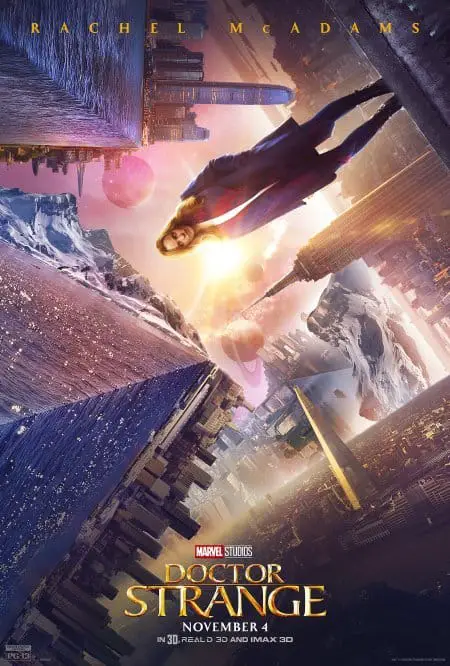 Were you a Marvel fan before you did your character?
No, I hadn't read Dr. Strange comics in my growth, but now that I've learned, I think Dr. Strange is very different from the other comics, which is fantastic.
How did you prepare for your role as a Doctor in the film?
Well I'm a bit of fun when it comes to blood and stuff like that, but my mom's a nurse and I grew up around the medicine, that's why I better became an actress. But I had the opportunity to learn from several brain surgeons, plus we had a surgeon on set every day, he taught me how to do sutures, practicing in raw turkey breasts and oranges. I also read Henry Marsh's book "Do no Harm" which is a very famous global surgeon. I learned a lot.
He told us that another of the doctors offered to take her by helicopter for the weekend, so "I held on to the fear and Did it. It was a very educational experience," he said.
About her character's outfit, she told us that she was very comfortable "almost daily I used orthopedic shoes to run, I was happy, but also a little jealous of the levitating cape" that she never touched.
The character of your character is very emotional in the film, is there any special memory or someplace that gives that emotion to the character?
Well, having a mom as a nurse, who's very compassionate, I think I grew up with that and having admiration for the people who work on it; so I guess I took it from my mom.
Besides Benedict Cumberbatch is such an extraordinary actor that you only have to be with him so that everything took his place. We cried a lot together. One day we cried for eight hours straight, in every shot.
About how he felt about getting this role, he told us that when he met Director Scott and watched him so passionately around the comics "I knew he'd be in the right hands and that he would have a lot of support from Marvel."
Were there scenes from the movie where you had to work alone?
I wasn't alone for long, as I thought. There was a doll that looked so real I could talk to him.
Rachel told us that she would like to have her own cape and that she would be more than happy to keep working on her character. When asked if he wishes he had superpowers he said "I would like to be invisible, I would love to be able to enter people's homes and see their interior decoration."
Rachel McAdams hopes her "the mean girls" fans will like the movie. They couldn't have chosen a more perfect Dr. Strange in the Universe than Benedict Cumberbatch, so I hope everyone likes it and goes to see it! He said.
Don't miss the upcoming premiere of Doctor Strange: Supreme Sorcerer on November 4, 2016!