We were in a room with two queen beds, very comfortable that were enough to sleep at ease, the room was nice and very clean, as well as all the facilities. The hotel has the AAA 4-Diamond category, has 428 rooms.
Our room had a spectacular view of the pool and the pyramids, as you can see in the photo. We stayed two nights, we would have liked to stay longer to enjoy all that the resort offers.
As a complement to hotel guests, you are entitled to the facilities of Palm Beach, a water park belonging to the Resort, has a white palm Beach beach (hence the name) you can enjoy a ride on the Lazy River, or play for a time on the alberc waves or on slides.
Rainforest Pyramid. (Piramide of Glass).
Discovery Museum. (Piramide Rosa).
Pyramid Aquarium. (Blue Pyramid).
Colonel Paddlewheel Boat.
Spa and Salon Full-Service.
Formal and Informal Restaurant.
Space for Conferences and Conventions.
Moody Gardens Golf Course.
Festival of Lights. (November and December).
MG 3D Theater. The biggest screen in Texas.
Ridefilm Theater.
4D Special FX Theater.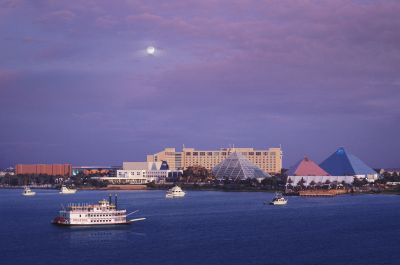 Photo: Moody Gardens
For more information about Moody Gardens visit Moodygardens.com/