Don't miss the premiere of the new MECH-X4 family series in an expanded weekend premiere with four episodes on Disney Channel, Disney Channel App and Disney Channel VOD.
This premiere starts Friday, November 11 at 8:30 p.m. ET until Sunday, November 13.
Disney Channel is about to premiere the new family series Mech-X4, a few weeks ago I had the opportunity to meet and interview the main actors and producers of the series; after watching the first two chapters!
Mech-X4 is about a boy who discovers by surprise that he has a special power where he can control technology with his mind. Soon after you will realize that those powers together with your friends, will help you control a giant robot that will fight against other monsters to save your city and the world.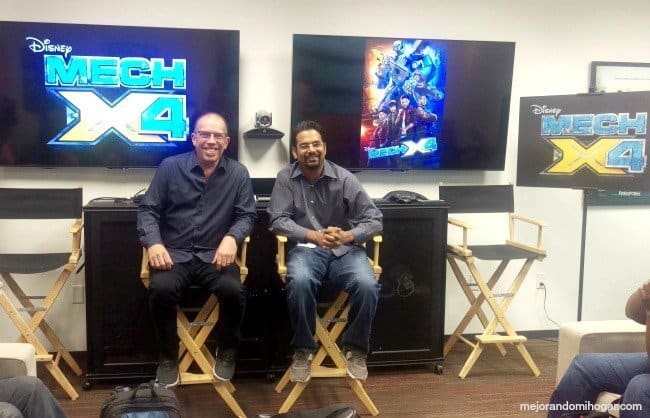 Details shared by meproducers STEVE MARMEL and ANUPAM NIGAM on MECH-X4:
It has some influence from ET, from the Goonies" we were told that they love giant robots, Godzilla and Transformers; "We're both comic book guys," STEVE MARMEL said.
It's a show about family, friendship and teamwork.
Usually, children (actors) do what they want, in each chapter someone does something funny, weird or interesting, apart from what was written in the script, it's amazing.
Everything on the show has a purpose and we try to make sure that if you see something on camera, later you'll see the reason for that.
We're doing two half-hour chapters every night and there are four to five months of special effects to finish, like shots of drones and monster fights.
Most of the show is taken in Vancouver and its metropolitan area.
There is a method to choose how to make each monster, usually have a mission to fulfill, we can not count much but they are fun combinations, we have excellent concept artists in Vancouver because sometimes we can only say: what has to do together with an anaconda and an octopus?
This is one of Disney's first serial action shows, such as Game of Thrones.
Mech-X4 is a 150-foot robot, there's a lot to explore, it has a job to do; it's like the boys' club is inside, everyone has a mission to save the city and the world.
Interview with MECH-X4 lead actors
How do they look like their characters?
PEARCE JOZA
Spyder is very crazy and likes to do a lot of daring things. I lived in Colorado for a long time, so I sguta go out, play in the pond and climb trees, I also like school, I'm taking college level classes and Sypder is not very good at school.
NATHANIEL POTVIN
I like something my character, because Ryan is always up to the occasion. Every time you have to fight a monster or even face your brother, so I am somehow. Besides, I have two older brothers, so I know exactly what Ryan goes through every day. And Ryan loves skateboarding. I love skating. So there are some similarities between us.
KAMRAN LUCAS
Harris and I are very similar in terms of us being smart, more of how we dress really well and we're the heartbreakers.
RAYMOND CHAM
I like my character because I'm also very protective of my family, and you'll see that later, I would do everything to protect them and make sure they're okay. I also did sports, when I was eight or nine playing basketball.
I liked the two chapters of Mech-X4 and I know that my two youngest children are going to like it. This is a series for the family, the main actors are very nice teenage guys and a giant 150-foot robot, check out the trailer and let your kids know that this weekend it's the premiere!