Rusa Drink Recipe, is a zesty Mexican cocktail. Rusas are very refreshing, full of fruit with a hint of alcohol, they are delicious!
This Rusa drink receta is also in Spanish: Como preparar RUSAS
Prepare rusas for a party or meeting with your friends, they will love it. You can make it with or without alcohol. My kids love it.
It is also a good way to add fruit to the diet, you can lower the soda or soft drink with water, to make it healthier, you can even use grapefruit juice if you prefer not to drink soda.
My friends love it when I bring Rusa drink to our pot lucks and even more if If I add alcohol.
Rusa Mexican drink is made with chopped fruits like oranges and pineapples. Chamoy sauce is what brings out the flavor.
Get ready to learn how to make Rusa drink, I hope you enjoye the recipe!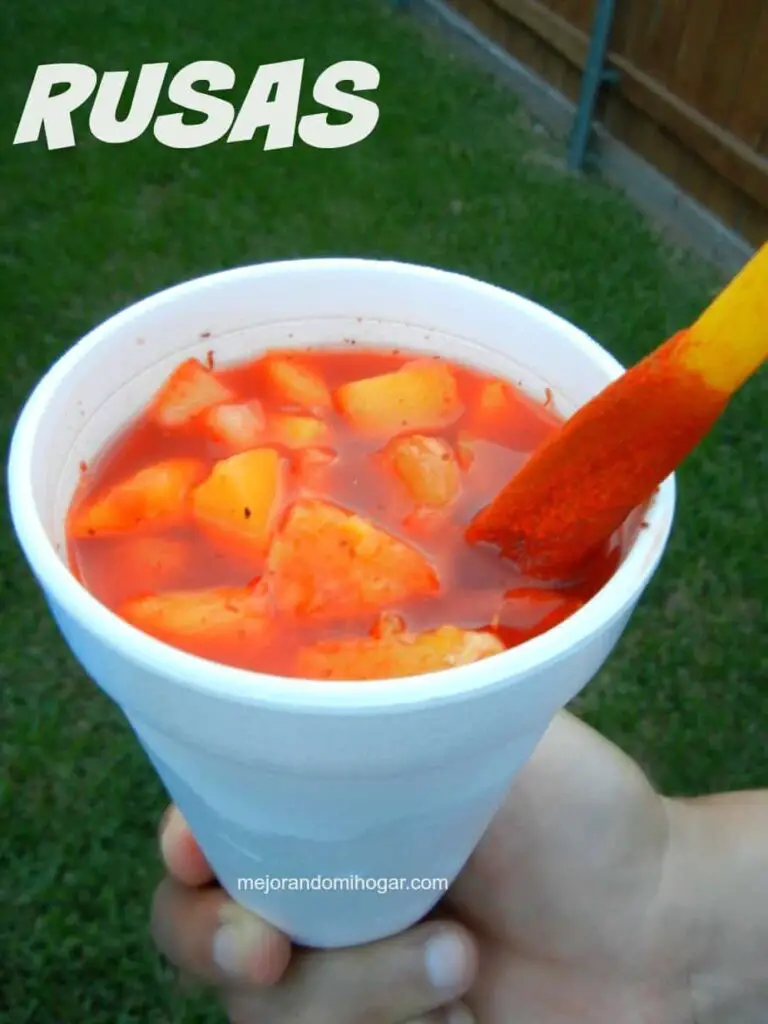 RUSA DRINK RECIPE

Makes 20 servings
3 Grapefruit flavor sodas , Squirt or your favorite. (2 liters each)
1 Pineapple
3 oranges in squares
2 diced mangoes
½ liter of Chamoy sauce
4 lemons, the juice
¼ cup chili powder
Crushed ice
20 tarugos or tamarinds candy sticks
Tequila (optional)
Valentina or Tabasco sauce optional.
Rusa drink can be made with any fruit in season, but most people uses pineapple, oranges and mangoes.
Salt the rim of the glass ( you can use either salt or chili powder) . Separate
Dice the pineapple. Separate.
Cut the oranges, they may or may not include the peel, depending on your taste.
Pour the soft drinks in a large container, add the fruit, lemon juice and chamoy sauce, mix.
Serve in a glass, with crushed Ice and if you want it with alcohol or "piquete" you can add Tequila or hot sauce to taste, for adults or leave it vigin for children.
To decorate, we add a tarugo, which is a tamarind stuck to a straw. You're supposed to drink the Rusa while bitting the tarugo or tamarind candy stick.
Rusas are refreshing and delicious!
What would you add to a Rusa cocktail?
Check out: