Esta receta es rápida si ya tienes el arroz preparado. A mis hijos les encanta, si además le agregas Salsa Louisiana o Tabasco al Final mmm! 

Yo prefiero la Salsa Picante De la Viuda, pero aqui no la encuentro 🙁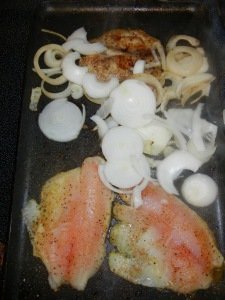 Filetes de Pescado Tilapia
Sazonamos los filetes de Pescado Tilapia con ajo, sal y pimienta al gusto.
Calentamos el comal o sartén, agregamos el aceite y freímos los filetes por los dos lados.
Al mismo tiempo freímos la cebolla, en el mismo sartén pero separada de los filetes.
Servimos la Tilapia con la cebolla encima, acompañamos con arroz y ensalada de lechuga.
Tilapia with Onions
Ingredients
Tilapia Fish Fillets
Onion
Garlic Powder
Pepper
Sal
Oil
Season Tilapia fish fillets with garlic, salt and pepper to taste.
Heat the griddle or pan, add oil and fry the Fish fillets on both sides.
Meanwhile fry the onion in same skillet, but separated from the fillets.
When fillets are golden brown, serve with onions on top.
Serve the Tilapia with rice and salad.