Plan your trip, save time and travel safely, with these tips for traveling from the United States to Mexico by road.
This article is also in Spanish. Consejos para viajar de Estados Unidos a México por carretera.
We travel to Mexico very often, we usually drive to visit our family in Monterrey, as flight tickets in Dallas to Monterrey can get really expensive. We have also made roadtrips to Chihuahua, La Paz, Tamaulipas, Nayarit, Cd. Mexico and I'd love to share what we have learned.
Take advantage of every opportunity you have to travel and go on an adventure! Mexico, has spectacular places to discover.
Follow these recommendations for a roadtrip to Mexico and share your experiences with us  in the comments.
Tips for traveling from the Us to Mexico by road
Travel through Mexico by day. If you get to the border at night, it's better to spend the night in a hotel on the Us side and cross the border in the morning.
Fill the gas tank before crossing the border. So you don't have to stop on the road, do the same as you pass through the cities.
Use toll roads. The safiest way to travel around Mexico, it is using toll roads. You can often find bathrooms close to the toll booth. Mos toll roads only accept pesos.
Bring pesos. Buy some pesos before crossing the border, most toll roads and establishments only accept pesos (national currency).
If you are crossing through Laredo, consider the Colombia Bridge, it is faster especially during the holiday season, when the lines gets too long. You could also save time on permits.
If you plan to travel more than 30 kilometers into Mexico, you need a car permit; you have several options:
– You can take out your car permit online on the Banjercito page.
– Personally attend the Mexican Consulate (up to six months before) without an appointment, but the closer the holiday periods are the longer the row.
– Getting an appointment by phone at 011-52-55-562-60-500 is easier and you get permission on the day of your appointment. arrives on time and with the required documentation. (If the car is in your husband's name, you must show original and copy of the marriage certificate.)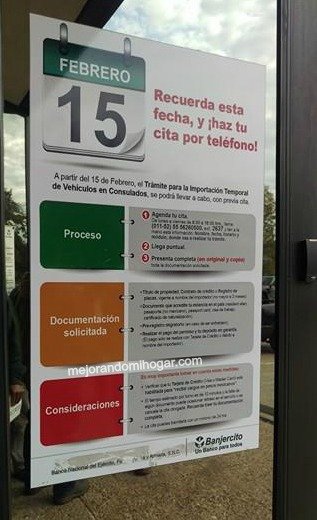 The car permit includes 180 days to be in Mexico that can be used in a period of six months, but you have to register or activate it every time you enter and leave Mexico.
You need to make a temporary deposit of between $200 and $400 depending on the model of the vehicle, which will be returned to you when you cancel the permit. Remember that on your return, you must "stop" or cancel your car permit at the border, right where you activated it. The deposit is returned when the permit is cancelled.
If you haven't canceled your permit, but if you stopped or froze on your return from Mexico, you can cancel it at your nearest Mexican Consulate to have your money back.
Auto insurance. You can also buy your insurance online, at offices outside the Consulate or at some locations before crossing the border, you can choose from various coverages and prices.
If you are traveling with American citizens, you must apply for a tourist permit at the same office of the National Migration Institution; unless they have dual nationality and are not going to travel more than 30 kms in Mexico.
If your stay in Mexico is for less than seven days, the permit is free, if it is for longer it costs approximately 22 dollars. (for any other nationality, visit the Mexican Consulate before you travel). If you have dual nationality you can present your Mexican passport, birth certificate or consular registration that proves your Mexican nationality.
Return or refund of Sales Tax. If you're Mexican, you shopin the U.S., and you're on your way back to Mexico, you can ask to have the taxes you paid on your purchase back. For this, they have to pass 24 hours after your purchase, without the end of a month of purchase. They are done in offices that you can find with the legend of MANIFIESTOS (also inside some malls. Requirements: The tax must be greater than $12 dollars, carry invoice of your purchase, passport or IFE credential and payment of the format.
There are also Duty Free stores like Ulta where you can buy perfumes, spirits and cigars without paying taxes.
Respect the Franchise or pay taxes on your purchases. Your baggage does not pay taxes and your purchases pay when the value of the allowance passes. I recommend you bring bill, at least from your biggest purchases. The year-round franchise is $300 per person and during vacation periods, Easter and Christmas increases to $500 dollars.
Bring snacks, water or drinks for your family so you don't have to stop along the way.
Let me comment if I pass any advice! What would you recommend to us?
Mexico is very nice, enjoy it! I invite you to read my travel section where you can see some of the trips to Mexico that we have made, also the travel photos on my Instagram account.
Good luck on your trip!