Mexican beef stew or cortadillo norteño is a traditional and easy dish we enjoyed in Northern Mexico.
This is one of the most typical dishes of Monterrey, that my grandmother used to prepared. I remember people used to serve northern Mexican cortadillo for lunch but also for parties like weddings and quinceañeras in the early '80s.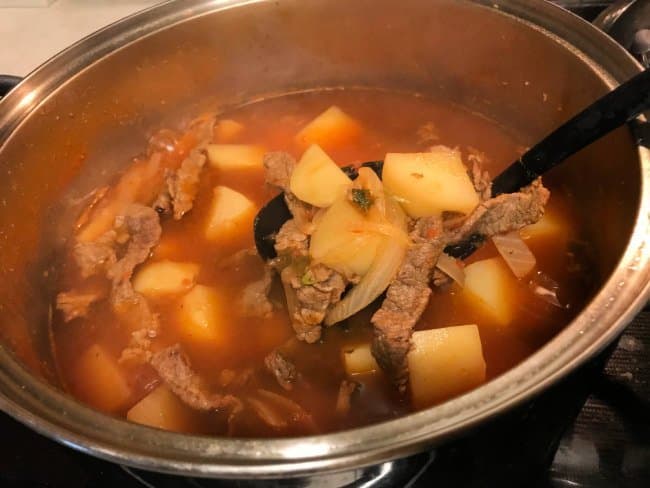 This dish tastes better if still has some beef broth but some people like it dry. You can add some spicy flavor if you like but if not I recommend adding a jalapeño pepper 10 minutes before the stew is ready, so it releases some flavor.
Preparing cortadillo norteño is very simple but it is a good option you can make either ifor tacos or as a main course. You can serve it it with rice, beans, and tortillas.
I also recommend my beef picadillo recipe.
MEXICAN BEEF STEW (CORTADILLO NORTEÑO)
2 lbs of milanesa or thin sirloin
4 medium peeled potatoes
2 sliced bell peppers
4 tomatoes
2 garlic cloves
3 cups of water
½ tablespoon of ground cumin
½ onion
4 cilantro branches
½ tablespoon ground black pepper
½ tablespoon of salt
1 jalapeño pepper (optional)
Salt to taste
1 tablespoon of vegetable oil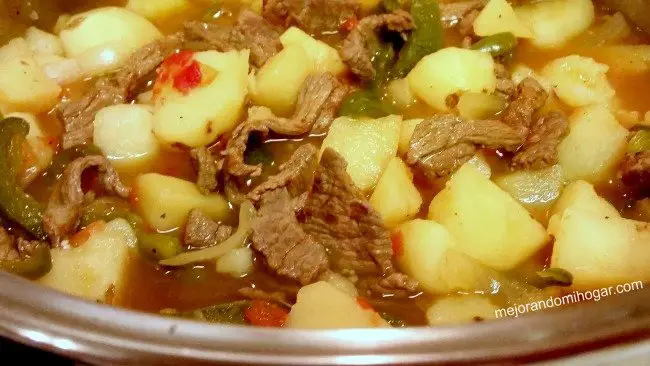 Cut the potatoes into medium squares, place them in a bowl with cold water and salt so that they do not change color, separate.
Blend the tomatoes, onion, and the two garlic cloves with the two cups of water and the ground cumin.
Season the meat with pepper and garlic salt to taste.
Heat the oil in the pan and fry the meat to seal it just until brown. Let it cook for five minutes.
Add the blender mixture, potatoes, and the jalapeño pepper. (I like to leave the whole chile just to release flavor, but you can also slice and fry it together with the onion).
Lower the heat, cover it and cook for about five minutes.
After this time uncover carefully, add the cilantro and the sliced bell pepper.
Cover and continue cooking for about five more minutes or until the potatoes and bell pepper are cooked.
Be careful not overcooking the potatoes, to prevent them from falling apart.
Turn off the Mexican beef stew and be ready to enjoy it. You can serve it with refried beans, rice, and tortillas.
Check out more recipes: