If you are going to visit Universal Studios Hollywood, check out these tips that served us a lot!
Universal Studios is an amusement park for all ages, with the theme of famous movies, that make you feel very familiar with all the attractions, shows and tours.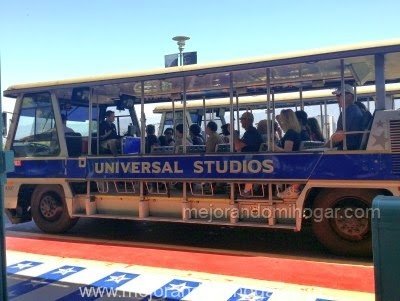 I tell you about our trip to Universal Studios Hollywood. Apart from the ticket, we buy the Front of the Line Pass, which gives you access to attractions in a preferred row, only once (the following you make normal row).
We bought it thinking we wouldn't have time to tour the attractions; since it was low season, we reached very well most of the attractions that interested my children, I think we were able to save this pass, which is not cheap for a family of five.
With the help of the Front of the line pass; we ended our visit early, around 6:00 pm in the afternoon climbing once to each attraction, except for the younger kids, so we took advantage and went to visit the famous Hollywood sign, which I'll tell you about later.
So it's up to you to buy that quick pass or not, depending on how long you have for the park.
I recommend that you arrive early, if possible at the time they open the park and visit the park on weekdays, so that you avoid accumulations.
Don't forget the map at the entrance of the park, so you plan your visit well. Get ready to get wet in the Jurassic Park game, I'd leave it for the end or before you eat, so you have time to dry out.
Indispensable for your visit: Sunblock, Carriola or stroller if you are wearing small children, a change of clothes for children in case they get wet and want to have fun!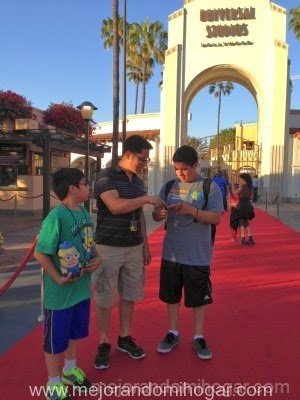 Universal Studios Hollywood is divided into two floors, joined through Starway, a set of regular and electric stairs; The main entrance is on the top floor.
To save time, I recommend first touring the attractions that attract you the most, but first all of one floor and then the other, make the transfer only once; or you can start at the bottom floor, because most people enter the park and stay at the attractions upstairs.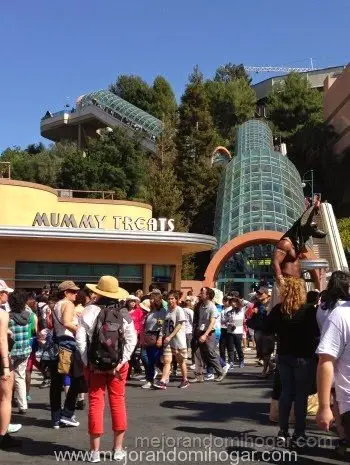 Starway, is the passage connecting the two floors of Universal Studios Hollywood
On the first floor of Universal Hollywood Studios you can find attractions, games and shows such as:
Universal's House of Horrors. The house of terror, has some restrictions of stature, here gave us a good running Chucky hehe. Studio Tram Tour. It is a tram ride through NBC Universal's recording studios and lasts approximately 45 minutes. On the tour you go through several sets of movies with some special effects like tremors, floods, etc. Despicable Me Minion Mayhem. Virtual attraction with the naughty and famous Minions. You can read more of this 3D attraction in my review here.
Super Silly Funland. Right next to the Despicable Me Minion Mayhem you can find this area with water games for the kids to cool down for a while, with the same theme of the Minions and Despicable me.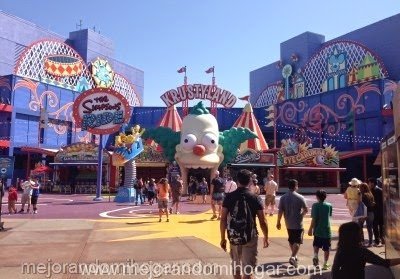 The Simpsons Ride. It's a virtual attraction, where you walk through the amusement park of the Simpsons program in Springfield.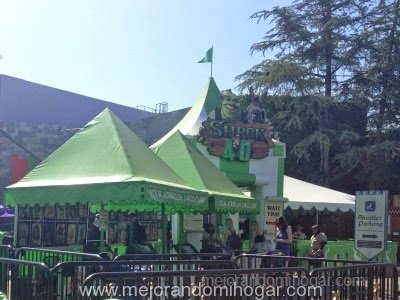 Shrek 4D. Another virtual attraction or ride in Lord Farquaad's castiilo is a cinema with seats that have different special effects, based on Shrek's film.
On the floor below you can find more exciting attractions for the biggest, we get on all and are highly recommended: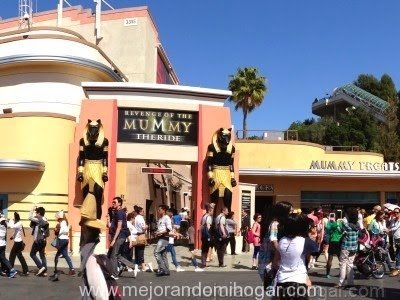 Revenge of the Mummy. A very fast roller coaster, with effects from the film the Mummy, is very good.
Transformers The Ride 3D. It's a flight simulator where the vehicle where you're on board takes a 360-degree turn, you'll see the Transformers have a battle in front of your eyes.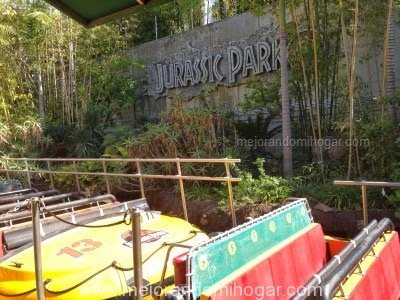 Jurassic Park the Ride. This one liked my children so much, especially the two younger ones who hadn't had a chance to see the movie, who came home, they saw the Jurassic Park movies fascinated.In this game you get wet because you get wet! It's a walk along a river where you'll see several dinosaurs of all kinds, then fall into a waterfall. Very good.
NBC Universal Experience. Located on the side of the Transformers is a venue with display of costumes, artifacts and other accessories of movies and TV shows.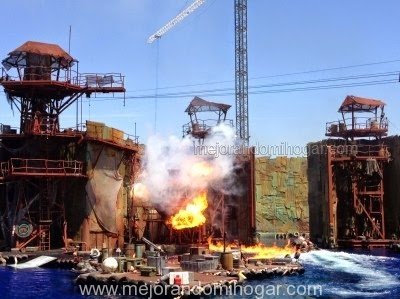 In addition to all these rides, mechanical games or attractions, at Universal Studios Hollywood you can find food and snacks of all kinds, outdoor shows, different shows like Water World, which includes special effects.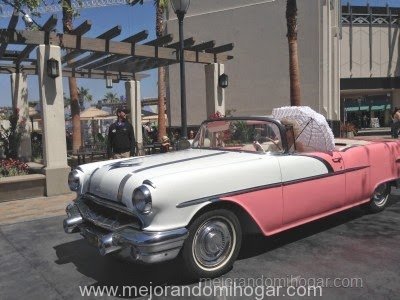 There is also photo opportunity and parade with movie characters along the park like Marilyn Monroe, Betty Boop, Beetlejuice, Scooby Doo, Shrek, etc. plus souvenirs and lots of fun!
Universal Studios Hollywood is called "The Entertainment Capital in LA".
I invite you to follow them on Facebook to be aware of promotions and other news. Have you been? What was your favorite game or ride?