We paid a nominal fee to attend DisneySMMC. Flights, some meals and other expenses on our own.
Find out what we did and were told about our trip during Disney Cruise Line's Disney Dream cruise for Disney Social Media Moms Celebration 2018.
This is the second part of three or recap of this Disney celebration for moms on social media, here you can see the first part of DisneySMMC.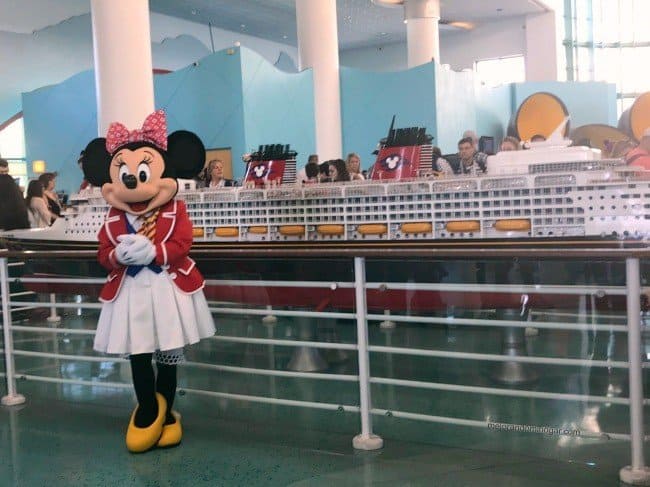 After spending three days at Walt Disney World, we were transported to Cape Canaveral, and boarded one of Disney Cruise Line's cruises, the Disney Dream, which is truly a dream, where we visited Nassau, Bahamas and Castaway Cay.
Disney Dream
We boarded the boat around half a day, went straight to eat at enchanted Garden, an elegant restaurant inspired by France, which has a fountain with a Mickey Mouse cherub.
Finishing lunch, we took a tour of the boat to meet him and went to the clubs of children and teenagers, Brendita entered the Edge and Alejandro was in the Vibe, then I tell you how hard it was to get them out of there!
After resting for a while in the cabin, I went to the welcome party for the influencers, where we danced with Mickey and his friends, who arrived Disneybounding dresses, each inspired by one of Disney's properties: Disney Parks, Disney Cruise Line , Adventures by Disney and Aulani Disney's Hawaii Resort.
In the afternoon we went to the Sail Away deck party, a party full of atmosphere, where some danced, sang, others like my children did not resist the Aqua Duck a slide that goes around the boat and gives the feeling of floating over the sea , the party ended with fireworks as we walked away from Florida!
In the evening we went to see The Golden Mickey's a musical show where we watch the characters from Disney movies.
The morning the bloggers had a session with different speakers, below I tell you that we found out:
Some of the new Adventures by Disney and Disney Cruise Line
Sharon Siskie- Senior Vice President of Commercial Strategy told us about how new Disney Adventures by Disney started with two trips and now offers thirty-five destinations.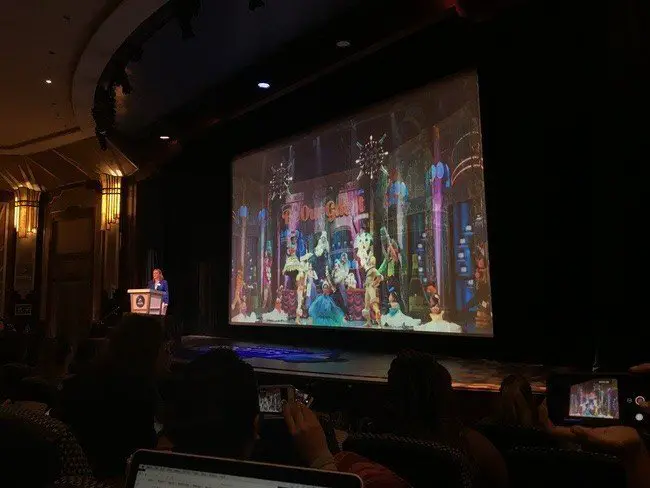 – Disney Cruise Line premiered Rapunzel's Royal Table, a Tangled themed restaurant at Disney Dream.
– The remodeling of the Vibe, the club for teenagers of the boat that will become an urban loft space.
– Three new ships join the Disney Cruise Line fleet by 2021.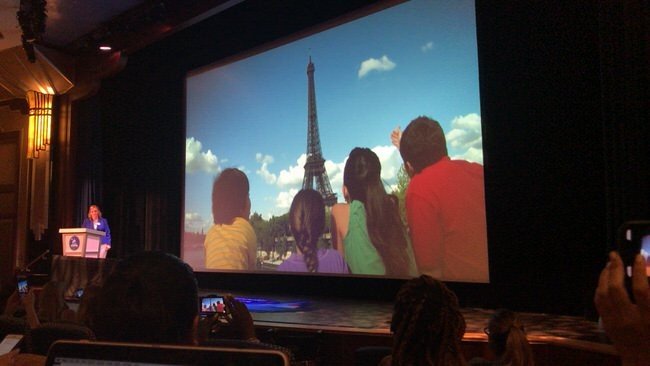 – Adventures by Disney, which began in 2005 with two trips, now offers 35 destinations, announced a new river cruise in Europe by 2019.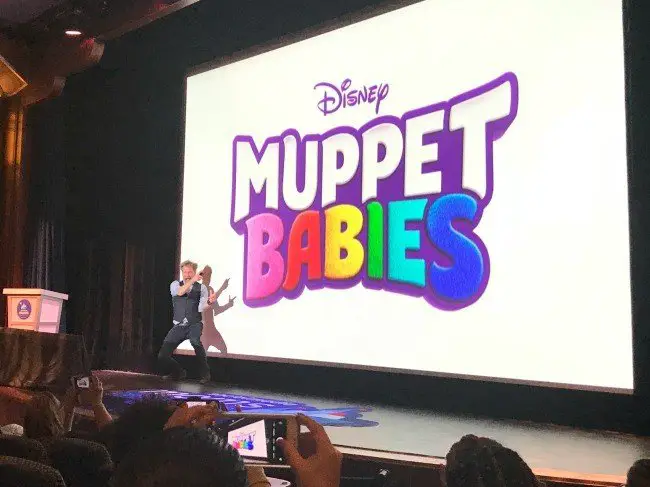 Muppet Babies arrive on Disney Channel
We met Tom Warburton- Producer of the reimagined Disney Junior series "Muppet Babies", which premieres this March 23 on the Disney Channel and they bring a new member, we could watch the first chapter and I loved it, it reminded me when I saw them accompanied by my brothers. Nanny's voice is made this time by actress Jenny Slate.
Disney social campaigns
John Breckow-, Director of Corporate Citizenship for Walt Disney Parks & Resorts told us some very moving wish stories that have made it a reality with the Make A Wish program and volunteer programs; as well as the results of the Share your Ears campaign and their visit to the victims of Hurricane Harvey where more than fifteen million dollars were raised to support them.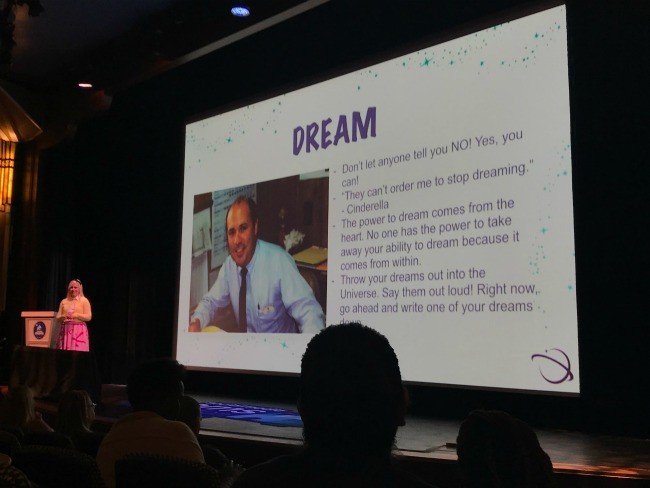 Her Universe
Ashley Eckstein, voiced by Ahsoka Tano in Star Wars: The Clone Wars and Star Wars Rebels; actress and entrepreneur, told us how the idea of her fashion company "Her Universe" was born when she was looking for Star Wars clothes for women and did not find. He presented and gave us his book "It's Your Universe".
Some motivational phrases he shared with us: "Don't let someone say no! I can't be ordered to stop dreaming "Cinderella".
Disney Channel stars
There was a panel with some Disney Channel stars, like Olivia Rodrigo and Madison Hu of Bizaardvark and the YouTuber Brent Rivera, which we were able to attend with our family, my daughter was delighted to see her favorite stars!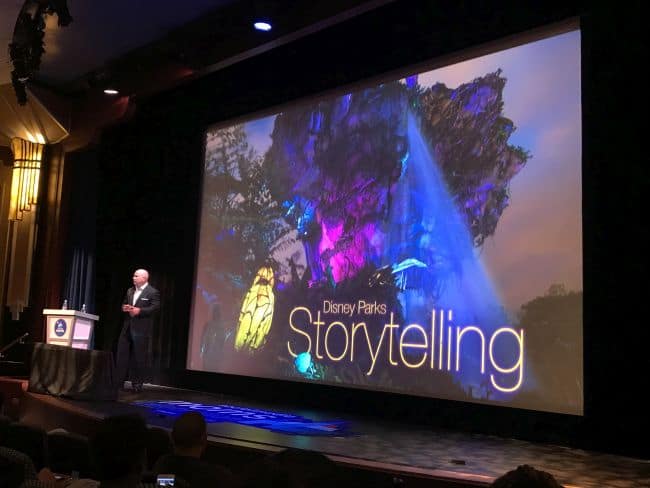 Content and video creation talks for bloggers
Bob Hitchcock, Award-winning Video Content Producer and Editorial Content Director, gave us an excellent conversation about video creation to connect with our fans.
Alex Ruiz– Senior Manager, Digital Content Development for Walt Disney Parks & Resorts, shared us on the latest in the art of storytelling or storytelling.
Tom Smith, Founder of the award-winning Disney Parks Blog and Editorial Content Director at Disney Destinations gave us tips such as content creation. "The power is in history," he told us.
Don't miss the third and final part of my recap,
 I'll talk about Nassau and Castaway Cay, Disney's private island!