Step by step to make delicious beef shank tacos and tatemada sauce, with my mom's recipe, includes recipe and video.'This is an authentic Mexican recipe that you will love.
This is a compensated campaign in collaboration with Rumba and #WeAllGrow Latino Network #HerTipOurRecipe
I remember family reunions when I was a girl; the jokes, the games but above all, the food; like these chamorro tacos and tatemada sauce that my mom made from time to time.
We served the tacos of beef chamorro, accompanied by the broth that remains of the cook of the meat, with a mingain inside, to that caldito added lemon and together with the tacos was a very rich meal.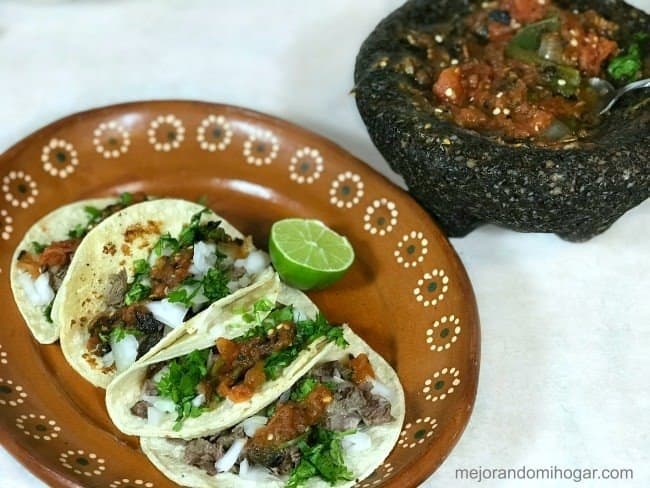 The tatemada sauce until after I grabbed the taste, because it is usually spicy, but I make them to my children not so spicy so that they get used to the taste.
The beef chamorro, chamberete (which actually the right thing to do is chambarate) or ring bone I found in a well-known supermarket store and it is of the Brand Rumba Meats, if you remember, a long time ago I published the recipe for tongue with pasilla chili.
Rumba Meats meat is of high quality and is vacuum sealed, Rumba offers specialized beef cuts, which we normally use in Mexican or Hispanic recipes, such as tongue, chamberet or ring bone, cachete, minga, neck, etc. and can be frozen.
Go to the Rumba Meats Family site to see more authentic recipes like this one and check out the Facebook live with the recipe:
Check out my video with the recipe.
Beef shank Tacos and Tatemada Sauce
Ingredients for beef shank tacos
3 lbs of res chamberete or hind shank of the brand Rumba Meats
1/2 teaspoon oregano
1 teaspoon cumin
1/2 teaspoon whole pepper
3 tbsp white or apple cider vinegar
1/2 onion
1 bay leaf
2 garlic cloves
1 tablespoon grain salt or regular
1 onion
1 bouquet coriander
Corn or flour tortillas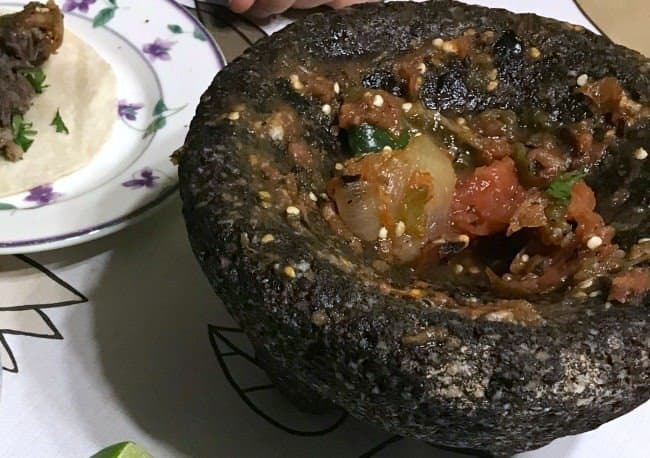 Ingredients for tatemada sauce
3 tomatoes
1/2 onion
1 garlic clove
3 chillies
1 lemon (juice)
Tacos
We wash the meat very well in the jet of cold water.
Place in a pot with water and add the oregano, cumin, pepper, bay leaf, vinegar, garlic and salt.
Cover and leave to cook for two hours or until the meat is so soft that it is easily unearthed over medium heat.
• It takes about an hour in the pressure cooker.
• In the slow cooker it takes six hours to low.
Apart; chop onions, coriander and lemons for when the meat is ready. Separated.
When the meat is ready, we defrost.
We heat the tortillas and form the tacos.
Add onion, coriander and tatemada sauce and you're done!
Tatemada Sauce
While the meat is cooked we can make the tatemada sauce.
Tatemamos or roast in a comal, grill or oven the tomato, chilli, onion and garlic (with the peel) circling until burnt on the outside.
Add lemon juice and salt and grind all the ingredients either in a molcajete, or in the blender.
and ready!