Mexican beef tongue recipe. an easy recipe of tongue in tomato sauce to serve as a main dish or to prepare tacos.
This is a compensated campaign in collaboration with Rumba Meats and #WeAllGrow Latino Network #SabordelFutbol
The party of football is about to start and to celebrate the Latinos we paint ourselves, this time the matches will be early, so I prepared beef language to the Mexican, to adapt a little our celebrations.
Pot luck parties are very common in these meetings and in my case we will celebrate my favorite team, which of course is Mexico; so food and decorations have to reflect our Mexican heritage.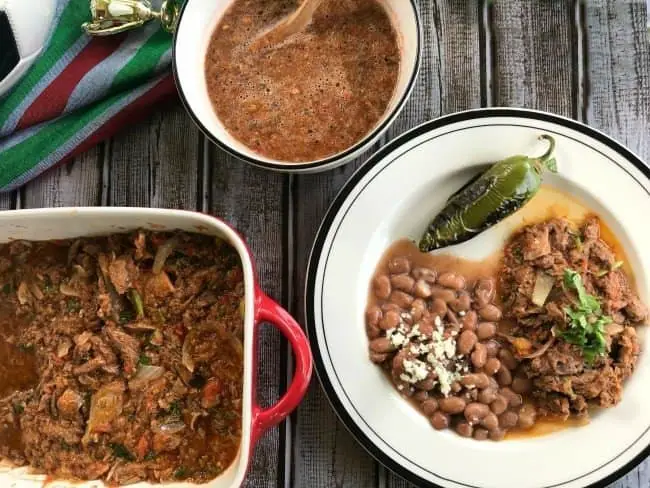 As hostess I like to offer a strong dish to my guests, that's why I chose the tongue of beef to the Mexican, this recipe is a typical Mexican lunch and is served either on a plate or in tacos.
I made it with Rumba Meats beef language, which I bought at Kroger; I have cooked several dishes with beef of this brand and I can tell you that the meat is high quality and can be frozen easily.
The tongue takes about two and a half to three hours to the stove, but I normally prepare it in the slow cooker crockpot overnight and in the morning is ready. (Now the Instant Pot is very fashionable, you can also make it there)
Cow tongue or beef tongue taste similiar to other beef cuts. You have to clean, cook and peel the tongue before eating it.
Rumba Meats offers specialized ingredients that allow me to share my Hispanic heritage by cooking traditional dishes.
What I like about supermarkets like Kroger is that in a single lap you can get everything you need for your meetings, in this case for the football party or soccer watch like:
Rumba Meats Meat
Vegetables and fruit
Tortillas
Chips
Desserts
Plates, napkins, cutlery and disposable cups
Decorations
Sodas
Soft drinks
Bottles of water
Ice
I share the recipe of Mexican beef language, stew, an option for your football parties, I hope you enjoy it! Czech also my tongue recipe in pasilla chili sauce.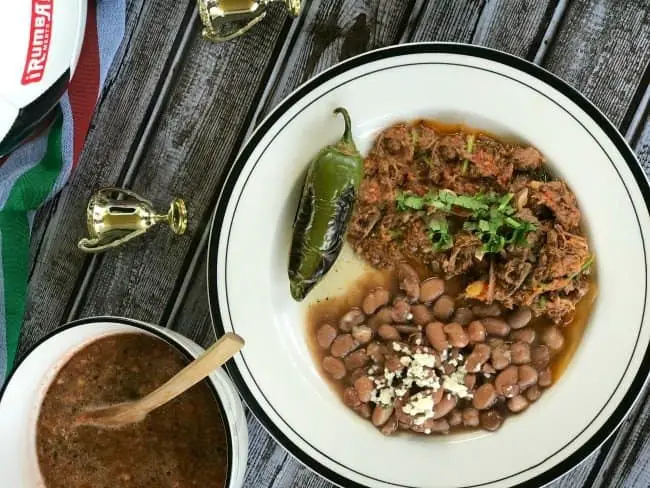 Mexican beef tongue recipe
Ingredients
1 beef tongue
1 onion divided quantities
5 garlic cloves divided quantities
4 tomatoes
2 bay leaves
4 cilantro branches
1 cup of the broth where the meat was cooked (or water)
1/4 tablespoon oil
Salt to taste
Clean the beef tongue under cold water.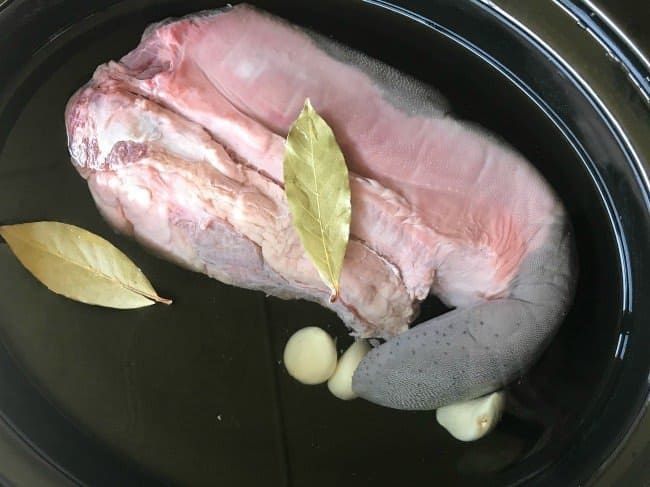 Place the beef tongue in the pot with enough water to cover it, add a half of onion, 3 garlic cloves, 2 bay leaves, 2 spoons of salt and cover the pot.
You can cook the beef tongue in the slow cooker for 8 hrs or for about 3 hrs in the stove. 
When the tongue is cooked and soft, remove it from the broth. Do not throw away the broth yet.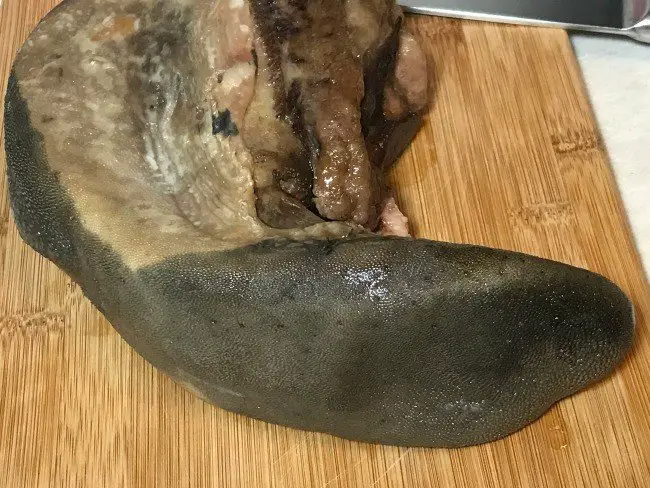 Nos you need to peel the beeg tongue. Remove the thick layer of skin that cover the tongue and scrape out the fat. Separate the meat from the tongue. Shred the meat.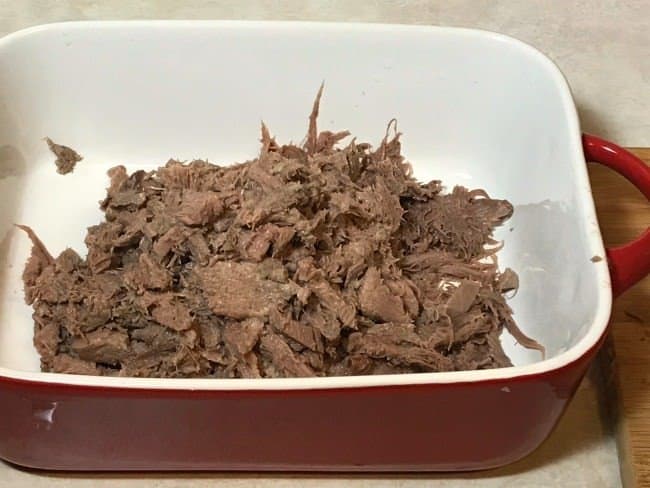 Slice half of the onion, chop the garlic cloves and cilantro.
Blend the tomatoes with 1 cup of the meat broth or water, as you prefer.
Heat a quarter spoon of oil in a frying pan.
Fry the onion and garlic until the onion is sizzled.
Add meat and allow to fry for a while. Add tomato sauce and cilantro, mix and shimmer for approximately five minutes.
Warm up the corn or flour tortillas and serve the Mexican beef tongue with beans or avocado.
You can serve with beans and avocado.
(Giveaway Ended)
Now I invite you to celebrate the #SabordelFutbol ! (ended)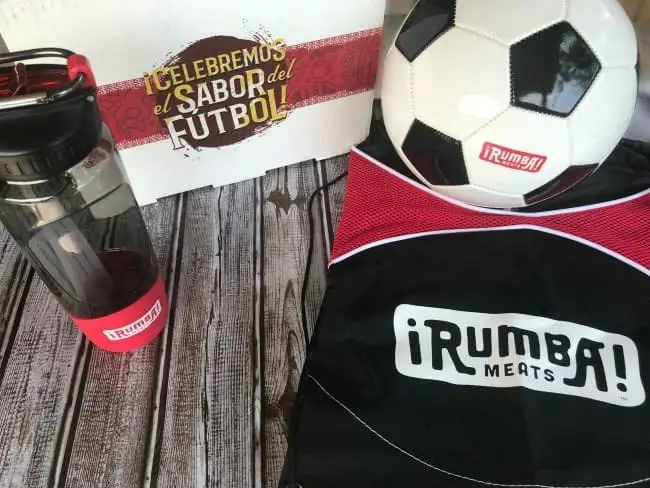 There will be 5 winners, the prize is:
A football themed box that includes: A football, a bowler bag and a bottle of water.
To participate, leave a comment – What is your favorite team in this world celebration of soccer?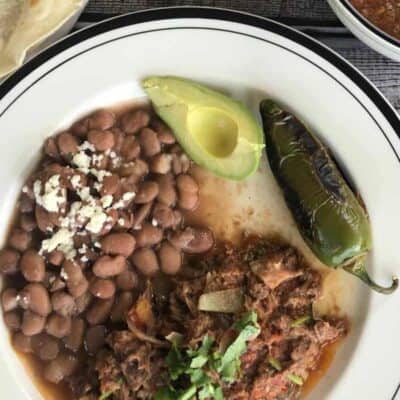 Mexican beef tongue recipe in the slow cooker
A delicious recipe made with beef tongue in tomato sauce
Ingredients  
1

pc

Beef tongue

1

pc

Onion

Divided quantities

5

pc

Garlic cloves

Divided quantities

4

pc

Tomato

2

pc

Bay leaves

4

branches

Cilantro

1

cup

beef broth

broth from the meat we cooked

1/4

tbsp

vegetable oil

salt

to taste
Instructions 
Place the beef tongue in the pot with enough water to cover it, add a half of onion, 3 garlic cloves, 2 bay leaves, 2 spoons of salt and cover the pot.

1 pc Beef tongue,

1 pc Onion,

5 pc Garlic cloves,

2 pc Bay leaves,

1/4 tbsp vegetable oil,

salt,

1 cup beef broth

You can cook the beef tongue in the slow cooker for 8 hrs or for about 3 hrs in the stove.

When the tongue is cooked and soft, remove it from the broth. Do not throw away the broth yet.

Now you need to peel the beef tongue. Remove the thick layer of skin that covers the tongue and scrape out the fat. Separate the meat from the tongue.

Slice half of the onion, chop the garlic cloves and cilantro.

1 pc Onion,

5 pc Garlic cloves,

4 branches Cilantro

Blend the tomatoes with 1 cup of the meat broth or water, as you prefer.

4 pc Tomato,

1 cup beef broth

Heat a quarter spoon of oil in a frying pan.

Fry the onion and garlic until the onion is sizzled.

1 pc Onion,

5 pc Garlic cloves

Add meat and allow to fry for a while. Add tomato sauce and cilantro, mix and shimmer for approximately five minutes.

1 pc Beef tongue,

4 pc Tomato,

4 branches Cilantro
Nutrition
Serving:
1
people
Calories:
7
kcal
Carbohydrates:
1
g
Protein:
1
g
Fat:
0
g
Saturated Fat:
0
g
Polyunsaturated Fat:
0
g
Monounsaturated Fat:
0
g
Trans Fat:
0
g
Cholesterol:
0
mg
Sodium:
179
mg
Potassium:
39
mg
Fiber:
0
g
Sugar:
0
g
Vitamin A:
85
IU
Vitamin C:
1
mg
Calcium:
9
mg
Iron:
0
mg
Check out my Barbacoa de res recipe (Spanish)