This is an easy craft to decorate candles we can use at a Mexican Party or Day of the Dead Altar.
This shop has been compensated by Collective Bias, Inc. and its advertiser. All opinions are mine alone. #LoveAmericanHome #CollectiveBias
As you know, I love parties, inviting my family and friends, preparing a delicious dinner and having a good time. One party that I like is the night of El Grito to Celebrate the Independence of Mexico, but also on these dates comes the Day of the Dead that is every time it is popular among Mexican people.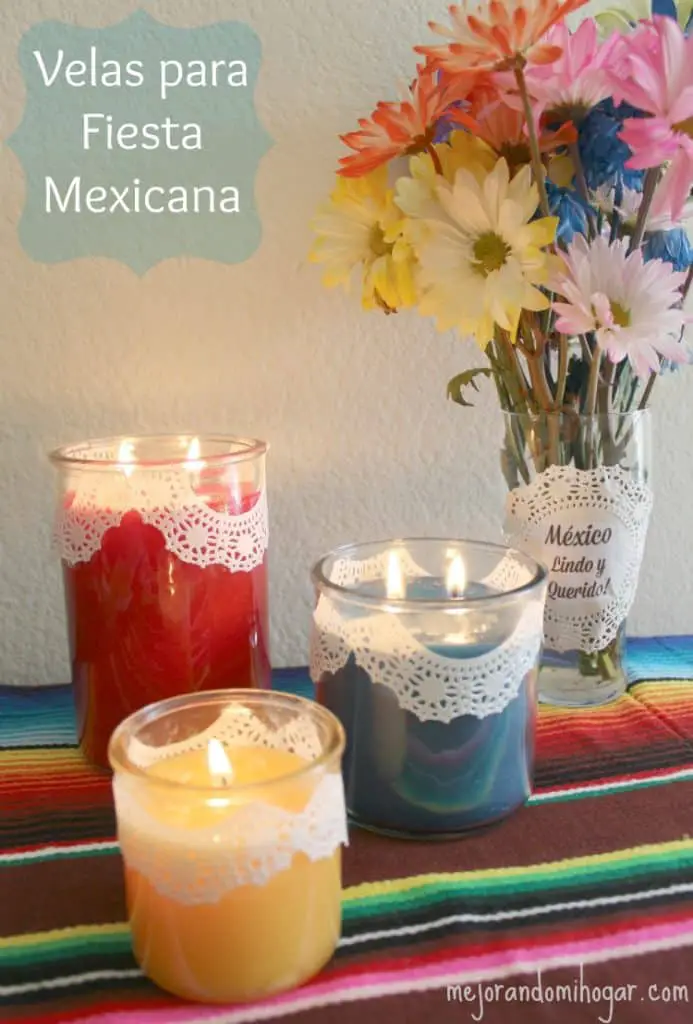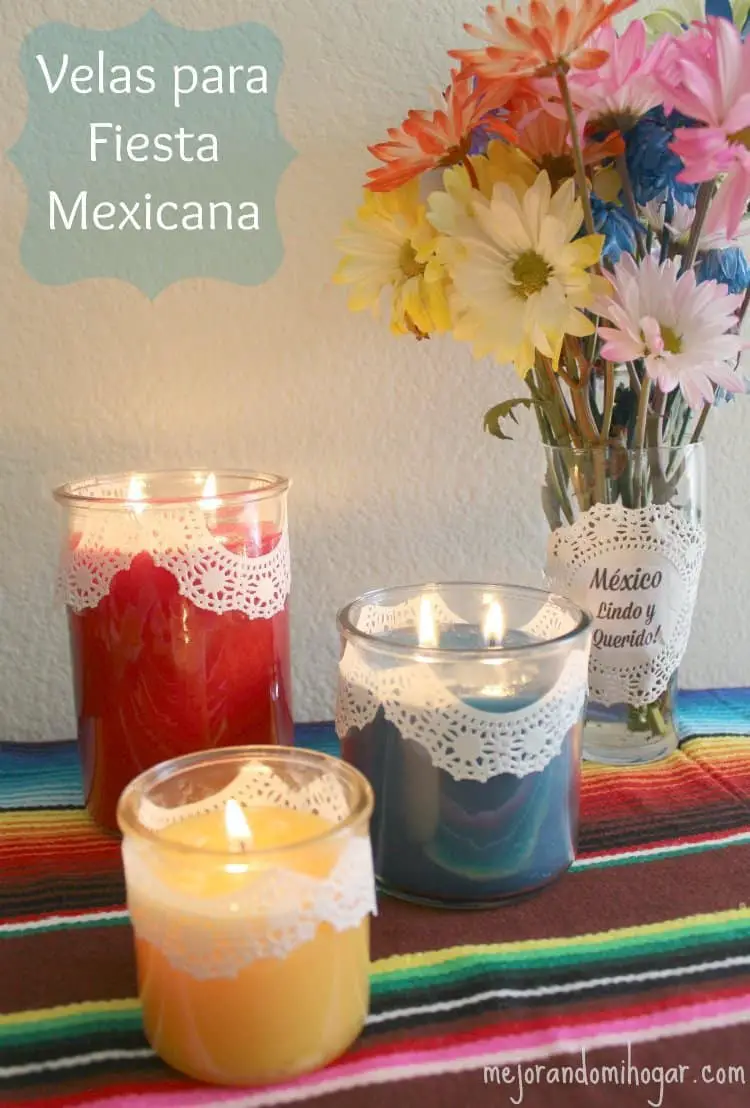 In my family we have always celebrated festivities. When I lived in Mexico, before I got married I used to celebrate this day in a ballroom with my friends, or we were going to shout El Grito to the National Palace. After that we followed the pachanga in some house or mine.
Now that we're in Dallas, married and with kids, I'm always trying to find events to celebrate Independence, whether it's the parade or some celebration, this time we went to a cultural center of Latinos, we saw some folk dances and rich dinners.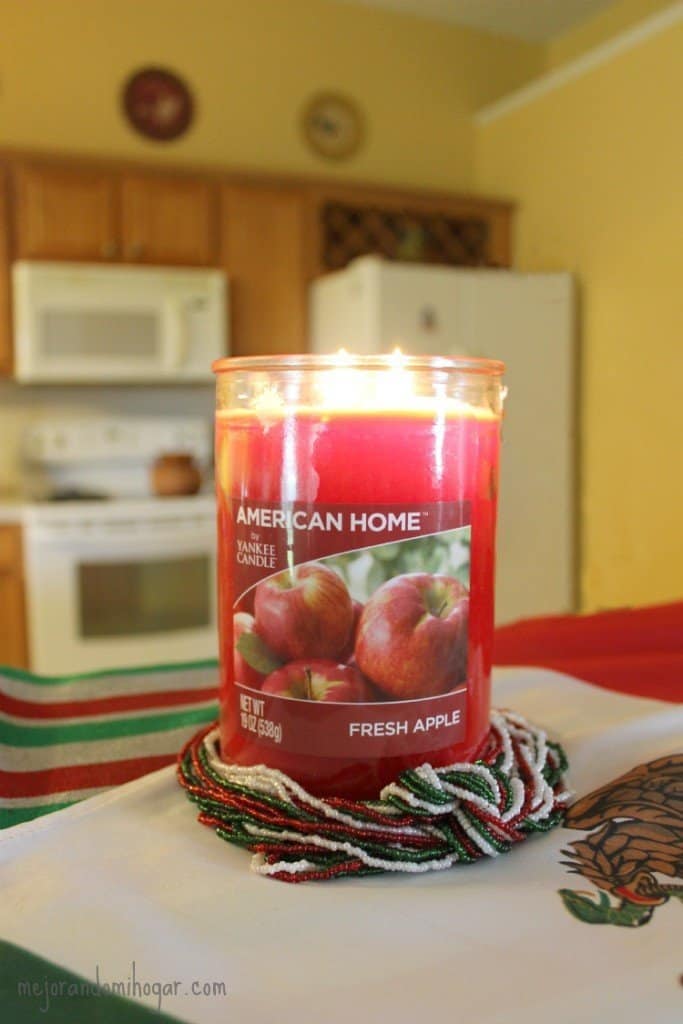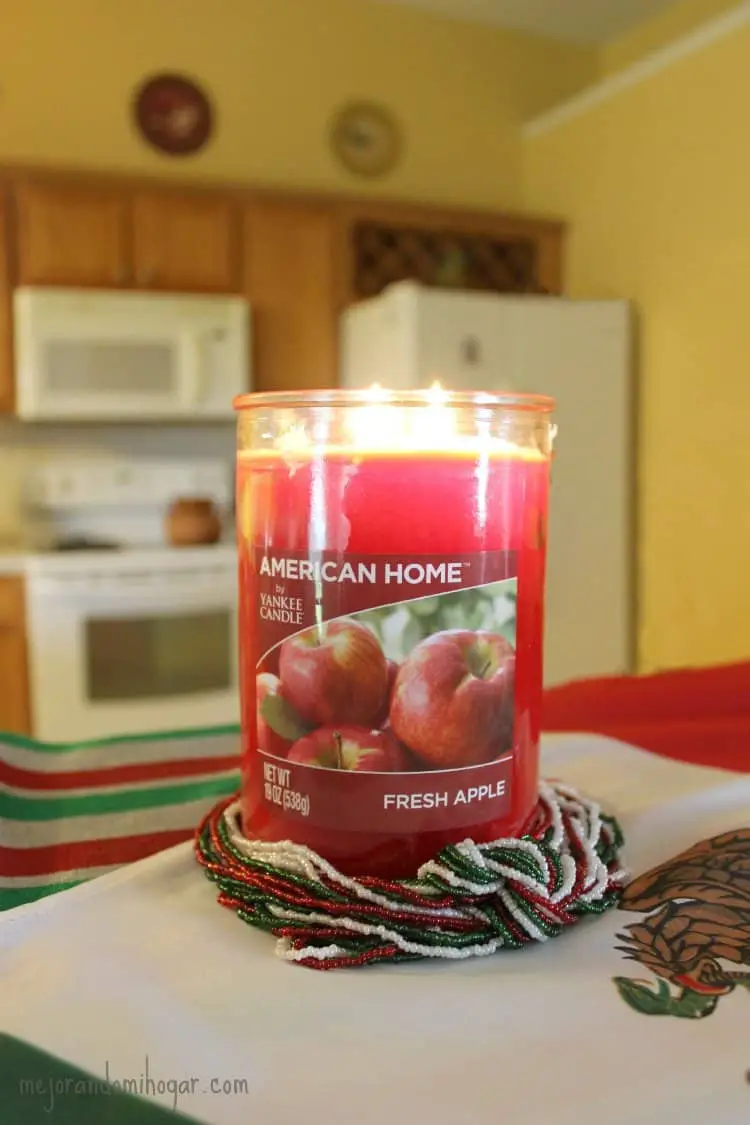 This weekend we will celebrate with my friends with a rich dinner and singing. Usually the party of El Grito is in a suit, the ladies cooperate with some Mexican antojito, they can be flutes, enchiladas, sopes, toasts and infallible tacos. After dinner we dance or sing well-Mexican songs at karaoke.
Just as it is customary here in the USA to decorate each of the festivities, in my house I like to do the same, with details of my country, especially so that my children do not forget their roots.
This time I decorated some candles from American Home™ by Yankee Candle®. I wanted to combine several colors, similar to those of Mexican paper flowers or Saltillo's zarape and the skirts of folklore dancers. 
I bought three candles:
1- 19 oz Large 2-Wick Tumbler American Home™ by Yankee Candle®
1- 12oz Medium 2-Wick Tumbler American Home™ by Yankee Candle®
1- 4oz Small Tumbler Candles $4.93 Island Mango Coconut™.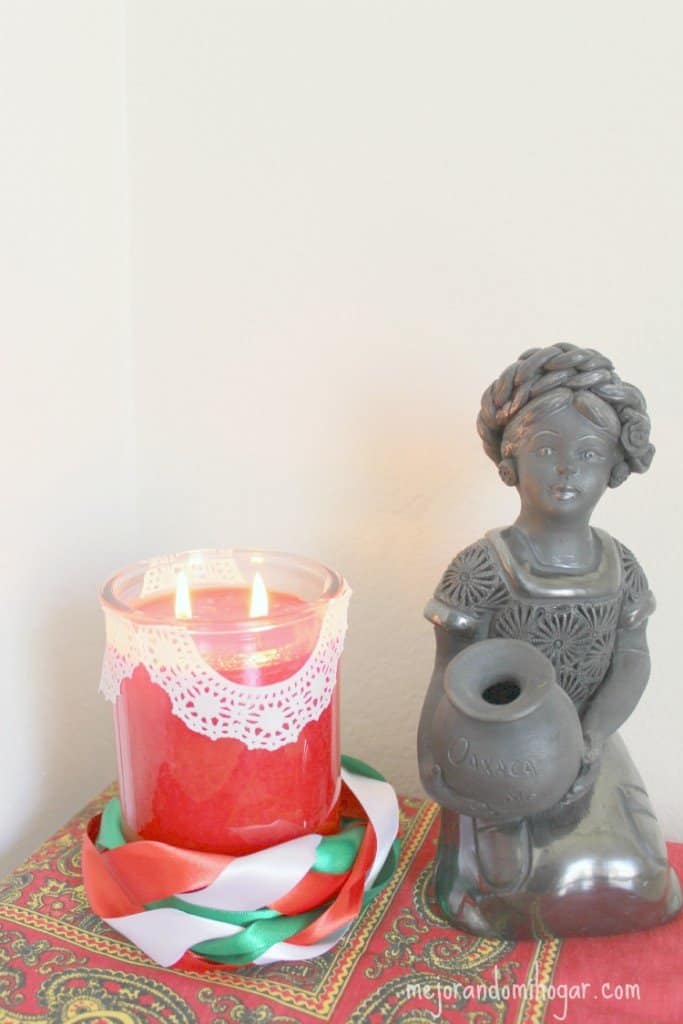 Now that I am used to having candles in various corners of my house, because it so enclosed; it's not like in Mexico, you always have the windows and doors open.
I turn them on a daily basis after cooking, because otherwise the smells lock up and go to my bedroom and my closet which is the furthest thing from the kitchen.
I hope you like how I decorate the candles for the festivities, those same colors will serve me for Autumn and to decorate the altar of Day of the Dead in October (if I do not finish them before!).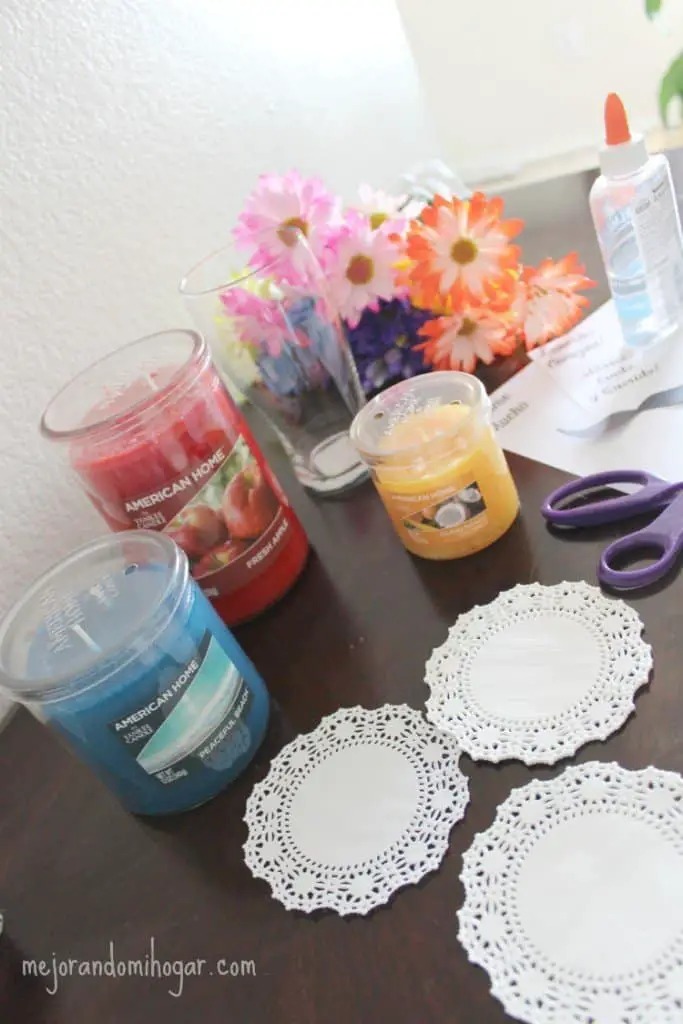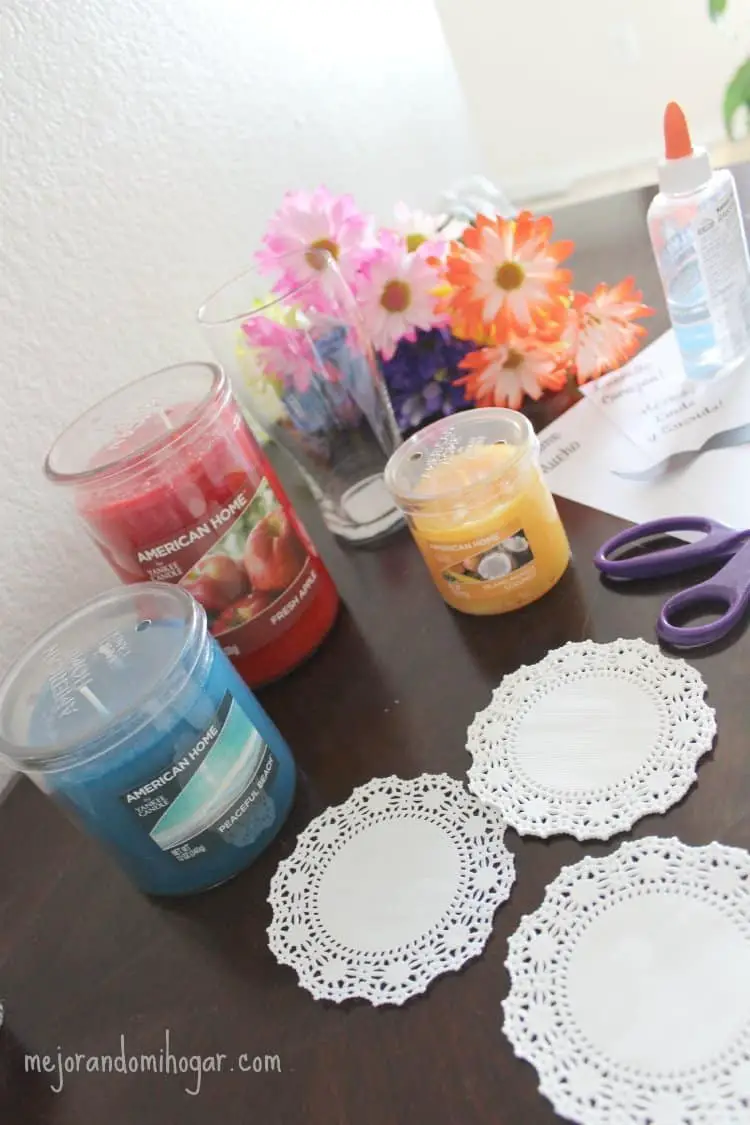 CANDLES FOR MEXICAN PARTY OR DAY OF THE DEAD ALTAR
Materials
3 American Home candles™ by Yankee Candle® (19 oz)
Paper doilies (for cupcakes)
Glue
Scissors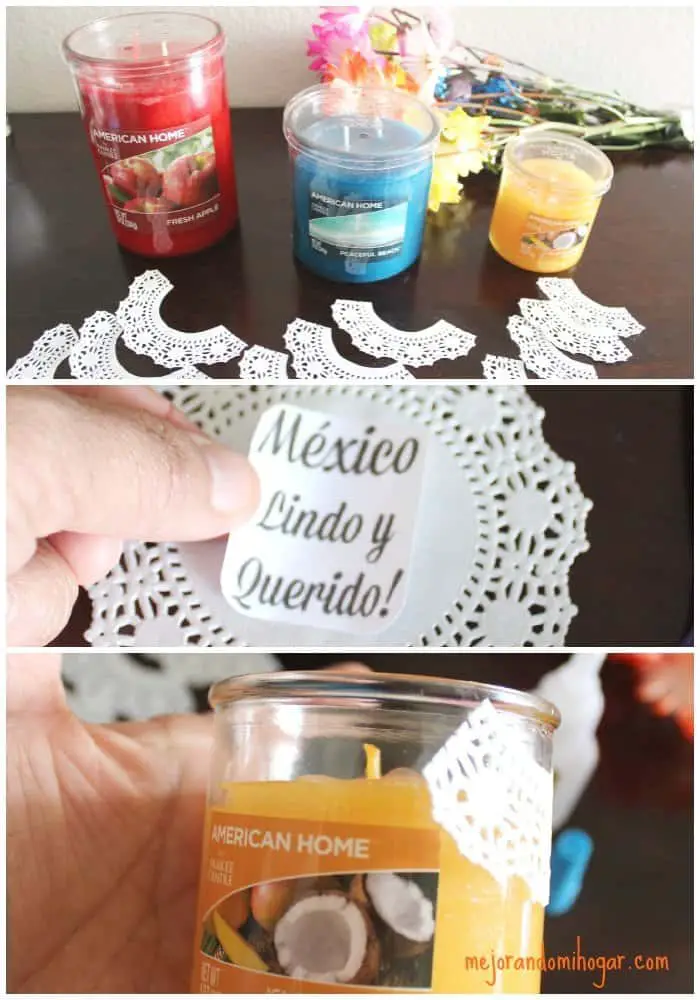 Fold and cut the paper tablecloths in the middle, then trim the center.
For large candles use halves of the tablecloths, for the other candles I was decreasing the size of the tablecloth strip.
Stick the tablecloths to each of the candles and you're done! I decorated with some well-colored flowers that I also bought at Walmart and took out my mexican flag, my zarape and the paliacate; every Mexican always has some of these things in storage, so you don't have to spend much.
I hope you enjoyes this craft and enjoy your candles for Mexican party or decorate your Dead of the dead Altar.
Viva Mexico!
And you, how do you celebrate the month of Hispanicity?