Summer has arrived and now we are craving fresh food, that is why I am sharing this Mexican chicken salad tostadas recipe with you.
This recipe is also in Spanish.
Chicken salad served along with the coditos salad are my family's favorite in summer. I always serve them together, as my mom says they are the perfect couple. So when I made just the chicken salad, my kids searched the fridge for the elbow soup.
I remember that in the 80s these two salads were very popular at the parties I attended. Later they changed a bit and serve the chicken salad in puff pastry shells so they looked nicer.
But tostadas with chicken salad are always welcome, get ready to prepare them and you will see people love them.
For this recipe, the traditional way is to use chicken breast, but you can make it with the piece you prefer, be it leg, thigh, etc.
CHICKEN SALAD Tostadas

Ingredients
Makes 15 tostadas
Mayonnaise to taste
5 carrots
2 medium potatoes
2 pieces of celery
1/2 romaine or iceberg lettuce
Pickled jalapeño pepper
Tostadas
Salt to taste
Cook the chicken breast in water with salt. Drain.
Shred the chicken breasts and let it cool. Let aside.
Dice the potatoes and carrots.
Cook these vegetables separately, because their cooking time is different.
Be careful not to overcook the potatoes to prevent them from falling apart in the salad.
Dice the celery and separate.
Slice the romaine lettuce, wash it, drain it and separate.
When the potatoes and carrots are cooked, drain and allow to cool.
When I'm in a hurry I put them in the fridge so they cool faster.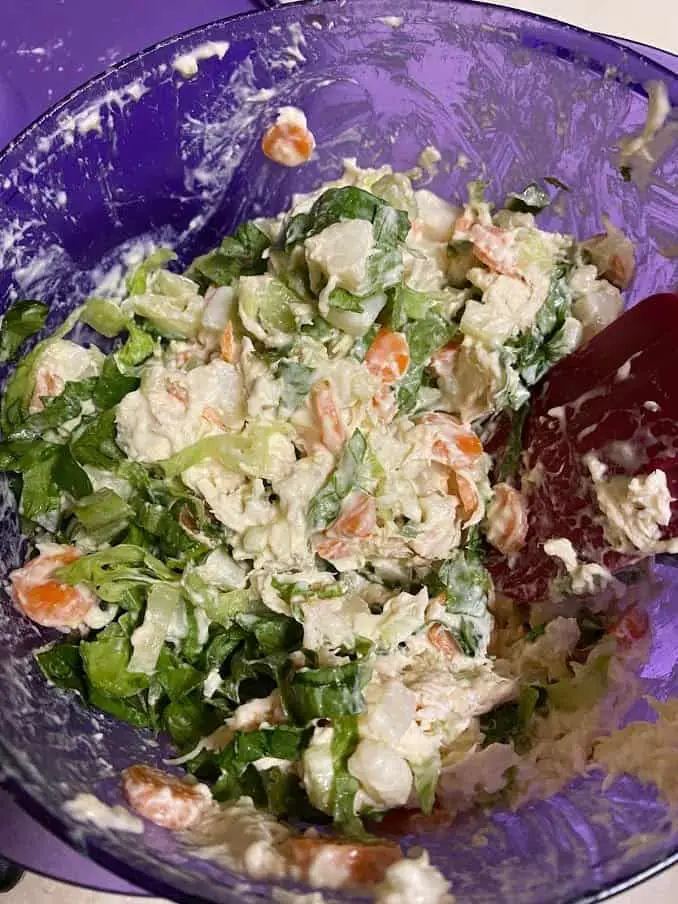 When everything is cold, add the shredded chicken, carrots, celery, lettuce, and mayonnaise to taste in a container and mix.
Add the potatoes at the end and mix carefully until you have a homogeneous mixture.
Add salt to taste.
Make the tostadas adding the chicken salad and lettuce.
Garnish with some pickled jalapeños and enjoy.
 Leave a comment or star if you liked my chicken salad tostadas recipe!