Shrimp patties with nopales and red sauce are another of my favorites dish for Lent, I prepare them at any time of the year because I love them. Making tortitas could be a little time-consuming, but it's worth it because they're so good.
Making shrimp patties brings me memories of my paternal granny, I think it was her patties that I tried first. She prepared more traditional recipes than my other granny during the Lent season.
However, what I remember about my maternal granny is that she wouldn't let us go to pools during Holly week, because she said we were going to get a fishtail. By the way, she also used to cook delicious Lent recipes like habas soup.
She lived with us, so most of the time Holly week was intended to visit los siete templos, going to the Via Crucis and all these traditions that Mexican people are used to do during these days.
I hope you enjoy the dried shrimp patties with nopales as much as I do.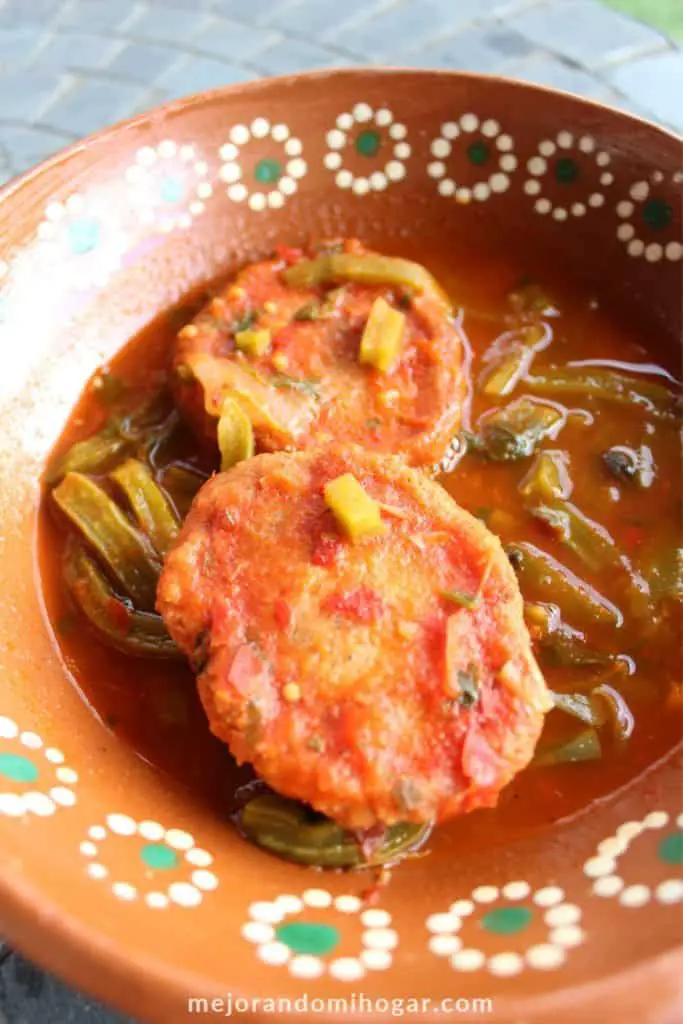 Shrimp patties with nopales and red sauce
Ingredients
1 lb nopales (cacti)
1 onion (separate amounts)
1 cup dried ground shrimp
5 eggs
2 tomatoes
2 garlic cloves
6 guajillo chiles
2 ancho chile
Salt to taste
Remove thorns from the nopales, wash them and cut them into slices.
Broil nopales with water, a tablespoon of salt, 1/4 onion and a garlic clove. Let them cook until they soften. Separate.
Meanwhile, clean the chiles, removing veins and seeds.
Let the chiles cook with water and a garlic clove only until boiling and soak them for about five minutes in the same water. Separates.
Blend the tomatoes with the chiles and some of the water where they were cooked.
You can then strain the chile mixture to remove the skins (optional).
To make the patties:
Separate the egg whites from the yolks.
Beat egg whites until they are stiff and add the yolks one by one, keep whisking.
Add the ground shrimp and gently mix with a spatula, trying to keep the stiff egg consistency.
Heat enough oil in a frying pan but don't cover the patties.
To make the patties, take a tablespoon of the egg mixture with shrimp and place it carefully in the pan with heated oil.
You can fry several pancakes at once, usually three to four pancakes in the pan. Separate the pancakes, place on top of a napkin to absorb the oil a little.
Turn the patties when turning brown, just once and let them cook on the other side.
When all the patties are cook, heat oil in a frying pan and fry half of a sliced onion.
Add the chile mixture, plus three cups of water, season to taste with salt and bring to
boil. Stir in the nopals and patties carefully, let everything simmer together for ten more minutes to allow flavors mix.
Remove from heat and serve hot. Enjoy!