Learn how to cook fava beans and make this delicious fava bean soup Mexican recipe or sopa de habas recipe. Enjoy this recipe during Lent or anytime you're craving soup.
I remember when I was a girl, it was very hard for me to try fava beans. and my grandmother made fava soup, just by smelling them while they were cooking, I didn't want to try them, until one day I was encouraged. I put up with the strong and characteristic smell of beans and it turns out I liked them!
Now the same thing happens with my children, at first they were half reluctant to try them, but little by little they have been catching their taste. I like the creamy feeling of beans, but I don't tell you anymore, I hope you enjoy and prepare the recipe!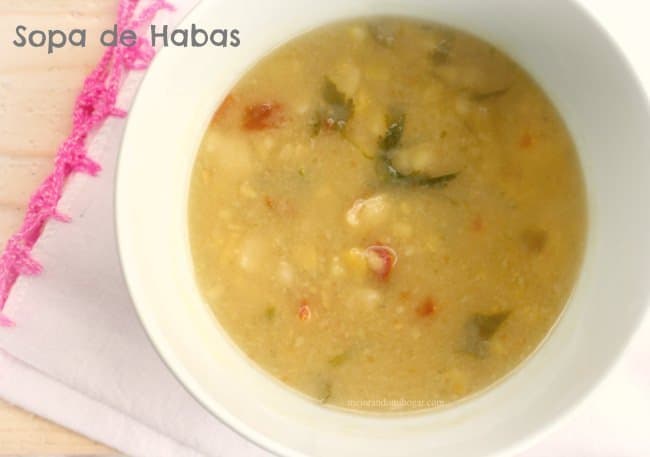 fava bean soup Mexican recipe
Ingredients
1 pack of dried fava beans
1 1/2 liters of water
1 chopped tomato
1/2 onion, chopped
3 Branches of Cilantro Picado
2 garlic cloves
Oil
Salt
Clean the fava beans removing rocks, old fava beans, or dry fava skin, rinse them and drain them.
If you prefer, you can soak the fava beans a few hours before cooking to speed up the process. For example, if you are going out and you don't want to leave them cooking on the stove. (or in the slow cooker, such as when you cook the beans).
Place the fava beans with water in a deep bowl, add salt to taste and let it cook for about an hour or until they are soft.
While fava beans are cooking, heat oil in another small frying pan. Add onion and garlic and fry them until the onion is clear, add tomato and coriander and move for a minute or two.
When done, add this mixture to the fava bean soup and boil everything together for about five more minutes.
Serve your fava bean Mexican soup warm, with tortillas or bread.
Garnish with fresh cheese and cilantro.
Buen provecho!