This Tuna Dip with cream cheese it's an easy recipe to serve as a snack, with crackers; while watching a football game with friends or we can prepare quick canapes for any meeting.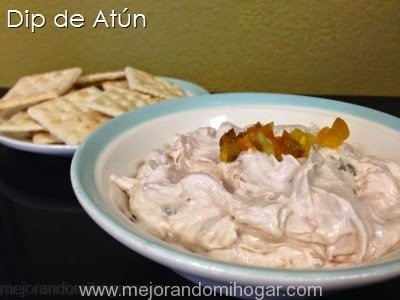 TUNA DIP WITH CREAM CHEESE
Ingredients
1 can of tuna
1 philadelphia cream cheese
2 prickled jalapeño peppers
Drain the tuna cans.
Chop jalapeño peppers adn separate.
Whisk the cheese to cream until soft.
Add the tuna and whisk until we have a smooth mixture.
Incorporate in chili or chopped chipotle.
Serve and garnish with a few pieces of chili.
Enjoy with crackers, tasty, crackers or toast.
You can prepare canapés with the dip, use your imagination, I hope you enjoy it!