How to make an easy DIY pirate sword inspired by The Pirate Fairy Disney movie.
*While this post is part of a sponsored campaign with Latina Mom Bloggers and Disney Studios, the views expressed are mine. This warning is made in compliance with the Directives of the Federal Trade Commission Guidelines, 16 C.F.R Part 255.
We recently saw the newly released Tinker Bell film The Pirate Fairy on Blu-ray™ and Digital as a Family, this Disney Fairies film premiered on April 1, 2014.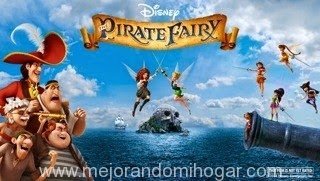 The film tries to save the Pixie Hollow community from the Pirates.It all starts when Zarina, who is a caretaker of the Pixie Dust or Fairy Dust, tries to make this powder of different colors, which she was not allowed and ends up getting her into trouble, by joining with a group of pirates who want to steal the Pixie Dust from their community.


Tinker Bell and her fairy friends work together as a team to confront the Pirates and return the Fairy Dust and Zarina to their place of origin.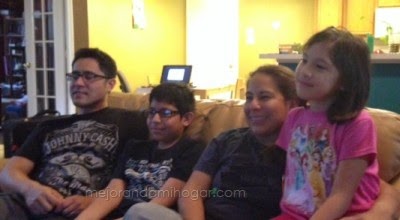 The new Walt Disney Studios movie will delight your family, especially if you have little fairies at home, it has a good message about friendship and teamwork, plus music and fun scenes.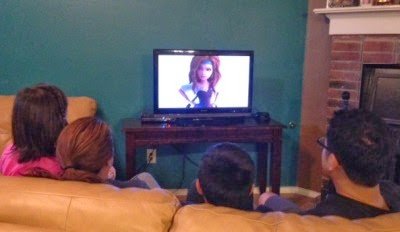 In my house, we feel identified with the film, just as they have Pixie Hollow, we have our Latin Community, here in the US, we are all friends, although there is never a lack of a lack of a decision for some of the group, but for that we are all others, to help when they are needed.
We are like a big family, because most of us have no more relatives living near us, so when we have a problem (like Zarina) among the whole group we try to help in some way.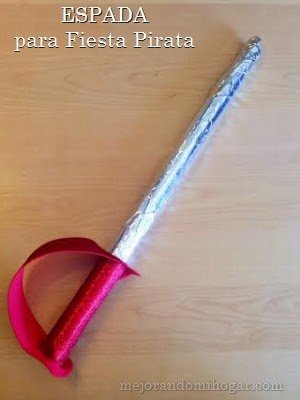 My children realize the value of friendship, because we often exchange favors with our friends, either to pick up some kid from school when their mom can't, when someone needs a raid or even when I need to be looked after my dog when I go on a trip !
After the film, my sons stayed playing fairies and pirates, but my daughter complained that she didn't have a sword, so we started making a quick sword out of recycled materials that I have left when I throw a children's party.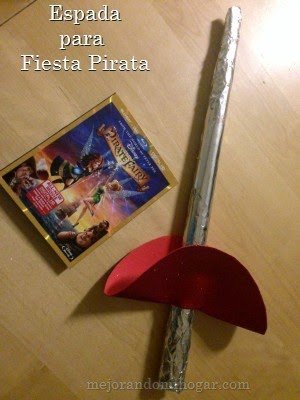 how to make a pirate Sword
Materials
Thin cardboard (cardboard or some cereal box)
Aluminum foil
Foami color of your choice (3/4 sheet letter size)
(or thin cardboard)
Scissors
Transparent tape
First we roll the thin cardboard, forming an elongated cone, this is the base of the sword. We secure with transparent tape.
We line with foil. Here it
depends on which of the two swords you want to do: Fo
r the first, you line a part of the sword, where the handle goes with the foami, you cut a thick strip, you make two holes at the ends and the accommodates as you see in the photo
For the second sword:
We fold the foami or cardboard of your favorite color in half and cut a half circle, right there bend it back in half and in the center we do a small piercing.
We put the sword through the perforation of the foami, until it settles, leaving a space as a handle at the end of the sword.
Use your imagination to decorate your sword, this craft can serve as an activity to do with kids at children's parties or to play pirates after watching ThePirate Fairy on Blu-ray™ and Digital as my kids!
Find out all the promotions and news of The Pirate Fairy Blu-ray™ & Digital on social networks using #HadaPirata in your searches
Facebook: facebook.com/DisneyFairies
Twitter: twitter.com/disneypictures