Nopales salad with Clamato is a delicious recipe with traditional ingredients full of flavor. It is great as an appetizer, or to serve as a side with your Lent dishes.
This recipe is also in Spanish Nopales con Clamato
I like that my kids try new flavors and I try to prepare Mexican recipes giving them a twist with some special ingredient.
As in this case, this recipe is very similar to the Mexican nopales con ajo recipe, but this is served cold and with tomato cocktail Clamato The Original.  By the way, my children like to take this juice alone with ice.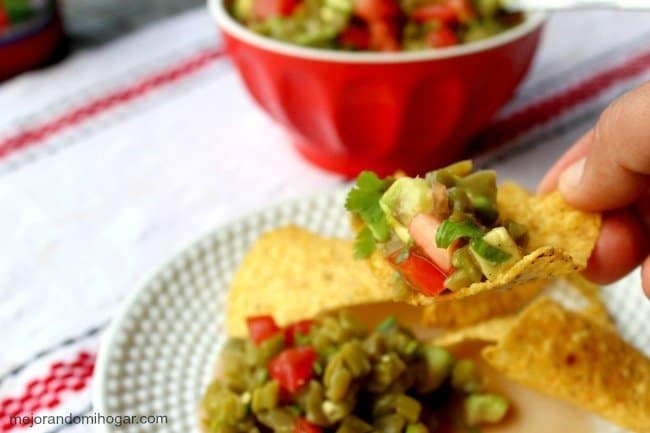 We love these nopales salas and I'm sure my friends will also enjoy them at upcoming Lent meetings when we get together to eat seasonal dishes.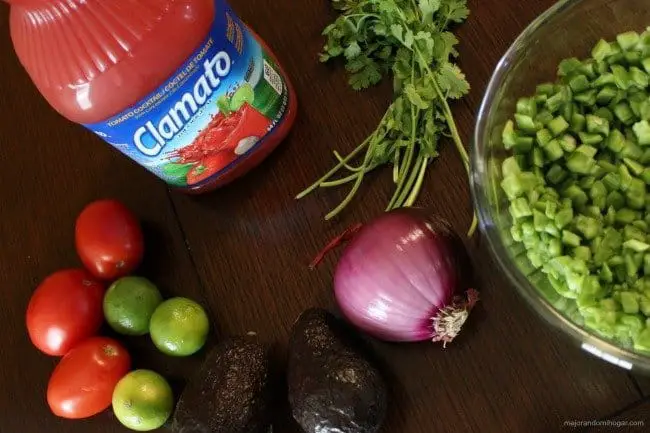 The nopales salad with Clamato recipe is fresh and simple, perfect for these reunions. It contains only vegetables and some spices with clam and tomato juice, which give it a very rich flavor.
I hope you enjoy it!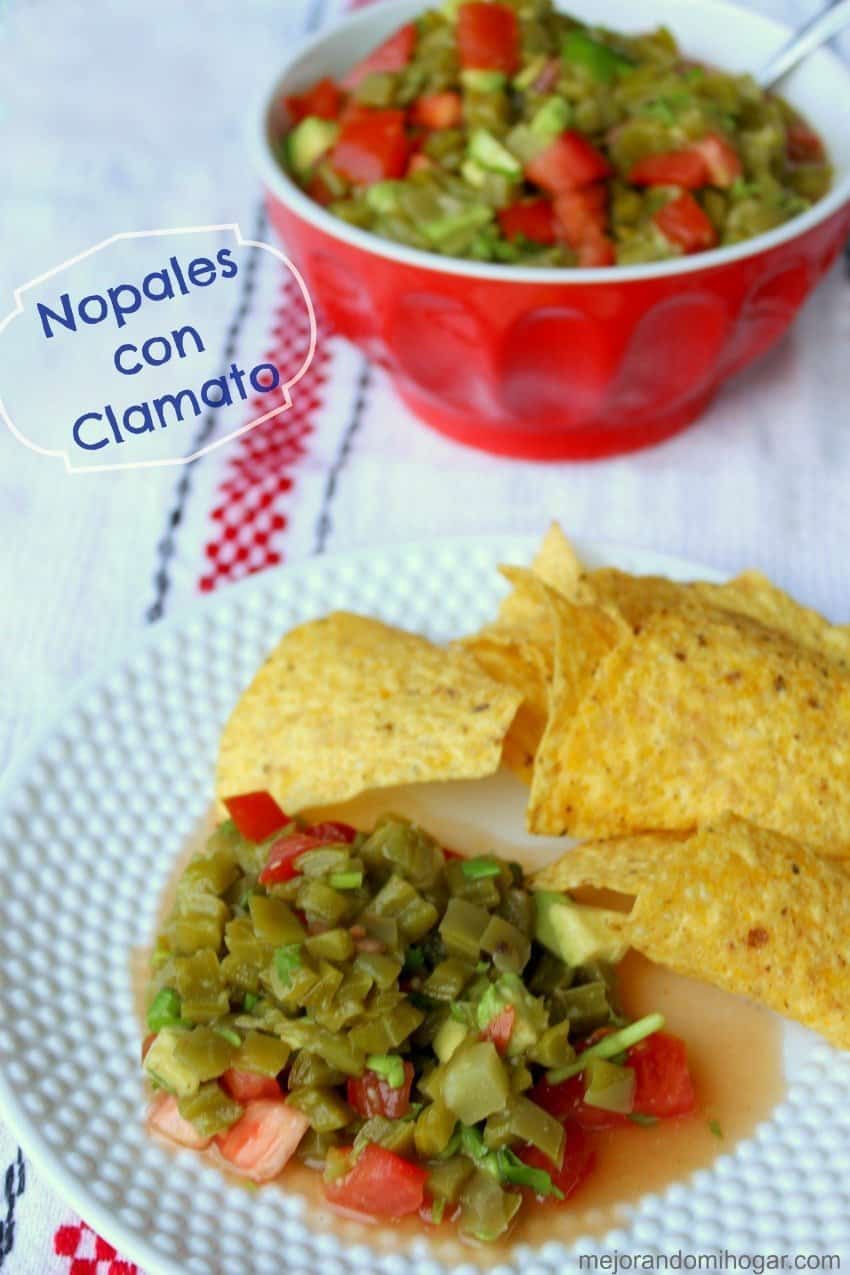 Nopales salad with Clamato
Ingredients
1 lb chopped Nopales
3 small tomatoes
2 Avocados
1 1/2 Cup of Clamato Tomato Cocktail 
3 Lemons (juice)
2 cups water
6 cilantro branches
1/2 Purple or white onion
1/2 teaspoon oregano
1 Garlic clove
1 teaspoon salt
Pepper
Jalapeños (optional)
Tortilla chips or toast
How to cook the nopales
Rinse the nopales in a colander, under the water jet, and drain. Place in a pot with two cups of water, a clove of garlic, and salt.
Let it cook for about ten minutes or until softened.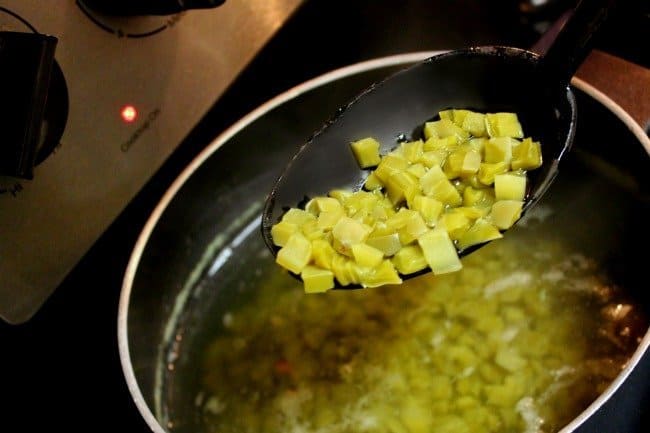 When the nopales are cooked, remove them from the heat and pass them through a colander, we can rinse with cold water. We put it in the fridge and let it cool.
HOW TO MAKE nopales salad with clamato
In the meantime, chop the onion, tomato, cilantro, and avocado, if you like spicy you can add jalapeños.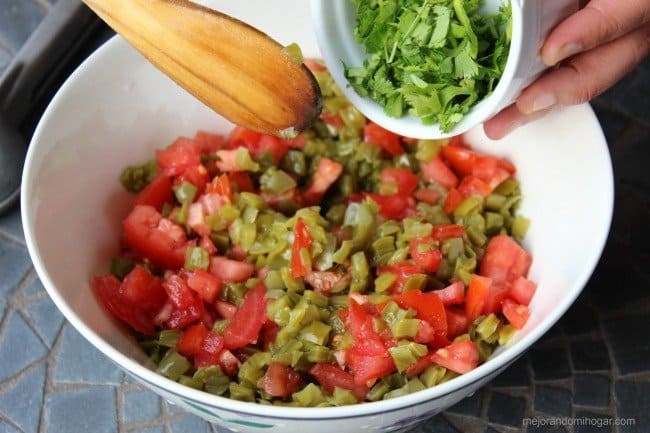 Remove the nopales from the refrigerator and mix with all the chopped vegetables, add the juice of 3 lemons, a cup of Clamato The Original tomato cocktail; season with oregano, pepper, and salt to taste.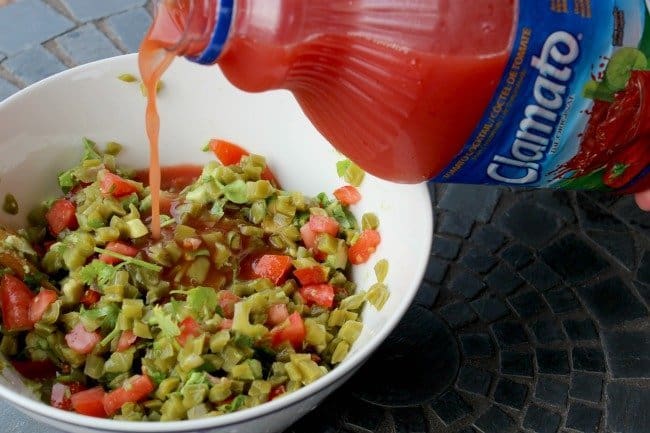 Serve the nopales salad with clamato immediately, as an appetizer with tortilla chips or toast.
Check out: