Chicken tinga is delicious and so easy to make! Take a look to my recipe, your family will love it !!
This campaign has been compensated by Collective Bias, Inc. and its advertiser. All opinions are mine alone. #MejoresRecetas #CollectiveBias
Now that the holidays are coming, you're sure be planning what you're going to offer your family. In my case, I like to prepare Mexican dishes, practical and yummy such as chicken tinga.
Chicken Tinga is very versatile, you can offer it as a snack over tostadas or as a more formal dish accompanied by rice, beans and salad. My family and friends like it on tostadas, so this time I'm going to make it this way and I will enjoy it accompanied by a cold Coke. What else could I ask for?
The key ingredient for this dish is chile chipotle, but tinga de pollo is not necessarily a spicy dish, you choose the level of spicy.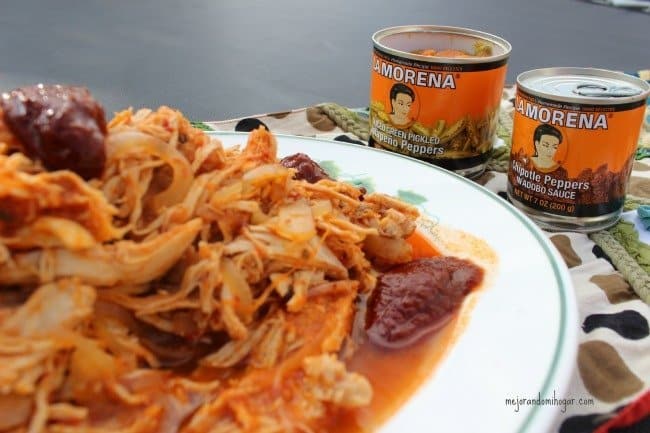 For this recipe I used chipotle chili and jalapeño from La Morena, along with beans and sauces of this same brand, you can find them in Fiesta mart stores. Coke is right there in the soda hall.
I hope you prepare the recipe and enjoy it at your gatherings as much as we do.
How to make Chicken Tinga
Ingredients:
3 chicken breasts
2 medium onions
3 large tomatoes
4 garlic cloves
1 can of Chipotle chiles La Morena 7 oz.
2 tbsp tomato with Chicken Granulated Bouillon or salt
3 bay leaves
1/2 teaspoon oregano
3 tbsp chile jalapeño vinegar
2 tbsp oil
Tostadas
1/4 crumbled panela cheese
1/4 liter Mexican cream
1 sliced avocado

Cook chicken breasts with 1 garlic clove, 1/4 onion, three bay leaves, salt to taste, when cooked, take out chicken breast from the broth and shred it . (let's save the broth).
For the sauce:
Cut the 3 tomatoes and blend with chipotle from La Morena (I added half a can or as much as you want) 1/4 onion, 3 garlic cloves, 1 cup of chicken broth where we cooked the chicken breasts and season with 1 teaspoon tomato with Chicken Granulated Bouillon or salt, depending on what you prefer. Separate.
Finely slice the remaining onion.
Heat oil in a frying pan and fry the onion until it is cooked.
Add the sauce we blended before and stir constantly. Add the shredded chicken breast with half the vinegar of a can of La Morena jalapeño peppers.
Add a teaspoon of orégano.
Stir a little, wait for the chicken tinga to boil and it's ready!
Serve over tostadas:
Spread Mexican cream on a tostada, add chicken tinga, cheese and avocado. Sone people like to serve.withrice and beans. Enjoy !
Look for more recipes with chiles de La Morena on social networks using #mejorrecetas