Smoked turkey with pineapple, is one of my family favorite recipes for Thanksgiving dinner. My mom prepares this turkey at Christmas or New Year's Eve, it is delicious.
Turkey is the traditional dish for Thanksgiving, Christmas or New Year's Eve. This is one of my family's favorite recipes, I hope you enjoy it.
This recipe is also available in Spanish: Pavo Ahumado con Piña
This recipe is easy, because is made with smoked turkey.
The difference between smoked and natural turkey is that smoked turkey is already precooked, therefore it takes less time to be ready.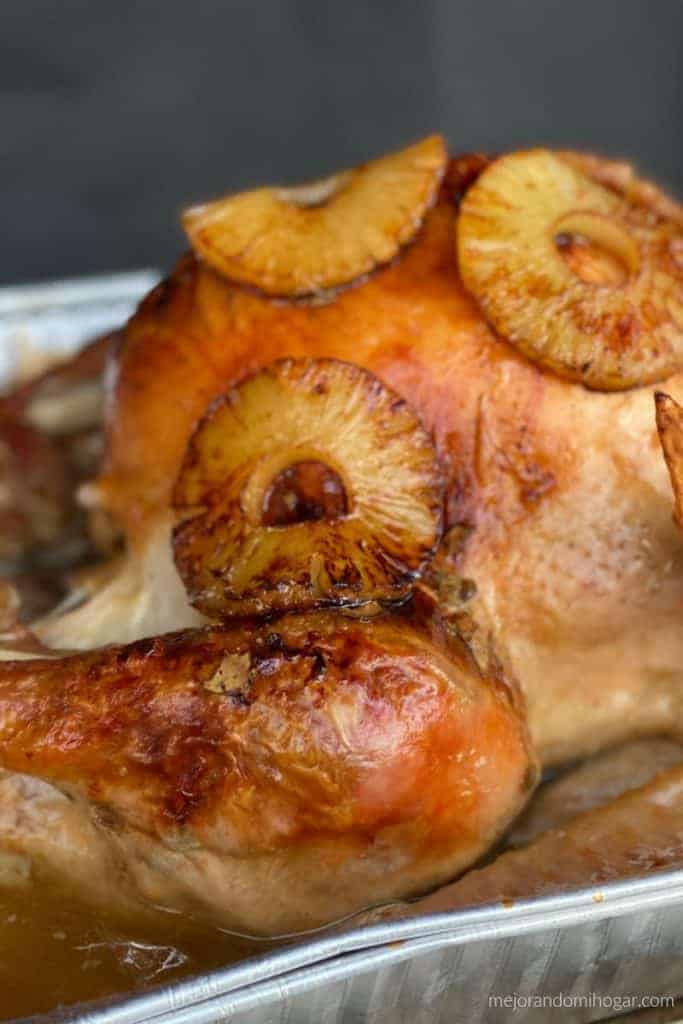 PINEAPPLE Smoked Turkey RECIPE
Ingredients
1 Medium Smoked Turkey
1/2 lt white cooking wine
1 lt of pineapple juice (1/2 to inject and 1/2 to bathe the turkey)
1 kg of ground beef
1/4 kg bacon
1 medium onion
1 small can of chopped mushrooms
2 slices of chopped pineapple for the filling
100 grams of raisins
2 medium potatoes
Salt with garlic seasoning
1 can of drained sliced ​​pineapple or natural pineapple to garnish
Wooden toothpicks (to hold the pineapple slices)
1 Oven bag or roasted pan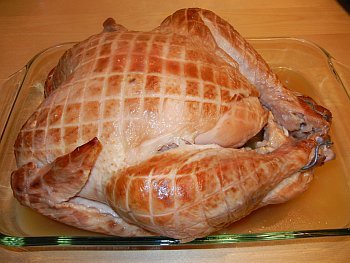 The smoked turkey must be thawed.
Before starting, carefully pat dry the turkey with a paper towel.
Mix the white wine and the pineapple juice.
After that, inject the wine and pineapple brine into the smoked turkey and let it marinate for at least two hours, preferably overnight, in the refrigerator.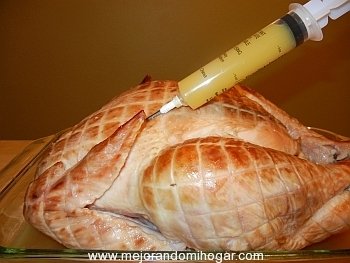 PREPARE THE TURKEY STUFFING
Peel the potatoes, cut in dices and cook. Separate.
Chop the onion. Separate.
Heat a frying pan over medium heat. Season the ground meat with garlic salt, pepper and fry until brown.
Add the bacon and fried a little, incorporate the onion, mushrooms, pineapple, raisins and at the end, add the potatoes.
Meanwhile, preheat the oven to 428F (220 C).
Then, stuff the turkey with the meat mixture.
Baste the turkey with pineapple juice and white wine.
Place the stuffed turkey in the roasting pan or in the oven bag (I recommend this, it's juicier) and cover.
Bake for 2 hours at 220 C or 428F.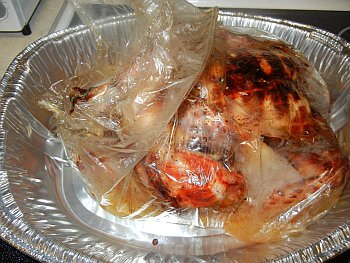 After this time, take the bird out of the oven and garnish it with pineapple slices, fastening them with wooden toothpicks.
Baste the turkey again with pineapple juice and put it in the oven for ten more minutes just to brown it a bit.
Serve it with white or red spaghetti, mashed potatoes with cheese, cooked vegetables, etc.
Enjoy!
Check out: