How to make mexican entomatadas with queso fresco. This is a tasty and very easy option for vegans or when you simply don't want to eat meat.
This recipe is available in Spanish: Receta de Entomatadas
My family and I like this recipe a lot because of how easy it is to prepare them, so I make them very often.
Each Mexican state has its own recipe, I make them the way my mom has always prepared them in Monterrey, stuffed with grated queso fresco cheese.
There are places where they are stuffed with shredded chicken or onions.
Mexican entomatadas or enjitomatadas are very similar to enchiladas (one of my favorite dishes) the difference is that this sauce is not spicy.
Personally, I serve the entomatadas with refried beans and lettuce, but there are those who prefer to serve them with rice or even spaghetti, like mi comadre.
I like to mix the cheese with the onion, but that's up to everyone's taste.
You can make this recipe ahead and arrange them on a plate, and when you have them all ready, you just pour the entomatadas sauce over them and serve.
If you are going to take the entomatadas to a pot luck party, you can take the sauce in a separate container, so that they do not soak. When you arrive, you can simply put the entomatadas in the oven for a few minutes or heat the sauce in the microwave and pour it over them.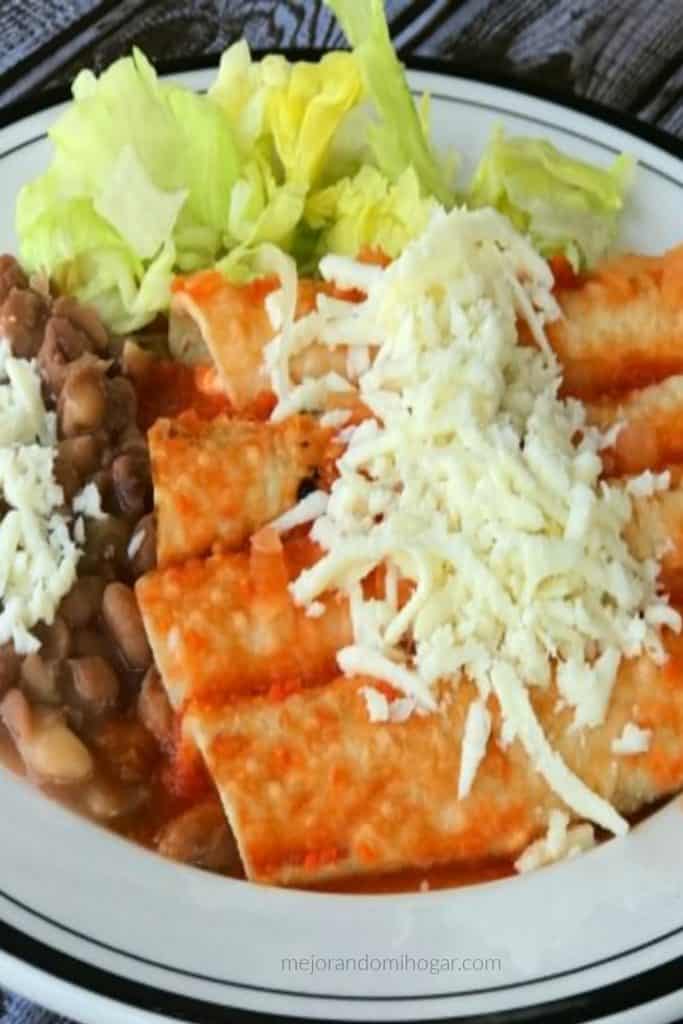 How to make entomatadas
25 pieces
INGREDIENTS
2 lbs queso fresco (or panela)
5 large tomatoes
1 onion finely chopped
1 garlic clove
25 corn tortillas
1 tbsp. vegetable oil
Salt to taste
Grate the cheese and place on a plate. Separate.
Entomatadas sauce
Blend the tomato with the garlic and put the sauce apart.
Chop the onion. Heat the oil in a frying pan and add the onion, until it gets clear.
Add the tomato sauce, salt to taste and let it cook.
you have two options to form the entomatadas:
You can fry the tortillas in the oil.
Or just heat them on the comal. I prefer to save those calories and only heat them on the comal. This is how I made this recipe.
Heat the tortillas and fill one by one with the fresh cheese, wrapping them like a burrito.
Arrange the taquitos on a plate and pour the tomato sauce over them to make the entomatadas.
Serve hot and sprinkle a little grated cheese on top to decorate.
They are served with refried beans and lettuce salad.
I hope you enjoy my recipe for entomatadas!
Check out more recipes:
Queso Flameado recipe