Queso flameado with chorizo (flamed cheese) is a delicious kind of Mexican dip made with melted cheese. Check out my recipe, video at the end.
Queso fundido is the same than queso flameado and Choriqueso.
This recipe queso flameado is served in my hometown, we serve it with corn or flour tortillas to make tacos or to dip with chips (nachos).
It is very delicious, you can add diced jalapeño or hot sauce but ithat's up to you.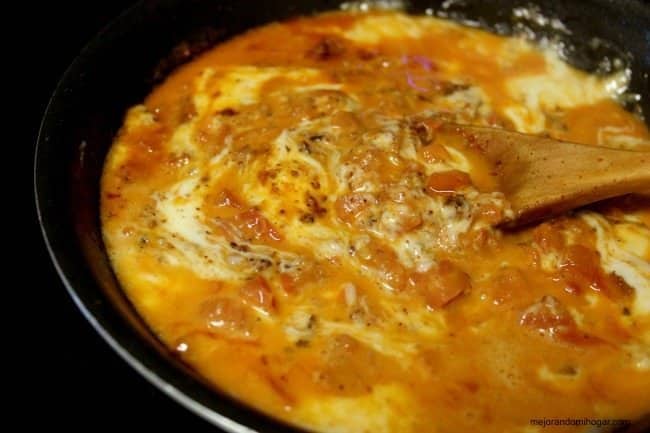 You can serve it as an appetizer, share it with your family and friends, they will love it.
BEST KIND OF CHEESE TO MAKE QUESO FUNDIDO WITH CHORIZO
Chihuahua cheese
Oaxaca cheese
Manchego cheese
Mozarella
Quesadilla
Chorizo USED FOR THE FLAMMED CHEESE RECIPE
The chorizo ​​we use is the Mexican pork chorizo. You can use turkey chorizo if you are on a diet or want to save calories. Most important thing here is that you do not confuse chorizo ​​with sausage or sausage.
The Mexican chorizo ​​is a mix of pork meat, vinegar, seasoned with chili and spices. It has a smoky, sour and slightly spicy flavor.
My children love it when I prepare this recipe for flamed cheese or choriqueso, as they know it in certain states of Mexico. My kids make quesadillas or eat them with totopos (chips) for lunch.
TIPS FOR PREPARING AND SERVING queso fundido
Serve the queso flameado immediately, because if it is cooled and overheated, it changes consistency, the cheese dries up.
Chopped tomato and onion are optional but adding them to the queso flameado it's delicious.
Swap the pork chorizo ​​for a turkey chorizo ​​for a lower calorie recipe.
I like to prepare it when we make carne asada (barbeque) or have guests, this melted cheese is always a success.
Serve with flour or corn tortilla chips.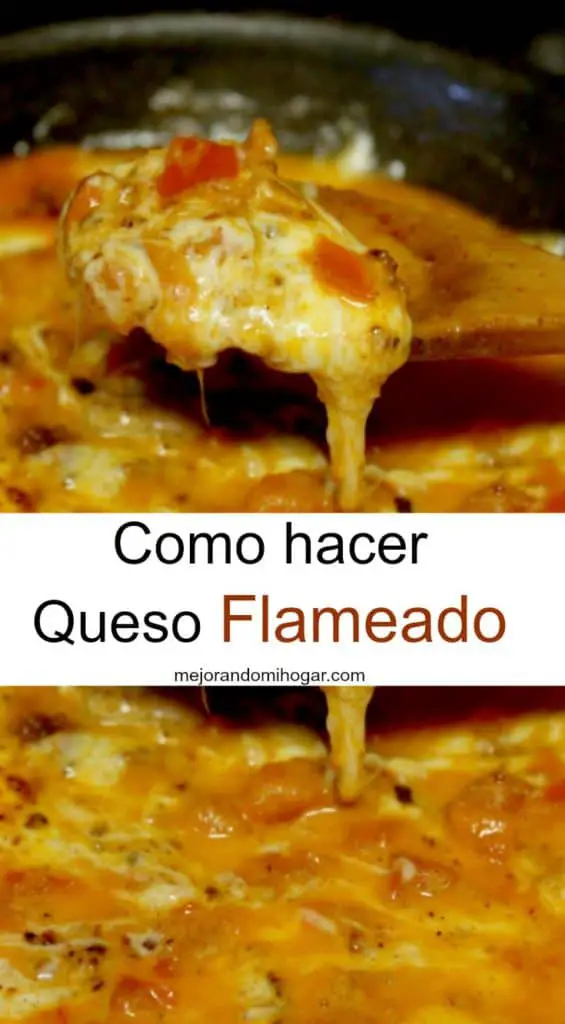 QUESO FLAMEADO WITH CHORIZO recipe (Flammed Cheese)
Ingredients
1/2 lb Chihuahua cheese in strips or slices (or sany cheese that melts as I mentioned above)
1 Small Chorizo
1/4 Onion, chopped
1 chopped chico tomato
Heat a frying pan.
Place the chorizo and fry it.
When the chorizo is cooked, add the onion and move until it is acitronous or transparent.
Stir in the tomato.
Add the cheese, cover and lower the heat.
Leave it about five minutes or until the cheese melts.
Separate the pan from the heat and serve immediately with flour or corn tortillas.
Enjoy the flamed cheese, check the video!
CHECK More RECIPES WITH Chorizo

This recipe was updated on October 13, 2021