Seven layer dip recipe Spanish version here
Watching games with the family and having a tasty snack like this seven-layer dip is a great way to spend time together!
This post was sponsored by Kroger and The Coca-Cola Company. All opinions expressed on my site are my own.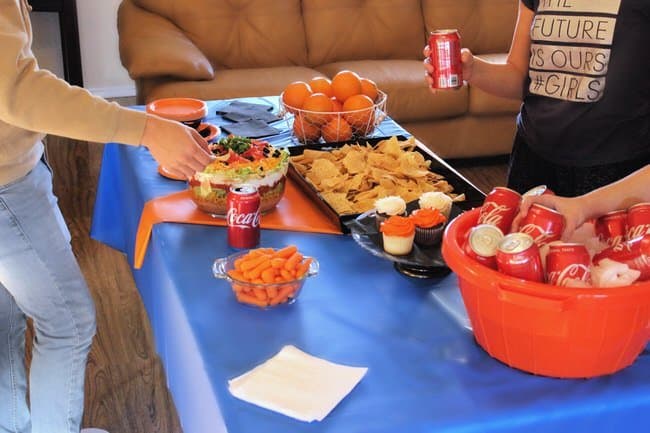 March is basketball season, Kroger and The Coca-Cola Company are inviting you to have a "Taste of the Tournament" party to watch the games. Invite your family and friends and prepare this easy seven layer dip, with no hassle.
All the ingredients you need for this recipe can be found at Kroger, where you can also find ready to eat snacks or some inspiration to cook more recipes.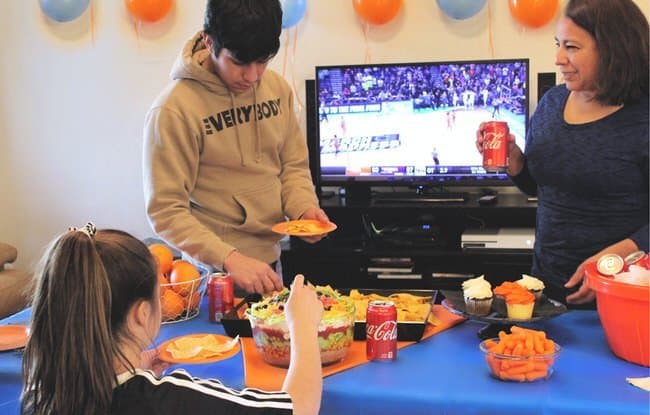 This dip pairs well with an ice-cold, refreshing Coca-Cola, which is also perfect for cheering on your favorite basketball team.
Pair your meals with refreshing Coca-Cola in glass bottles, plastic, cans, and mini cans to enjoy with friends and loved ones.
This dip is too good to not share the recipe with you. Visit tasteofthetournament.com to see more recipes you can prepare for game day.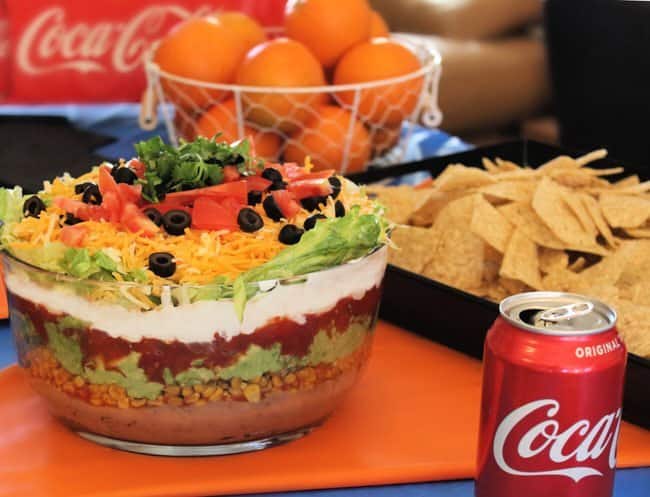 SEVEN LAYER DIP
Ingredients
1 Lb refried beans
5 Avocados
2 cans of corn
2 cups of shredded lettuce
2 cups of fiesta cheese
½ liter sour cream
½ liter chunky Mexican salsa
½ onion diced
½ cup diced cilantro
1 diced tomato
1 small can of black olives halves
2 lemon
1 big bag of chips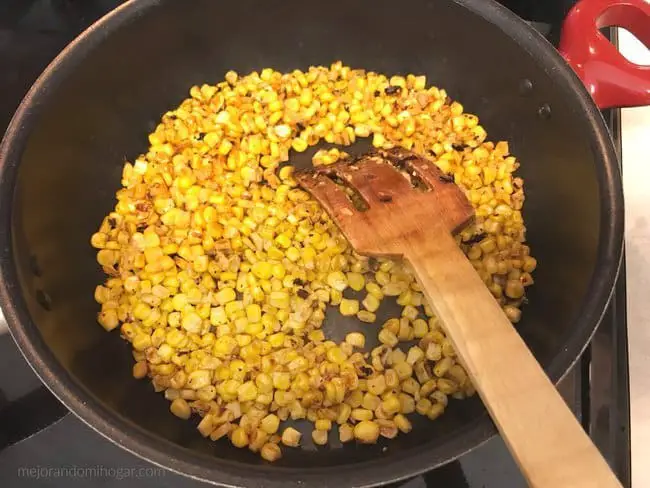 Seven-layer dip is so easy, your kids can help!
Heat a pan over medium heat, add corn and stir constantly until golden brown. Remove from heat and set aside.
To prepare guacamole, mash the avocados and add lemon juice. Set aside.
Spread the refried beans in a shallow bowl, top with layers of corn, guacamole, Mexican salsa, sour cream, lettuce, and cheese.
You can spread the guacamole and cream easily using a spread spoon.
Garnish with olives, tomato, onion, and cilantro.
The seven-layer dip is ready, Enjoy!