If you're looking for things to do in Las vegas with kids, there are a variety of family-friendly indoor and outdoor attractions to enjoy. Check out some of these attractions and start planning your next trip!
Many think of The Sin City as a large party and casino city, which is true but in general, it is a large tourist city.
This means they have attractions and shows for every age to enjoy. You can enjoy your time in Las Vegas Strip as an adult while your kids also enjoy the kid-friendly attractions.
There are a variety of indoor and outdoor attractions for kids to enjoy in las Vegas that are also fun for everyone. Many locations are located on The Strip, in Resort Hotels, or in highly toured areas.
From Aquariums, chocolate factories, and amusement parks, there is no shortage of fun in the Sin City.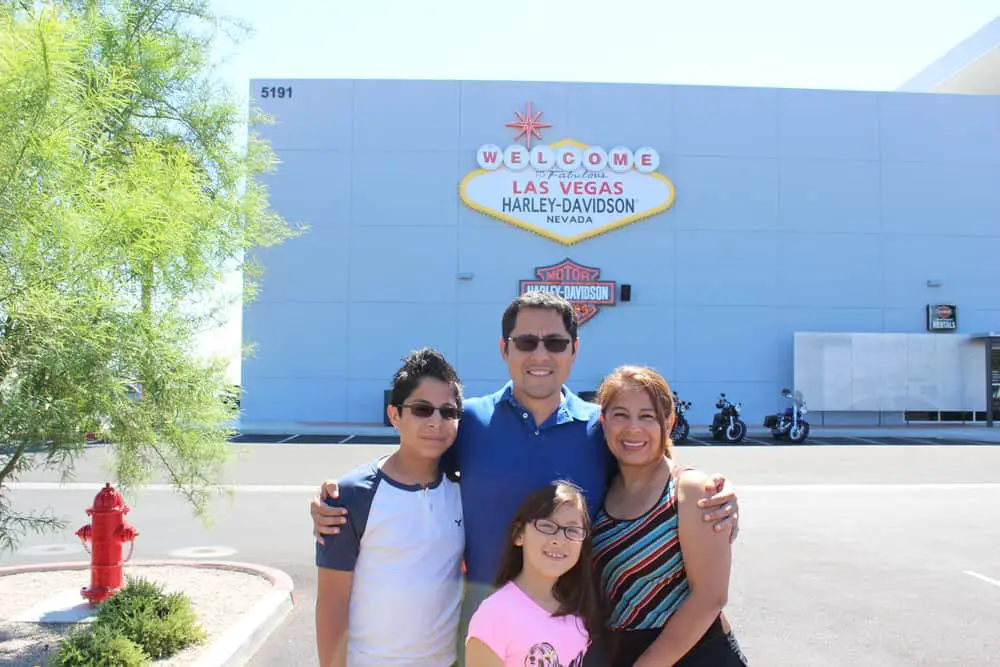 Things to do in Las Vegas with Kids
Hershey's Chocolate World
Located on The Strip you can see a large attraction filled with giant colored Hershey bars, Reese cups, and Kisses Chocolate. Inside of this, you will find Hershey's Chocolate World. This is a unique experience that takes candy shopping to a new level. You walk in and immediately see detailed design all around the walls and ceilings. You'll see dispensers, racks, and shelves full of 800 different chocolates lining the entire store. Go into each section such as Kisses Chocolate, Reese's, or Hershey's, and shop your favorite candy bar, apparel, and other fun souvenirs. If you're looking for something other than chocolate, they have an entire Jolly Rancher section as well with all flavors for you to choose from.
M&M's World
Explore the four-story building filled with M&M's and chocolate in Las Vegas! You can learn the history of how the M&M came about, create your own custom M&M's with their custom printer or choose from the 16 different colors to take home. You can also get a first-hand look at Kyle Busch's M&M NASCAR while you are there. Kids will enjoy exploring this fun museum and eating a little too much candy. Once you're done, they have a gift shop filled with special M&M branded items, NASCAR items, and souvenirs.
Cirque Du Soleil
If you haven't heard of Cirque du Soleil….that just isn't possible. This is a world-famous group of dancers, acrobats, and entertainers. They travel all around the world to do shows and it's no shock that they come to Las Vegas seven times a year. This circus is a can't miss and fun for the entire family. You are blown away by the lights, music, and visuals happening right in front of you. Be sure to check out the showtimes and dates to see if they will be in town when you're visiting.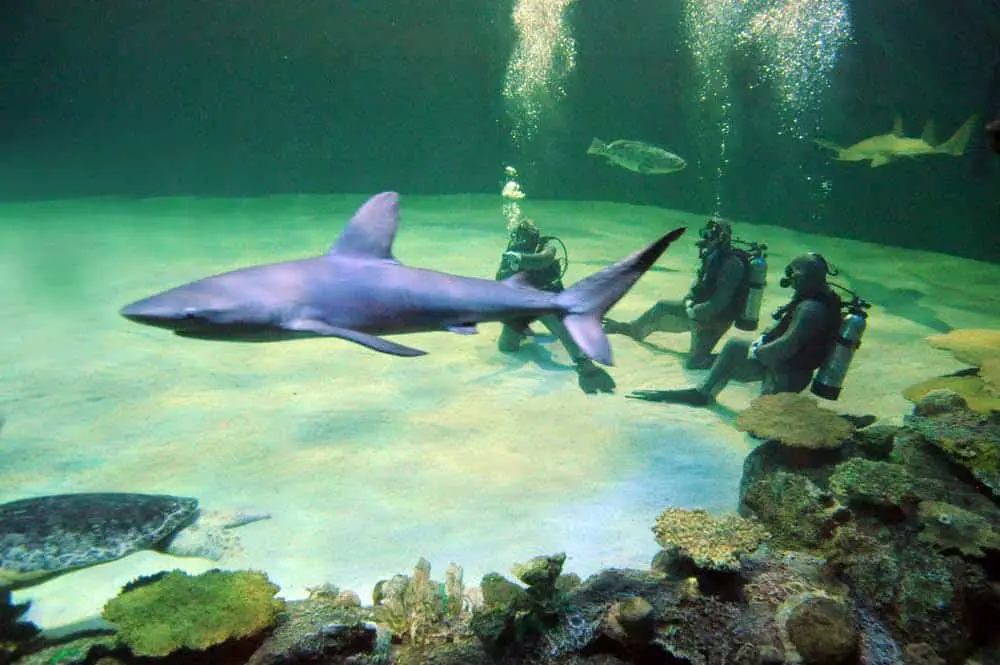 Located in the Mandalay Bay Resort is the Shark Reef Aquarium. This is an aquarium filled with multiple attractions to explore and has one of the largest shark reefs. Walkthrough a glass tunnel filled with fish and sharks all around you and watch them interact with each other. Interact with sea turtles and rays and learn about the 30 different species of shark. Shark Reef Aquarium is fun for the whole family and a great place for your kids to check out sea life and interact with them.
Marvel's Avengers S.T.A.T.I.O.N
Are you or your kids an Avengers fan? Well, you're not alone! This Avengers Station in Vegas is a museum centered around each Avenger and how to become one. Once you enter the building, you receive an agent badge to tour the S.T.A.T.I.O.N. Dress up as your favorite Avenger Hero with the costumes they provide in one exhibit and explore the many other interactive exhibits at the Avengers Station. Once you're done exploring their station don't forget to stop by the gift shop and find some unique Marvel items.
Wet N Wild Vegas
You can't go wrong with a family fun day at the waterpark. Wet N Wild in Vegas is a chain waterpark company with multiple locations around the US. If you enjoy this waterpark, be sure to sign up for a membership and visit more parks near you. Wet N Wild Las Vegas has 25 different slides and attractions inside and is all kid-friendly. With dining and beverages throughout, this is a great way to spend a summer day in Vegas with the family.

Bellagio CONSERVATORY and Botanical Gardens
Located in the Bellagio Hotel there are beautiful Botanical Gardens to see on a hot summer day. There are thousands of different plants and flowers and all different colors. The Hotel has arranged the botanicals in a way that brings light, and color into this attraction. Throughout the year the colors and flowers change depending on the season. This is a free attraction as it is located inside the Bellagio but a parking fee may apply.
Adventuredome
An indoor amusement park? How amazing is that! Adventuredome is an indoor park with lots of fun rides, roller coasters, and carnival food. The park is large, you can to spend all day here riding rides, winning prizes, and eating delicious food. It;s lcoated in Circus Circus las vegas Hotel.
A three-story museum filled with kid-friendly activities, structures, and fun! The Discovery Children's Museum has nine different exhibits spread throughout the building. These exhibits rotate to allow new interactive areas for kids to enjoy. You won't find the same thing here twice.
Seaquest Aquarium
Seaquest is a fun interactive aquarium for kids and families. They have a variety of sea life to explore, reptiles and birds. Seaquest Aquarium takes you all around the world exploring the different species in each area. Watch the sharks swim around in the shark reef or interact with actual sea life in the touch tanks.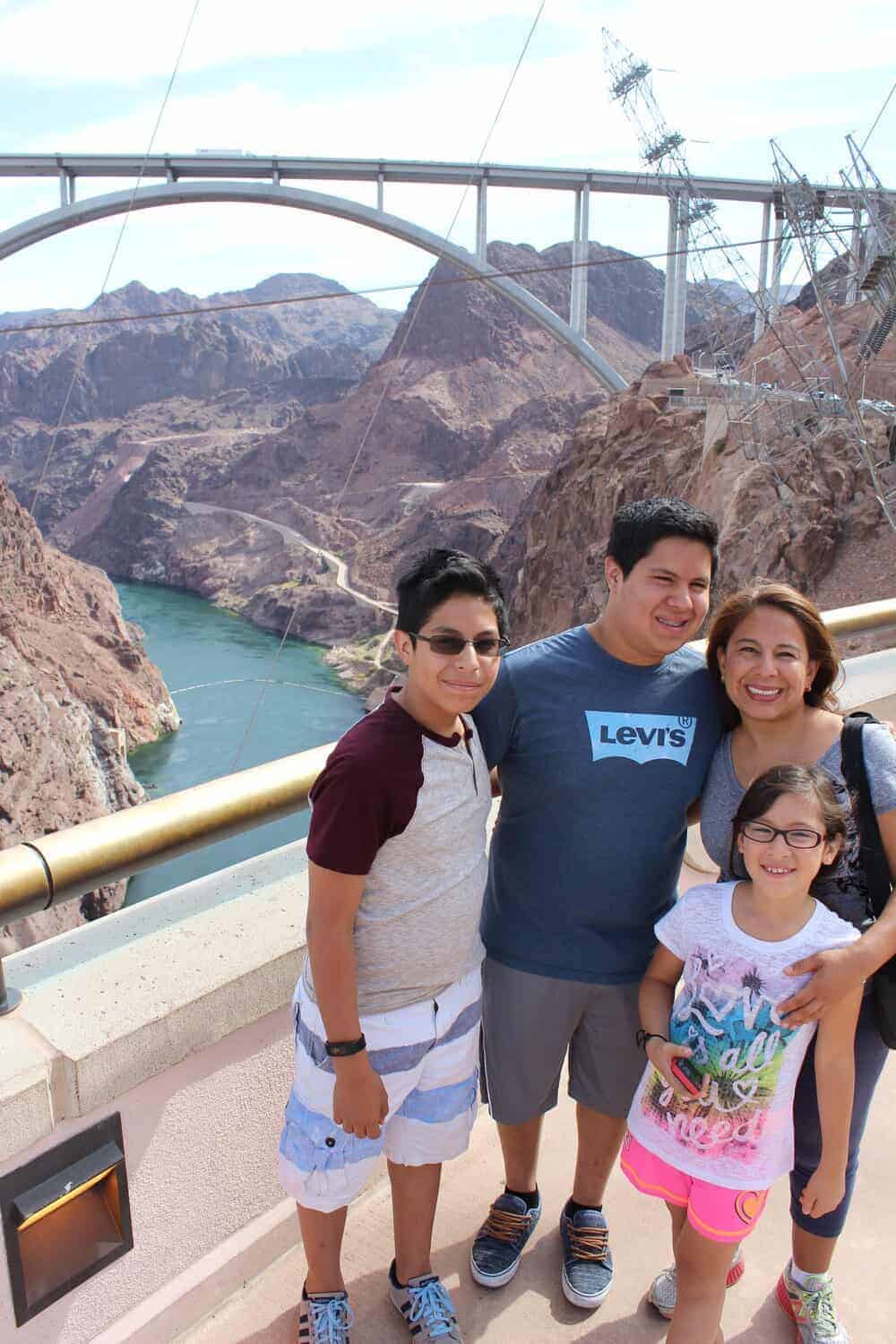 This famous dam in Las Vegas is located about 30 miles southeast from the city, between Arizona and Nevada. This is a great thing to do during the day. They have several tours available for all the family. You an choose between a guided dam tour, a guided powerplant tour or a self guided visitor center tour. The view from the top of the dam is amazing. The Dam is a National Historic Landmark.
These are just ten out of many more attractions to visit while in Vegas with your family. View the Vegas Eiffel Tower, watch the shows, tour wildlife exhibits, and eat at tasty restaurants.
Las Vegas is fun for everyone of all ages, you are sure to enjoy your time there!
Check out: