I want to share a little about our trip to Huatulco Bays a lovely Mexican destination that we had not visited before. There are a lot of things to do in Huatulco, we choose this vacation spot due to the sargassum situation in Cancun, which was the place where we were going to go.

We flew from Monterrey to Huatulco, since before the trip, we went to visit the family.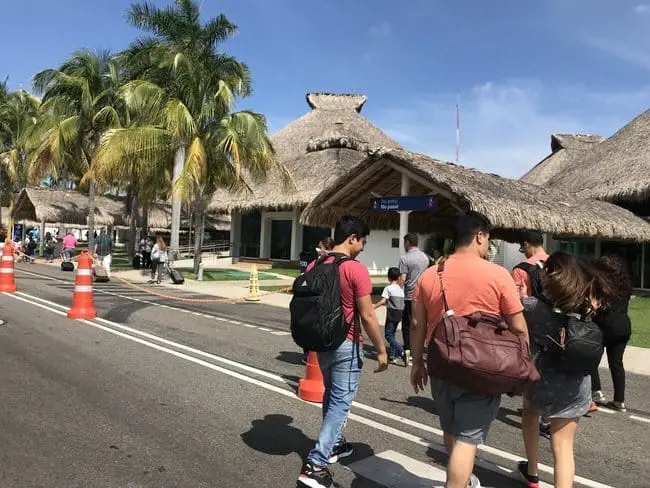 My children had no idea what was to come when the plane began to land. Our first surprise, Huatulco airport, was very new, clean, and original with palm roofs.
From there, we took a taxi to Tangolunda Bay, we stayed at Hotel Las Brisas Huatulco, an all-inclusive, family-friendly resort.
Things to do in huatulco
Huatulco is located in the state of Oaxaca. It owns nine bays: Cacaluta, Chachacual, Chahué, Conejos, Organ, Maguey, San Agustin, Santa Cruz and Tangolunda.
We only met three out of the nine Huatulco bays: Santa Cruz, Chahué, and Tangolunda; I'll tell you a little bit about each one of them right away. I guess that we will have to come back!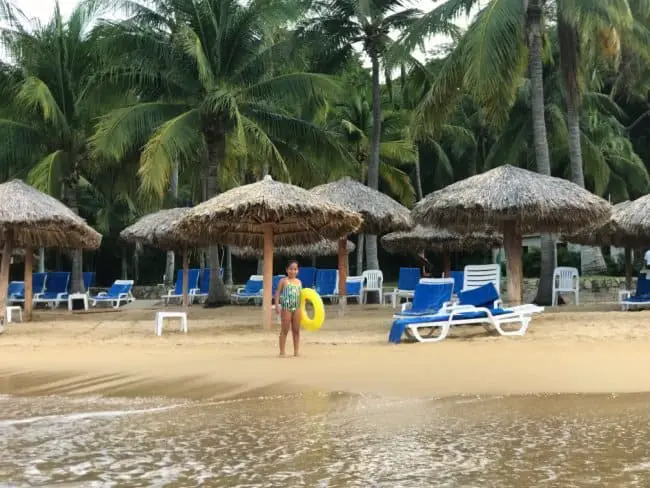 TANGOLUNDA BAY
 We chose a beach resort to facilitate the trip, since, in addition to the five of us, my dear mother-in-law, my mom, and my little niece came with us.
Now it is a multi-generational family trip. After many opinions, we decided on Las Brisas Hotel in Tangolunda Bay; since what we wanted was to spend time on the beach.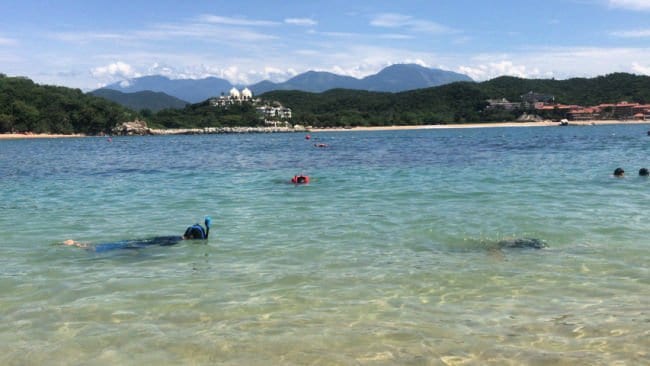 Las Brisas Huatulco Hotel has four beaches; one of them has a reef where you can snorkel, other have activities such as kayaking, paddle boarding, volleyball, another is a small secret beach, and the fourth is a beach where the waves rolled us in amazingly!
One of those days, the harbor was closed to sailing due to rain, but we still were on the beach and in the pool.
If you go to this beautiful place in the Pacific, I recommend you to go there in the November to April season.
There is a viewpoint with a view of the Tangolunda bay where you should not miss the souvenir photo of your trip to Huatulco.
LA CRUCECITA
One of the afternoons, we went visiting La Crucecita, a small town at only 7 minutes from Tangolunda Bay, there you can find hotels, restaurants, pharmacies, grocery stores, handicrafts, looms, mezcal, etc.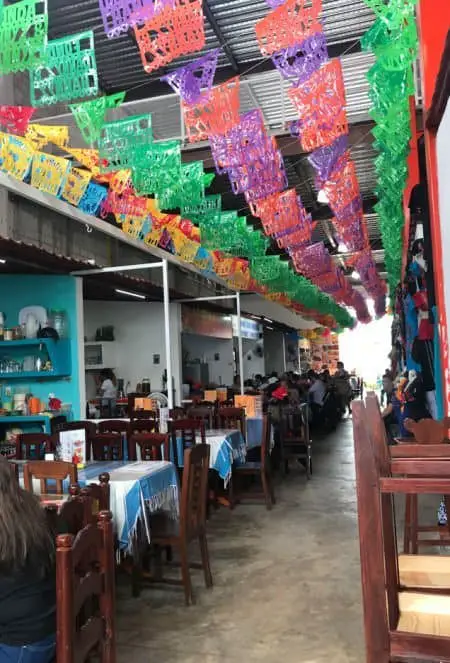 There, we went to the market; and everything was beautiful, we couldn't resist make some shopping. We left the market with the typical Mexican dress, mole paste, mezcal, coffee, souvenirs, artesanías, and even grasshoppers sauce.

We went to visit the pedal looms, where we saw how they do everything from tablecloths to curtains, bedcovers, etc. My mom bought a very beautiful bedcover.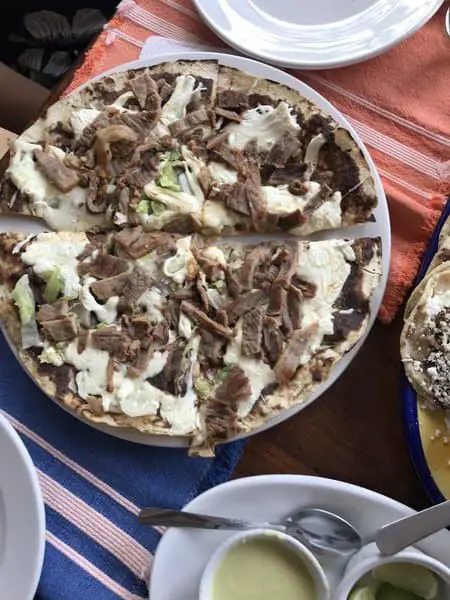 Then we went to a typical food restaurant where we tried tlayudas, black mole, mole tamales, and other typical dishes from Oaxaca, yummy!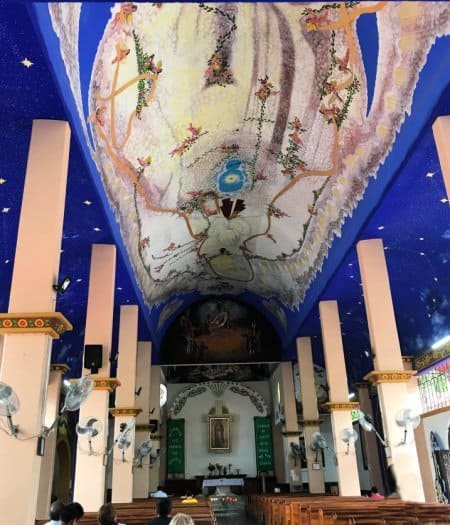 During our trip to Huatulco, we also visited La Crucecita Church Parroquia de Nuestra Señora de Guadalupe which has a spectacular mural that covers the whole ceiling with the image of the Virgin of Guadalupe. Tourism has grown in this town because it is the closest to the bays.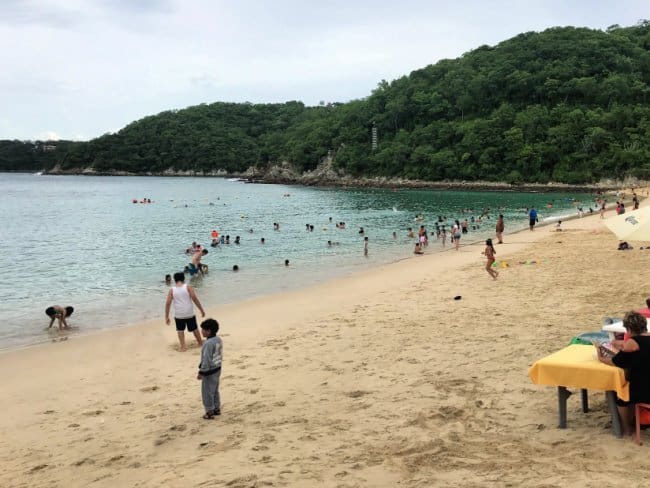 SANTA CRUZ BAY
The next day, after snorkeling and competing with the iguanas in sunbathing, we went for a walk. The Santa Cruz Bay in Huatulco is a place on the shore of the beach where you can find restaurants, bars, craft shops, souvenirs, and more.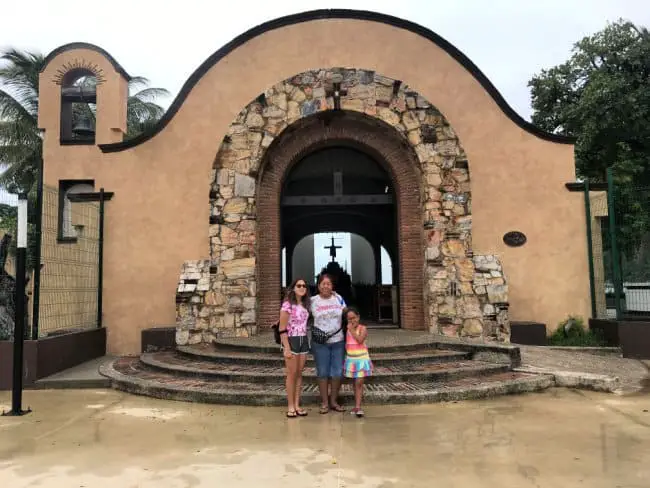 In this picturesque place, we find the Santa Cruz Chapel, chosen by many foreigners to marry there. The Chapel is lovely, on the shore of the beach, without walls; I even wanted to remarry, how romantic that was!
We continued shopping in the souvenir and craft stores. We ended up tired, and we left to finish, we had a coffee from Oaxaca at the kiosk of the place.
Less than three kilometers from Santa Cruz Bay, there is the Santa Cruz viewpoint, from where you can also take very cool pictures.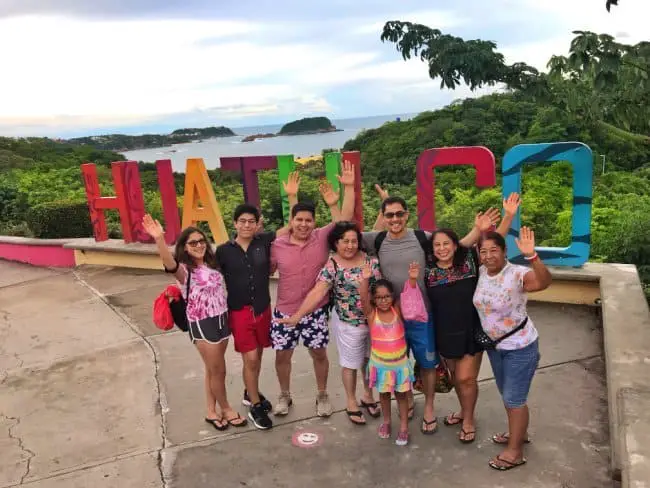 MORE ABOUT HUATULCO

Our trip to Huatulco bays was smooth and safe, we traveled by taxi, and we had no problems.
There are many ecotourism activities in the Huatulco bays; there is also the popular tour of the nine bays; waterfalls, coffee plantations, zip lines, etc., but that depends on your preferences.
 Free Things to do In Monterrey, México