Zombie chocolate covered strawberry inspired by Disney Channel ZOMBIES movie, an easy dessert recipe for your Halloween parties!
This post is also in Spanish Paletas de Zombies de fresa
Disney Channel's "ZOMBIES" is a story full of music and dancing set in the fictional world of Seabrook, a community 50 years after a zombie apocalypse.
My daughter loved the movie, so we prepared these zombie lollipops to watch the movie with her friends!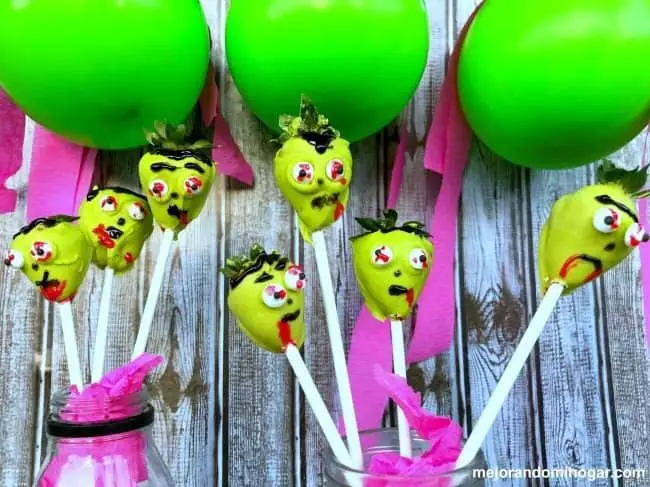 zombie chocolate covered strawberries
Ingredients
15 Clean, dry strawberries
1 pound white or green chocolate candy melts
10 drops green dye (In case you didn't get green chocolate)
Edible eyeballs (or you can draw them)
Vegetable dye red
Black vegetable coloring
Lollipops sticks
Parchment paper
Place the chocolate in a plastic or glass container and microwave it at 15-second intervals, pull out and mix with a spoon.
Put it back in the oven and keep that step up until it's melted.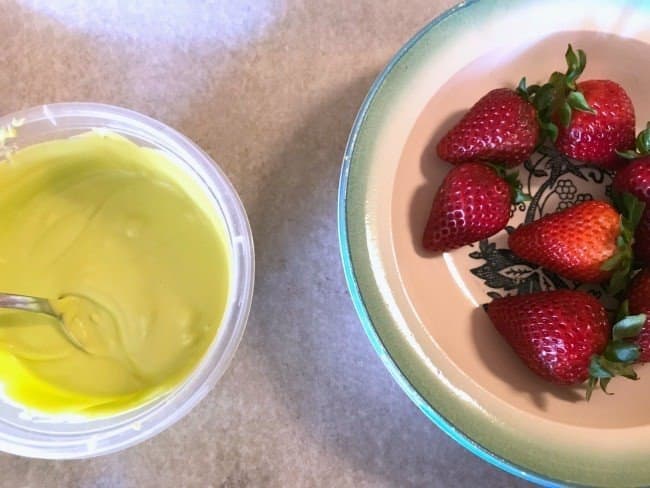 Add a few drops of green coloring to the white chocolate and mix, until get the color desired.
Add the strawberries to the chocolate (now green) one by one until it is completely covered, without covering the leaves.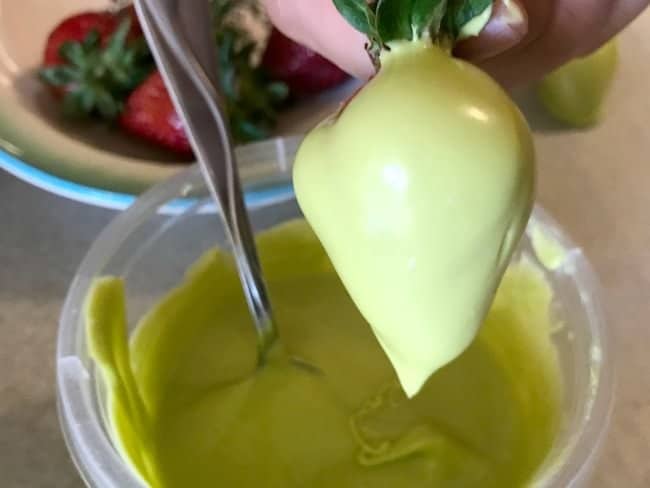 Carefully insert a popsicle stick into each strawberry at the bottom, at the opposite beak of the blades.
Place on the waxed paper and decorate; If you have edible eyes, place on each strawberry before the chocolate cools, otherwise wait for it to dry and draw the zombie eyes with the black vegetable dye.
You can add bloody details with the red dye.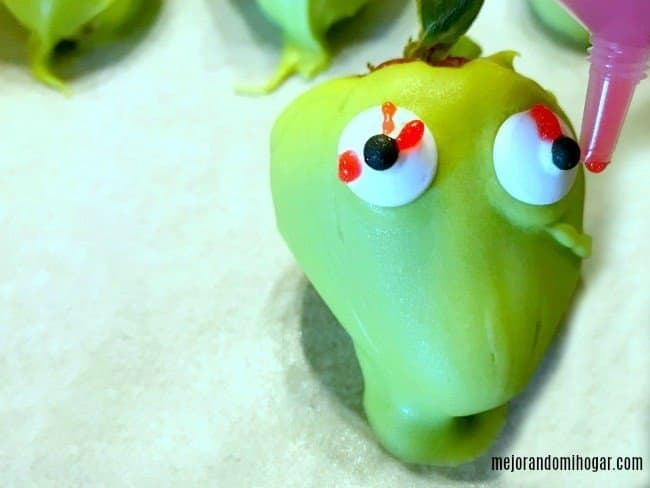 Allow the zombies chocolate strawberries lolipops to cool completely.
And now, enjoy them with your favorite zombies or cheerleaders!
You can leave them like this or cover them with cellophane paper.
You can also put them into a container decorated with tissue paper and let the zombie-party begin!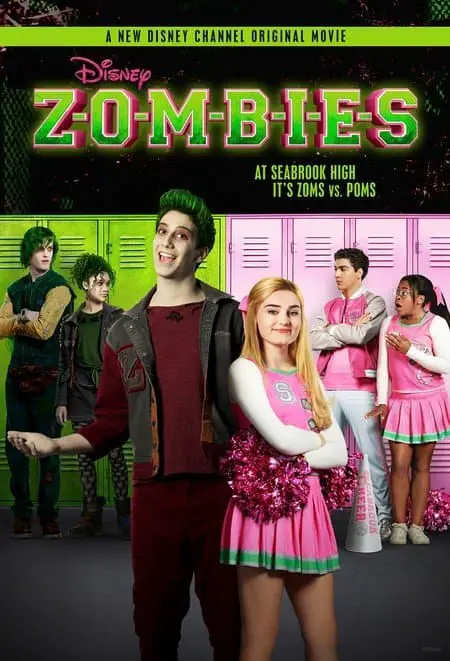 Disney Channel ZOMBIES
Zombie Blooper Reel (DVD Exclusive)  – Laugh out loud at the Cast of ZOMBIES in this compilation of the funniest bloopers and outtakes from the making of the film.  
The Zombie Survival Guide To High School (DVD Exclusive) – This piece uses a visual motif of a Zombie Survival Guide, with styled infographics and hosted by the talent.  We go down the list of some of the most important survival tips for Zombies and humans on how to get along and make the best of high school.
Dance Tutorial – Join Meg Donnelly (Addison), Kylee Russell (Eliza) and ZOMBIES Choreographer, Christopher Scott, as they show you how to dance along to the 'BAMM" Music Video. TRT: 3:38