Zombies chocolate strawberry lollipops inspired by Disney Channel ZOMBIES DVD.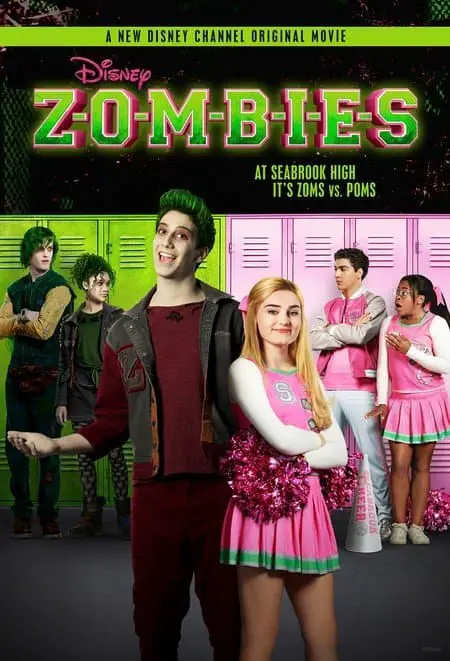 Disney Channel's "ZOMBIES" is a story full of music and dancing set in the fictional world of Seabrook, a community 50 years after a zombie apocalypse.
My daughter loved the movie, so we prepared some zombie lollipops, to watch the movie with her friends!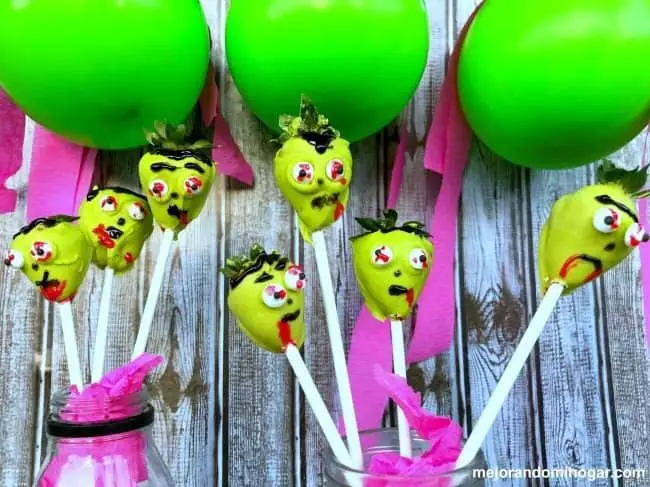 zombies chocolate strawberry lollipops
Ingredients
15 Clean, dry strawberries
1 pound chocolate to cover white (or green)
10 drops green dye
Sweet eyes (from pastries or you can draw them)
Vegetable dye red
Black vegetable coloring
Lollipops sticks
Waxed paper or parchment paper
Place the chocolate in a plastic or glass container and microwave it at 15-second intervals, pull out and mix with a spoon. Put it back in the oven and keep that step up until it's melted.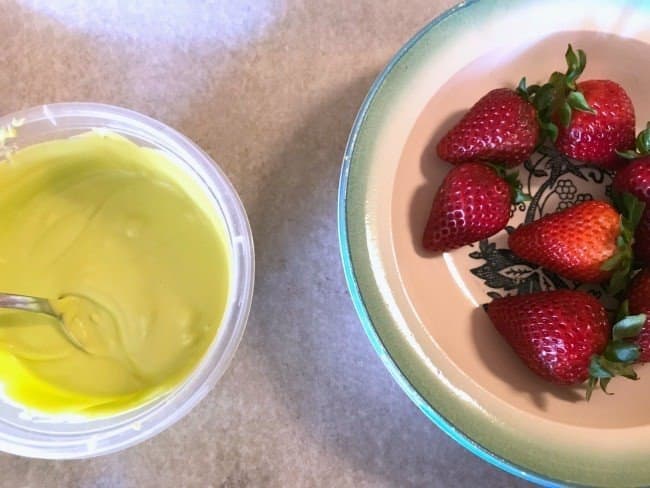 Add a few drops of green coloring to the white chocolate and mix.
Add the strawberries to the chocolate (now green) one by one until it is completely covered, without covering the leaves.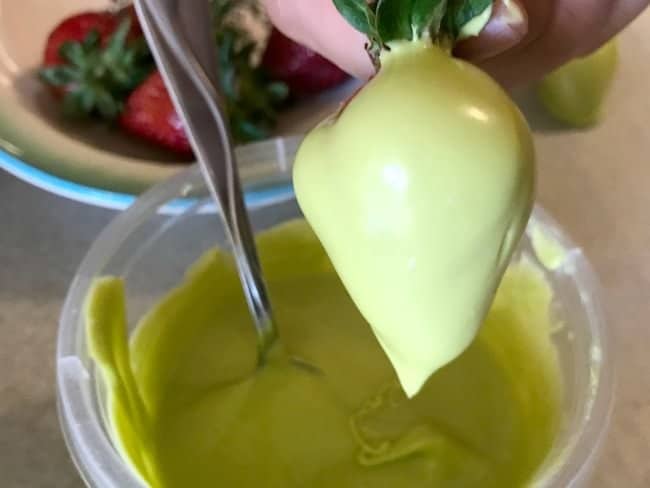 Carefully insert a popsicle stick into each strawberry at the bottom, at the opposite beak of the blades.
Place on the waxed paper and decorate; If you have eyes, place on each strawberry before the chocolate cools, otherwise wait for it to dry and draw the zombie eyes with the black vegetable dye. You can add "blood" details with the red dye.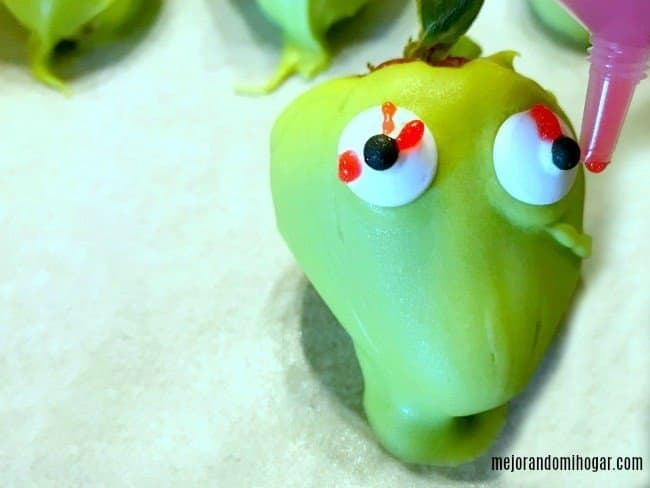 Allow the strawberries to cool completely.
and ready, enjoy them with your favorite zombies or cheerleaders!
You can leave it like this or cover them with cellophane paper. Insert into a container decorated with dry ice and Chinese paper and let the zombie-party begin!
ZOMBIES includes the following bonus material: Zombie Blooper Reel (DVD Exclusive) – Laughter and laughter from ZOMBIES actors a compilation of the funniest bloopers and others taken from the film.
The Zombie Survival Guide To High School – This piece uses a visual motif from a zombie guide to survive. with stylized infographics presented by talent. Check out the most important survival tips for Zombies and humans on how to get along well and do the best in high school.
Dance Tutorial – Join Meg Donnelly (Addison), Kylee Russell (Eliza), and ZOMBIES Choreographer, Christopher Scott, as they show you how to dance during the 'BAMM' music video.
Deleted scene #1 (Exclusive DVD) – It's a Cheer-catastrophe
Packaging: DVD
Audio: English 5.1 Dolby Digital, French & Spanish 2.0 Dolby Digital
Subtitles: English SDH, French & Spanish
Closed Captions: English