This baked cilantro lemon salmon in foil is delicious! An easy recipe to cook salmon in the oven.
One of my kids love seafood and he is always craving these kind of recipes. He loves tilapia, fish ceviche, shrimp and more, different than my other two kids that prefer beef meat.
Lately we have been adding salmon to our diet because salmon is a healthy protein. It contains Omega 3 fatty acids, vitamin, D and vitamin A.
Salmon in foil is the easiest wat to cook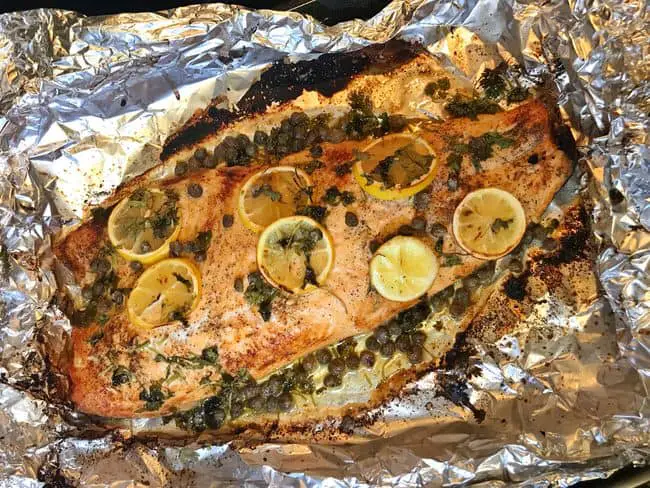 The baked cilantro lemon salmon cooks fast, you can prepare it the same way in the pan, but I prefer making it in the oven because I find it easier for me.
I like to wrap salmon in foil to keep the moisture but it is not necessary, you can bake salmon with no foil.
Besides, it saved me time cleaning because I lined the tray with thick foil before cooking it.
For better results, try to use fresh salmon instead of frozen. I've noticed fresh salmon flavor is better.
Salmon prices are now more accessible. I remember eating salmon was a luxury, now we can find it at a good price.
BAKED CILANTRO LEMON SALMON in foil
Ingredients
1 salmon fillet
1/2 cup cilantro
2 lemons
2 lemons (the juice)
5 tablespoons butter
1 tablespoon olive oil
ground pepper
salt
Capers (optional)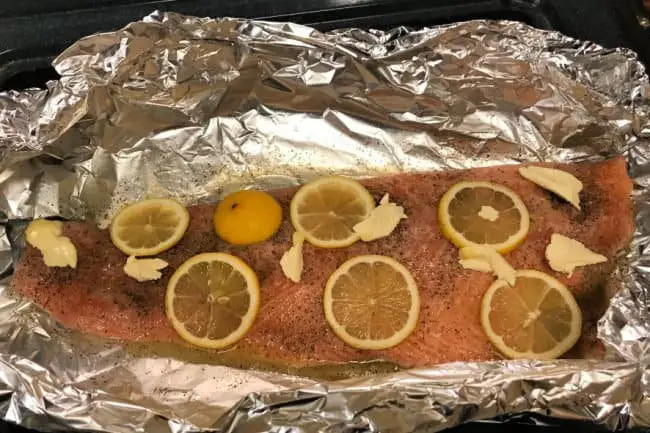 Wash and chop cilantro. Separate.
Slice two lemons. Separate.
Grease a baking sheet with oil or butter. Place salmon and bathe with lemon juice. Season the salmon with salt, garlic, and pepper.
Place the lemon slices on top of the salmon along with a few pieces of butter (you can also melt the butter first, but it's not necessary).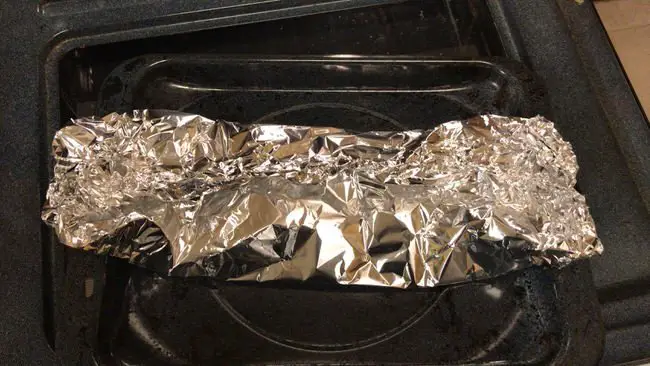 Wrap salmon in foil and bake it for 10 to 15 minutes at 400F (200C) or until cooked through.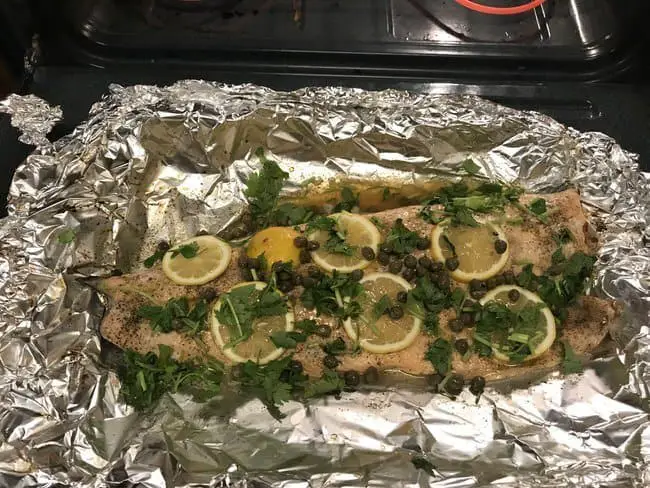 After this time, uncover the salmon leaving the edges of the fillet covered so they do not get burned.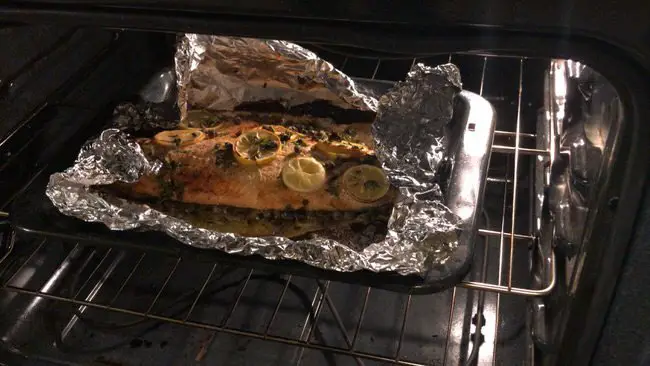 Change the oven from "bake" to "broil" (baking to roasting).
Take the baked salmon back in the oven for another five minutes or until brown.
Baked cilantro lime salmon it's ready to enjoy!
You can serve it with white rice, vegetables or pasta with olive oil.
I hope you prepare this recipe I'm sure you will like it!
Check out my baked Tilapia with vegetables recipe!