Deviled Shrimp Recipe, a tasty Mexican dish with spicy flavor to enjoy during Lent or at any time of the year.
This recipe is also available in Spanish: Camarones a la Diabla
The recipe was shared by a reader, Anabel Tamez, and I have been preparing it for my family for a long time, it is very good! Translated on March 3, 2022.
Your guests will love these shrimp, as long as they like spicy foods.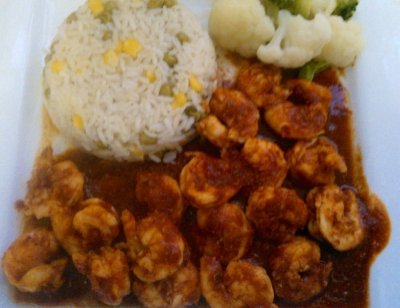 DEVILED SHRIMP recipe

Ingredients
1 1/2 pounds of raw shrimp (680 grams)
4 guajillo chiles
2 chipotle peppers in adobo sauce
1 clove garlic
1/2 cup of water
1 Shrimp Consommé Cube
Salt to taste
pepper to taste
Wash the shrimp under cold running water. Clean the shrimp, removing the vein.
Season with salt and pepper to taste. Separate.
DIABLA SAUCE Recipe
Sotend the guajillo chiles on warm water. Devein them.
Prepare the sauce: blend the guajillo chili, chipotle, garlic and salt; half a cup of water and a seasoning cube of shrimp broth.
Heat a little olive oil in a frying pan.
Place the shrimp and fry them for a few minutes just until they turn pink.
Remove them from the pan. Separate.
Heat the sauce in the same pan and until boil.
Add the shrimp and let it boil for about five minutes so that they take on the seasoning.
Serve with rice and salad.
I hope you enjoy this Deviled shrimp recipe!
More Shrimp recipes: