This recipe of beef fajitas with mushrooms will enchant you, prepare some tacos with this recipe easy for your family or to share in meetings!
May 5 is coming, and there's never a shortage of food at Hispanic meetings; no canapés for us please hehe, we prefer some good tacos and these beef fajitas are those dishes that don't fail.
If you prefer here you can see my recipe for chicken fajitas or simple beef fajitas.
These juicy fajitas include mushrooms, it is a good option if you do not want to eat so much meat, you can use half the meat and half of mushrooms and I assure you that they will be very rich.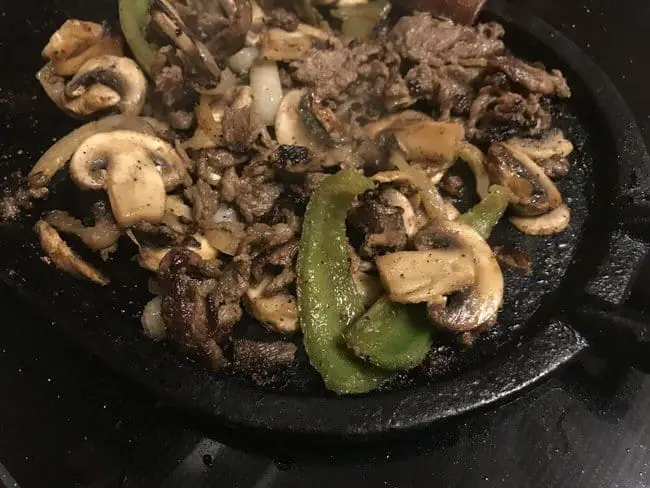 Beef fajitas with mushrooms
Ingredients
2 Lbs or 1 kg sirloin or mince meat or strips
2 sliced onions
2 bell pepper or bell pepper
2 cups sliced mushrooms
1 Cuckoo vegetable oil
1/4 Cup water
2 Lemons
Pepper
Garlic powder edift or natural
Salt
Marinate the meat with the garlic, salt, pepper and lemon juice and let stand for a few minutes.
Remove the seeds from the bell pepper or bell pepper and cut into slices.
Heat the oil in a deep skillet over medium-high heat.
Add the onion and fry until clear and a little golden, add the bell pepper, fry for a few minutes and place on a separate plate.
Add the meat to the same pan and fry, until it's just a little golden.
Add the onion and pepper from the dish and mushrooms, constantly mixing for a few minutes, add the water, mix and cover for about two minutes.
You can serve in tacos or accompanied by rice, beans and sauce!
Have you tried fajitas with another ingredient? Tell me!