Mexican elotes or corn in the cob are one of my favorite snacks, whether cooked or roasted, alone, we love them. Check out the video at the end.
In Spanish: Elote al horno
You can enjoy elotes by themselves or you can serve them as a side in a dish. Before learning how to make roasted corn in the oven, I was always looking for esquites or Mexican street corn, now, we eat them more often.
I really miss the elotero passing by my house in the afternoons, I mean, the elotes I used to buy.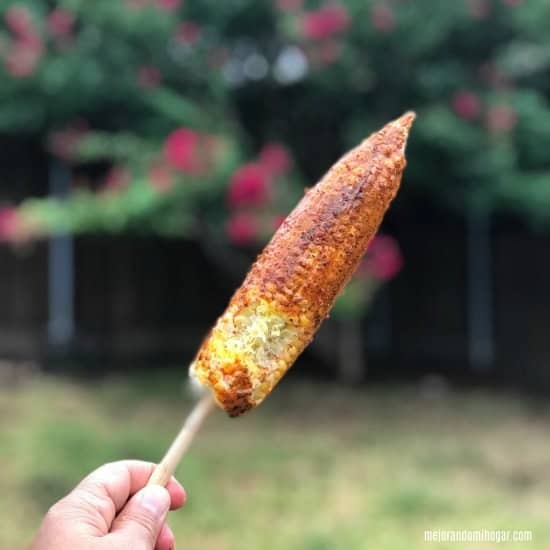 No more waiting for my husband to turn on the grill. I just put the elotes in the oven and that's it! My eldest son likes them but in a cup, because of the brackets.
Let's make the elotes step by step.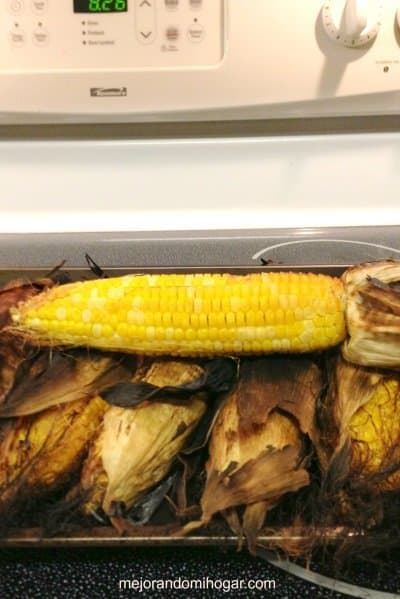 Roasted Elotes in the Oven

Ingredients
Elotes or corn with leaves
Cream or mayonnaise
Lemon
Chile powder
Hot red sauce
Salt to taste
First, you have to clean the elotes. Remove the hairs and one or two layers of leaves, and leave some others to protect the corn.
Turn the oven on, low heat, and place the corns on a baking sheet, for about 20 minutes. Turn the corns over after 10 minutes or so.
Switch the fire to high and cook for another fifteen minutes or until the corn is cooked or however you prefer, I like them very roasted, but my children like them soft.
Take them out from the oven, and prepare to taste, with lemon, cream or mayonnaise, red sauce, and chili powder.
Some people add cotija cheese or yellow cheese, but I don't like it.
Or just put salt and lemon on them.
Enjoy them!