Mushroom Spaghetti recipe is one of my children's favorite dishes, this recipe that my mom has been making for a long time.
In my house we serve this pasta when we have parties, our guests are always delighted. You can accompany some dishes of shrimp or chicken.
My kids love this pasta with Parmesan cheese on top, my brothers prefer it with melted cheese, which is added a few minutes before being ready, this time.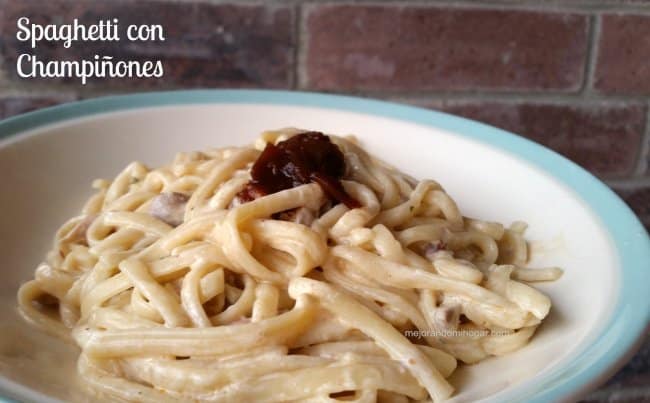 Mushroom Spaghetti Creamy pasta recipe
Ingredients
1 pkg spaghetti
1 small cream cheese
1 cup milk
1 can mushroom cream
6 mushrooms, washed and chopped
1 tbsp butter
1/4 finely chopped onion
1 garlic, finely chopped
2 chipotle chile (optional)
(You can replace cream cheese and milk with a can of cream).
Cook the spaghetti according to the package instructions. Drain when ready.
In a blender, mix the cream cheese and milk. ( If you like spicy, add one or two chipotle peppers).
Melt the butter to a frying pan in medium heat and fry the garlic and onion.
Add the mushroom cream, chopped mushrooms, and the mix of cheese, let it boil.
Incorporate the cooked spaghetti and you're done!
Serve with some salad and garlic bread or some shrimp or chicken dishes.