Eating yout greens will be very easy with this Italian salad with homemade dressing, it tastes delicious!
My family love salads but especially this one that has a vinagrette flavor, the dressing is inspired by famous Olive Garden salad dressing.
This Italian salad with homemade dressing is easier than you imagine and the best thing is that you choose the quality of the ingredients of the dressing, I hope you enjoy it.
I serve it a few times as a starter or as a main course I just add a Milanese chicken or grilled chicken breast and ready, both ways it looks delicious!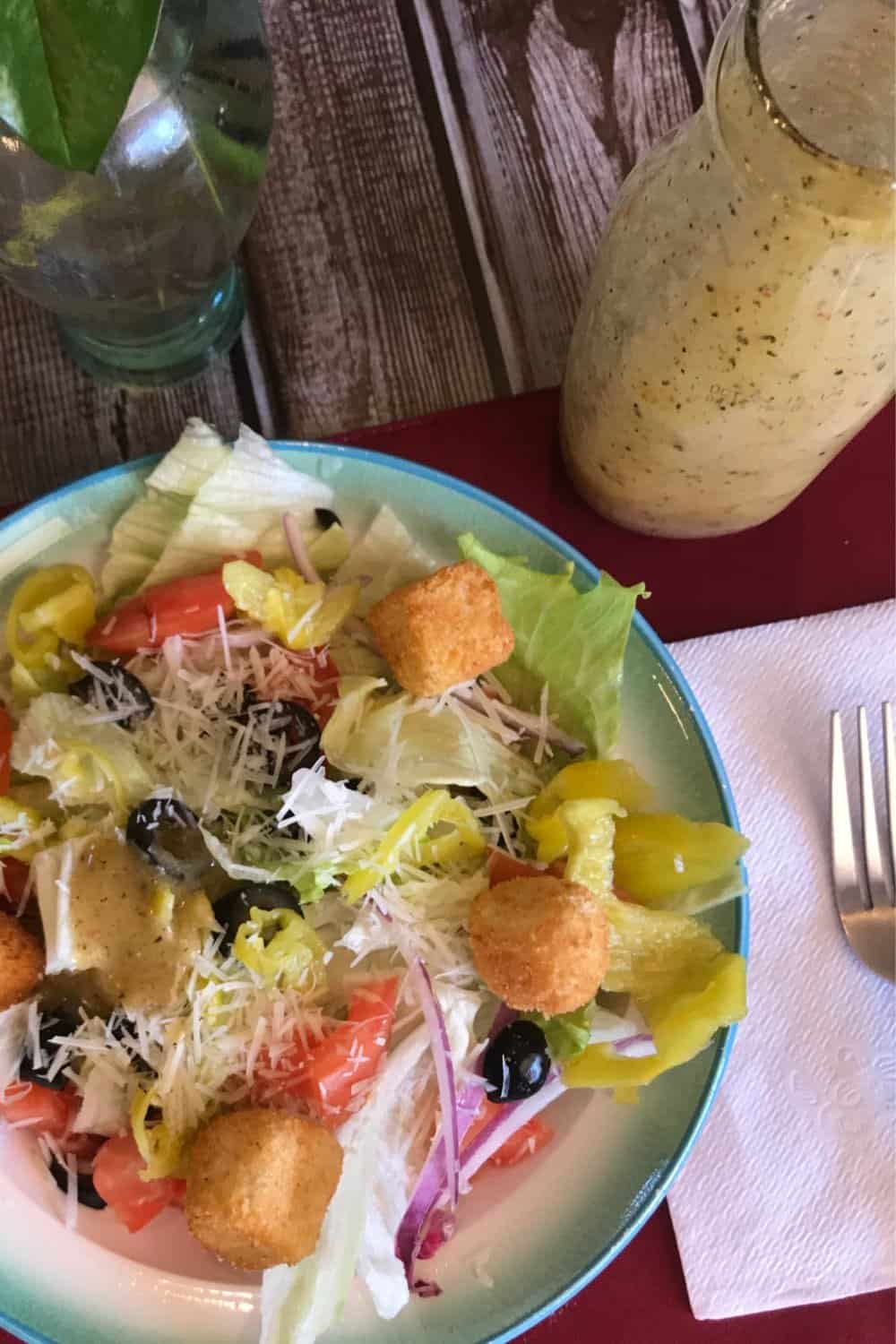 Italian salad with homemade dressing
Ingredients
For the Salad
1 Roma lettuce washed and cut into chunks
1 can sliced black olives
3 tomatoes sliced in crescent (or 20 cherry tomatoes)
1/2 sliced purple onion
1 can sliced banana peppers (chili or gon pepper)
1/2 cup grated Parmesan cheese (for garnish)
Garlic bread croutons
For the Italian homemade dressing
1/3 cup olive oil
3 teaspoons white vinegar or red wine
2 tablespoons mayonnaise
2 tablespoons garlic powder
2 tablespoons basil
2 tablespoons parmesan cheese powder
2 tablespoons water
1/2 teaspoon oregano
1 tablespoon lemon juice
Salt (to taste)
Ground black pepper (to taste)
For the salad:
Mix the lettuce, olives, tomatoes, onion, and banana peppers in a large salad bowl. Separate.
For the dressing:
After that, place all dressing ingredients in a lidded jar or bowl and mix until a homogeneous mixture is left; (olive oil, vinegar, garlic powder, basil, oregano, Parmesan cheese, salt, and pepper to taste; until fully incorporated).
Empty the dressing over the salad, add the grated Parmesan cheese, the croutons, and serve cold. You can go with a pasta-like Spaghetti with chicken and spicy tomato sauce or a tasty meatloaf easy recipe.