Learn how to cook flavorful beans using a slow cooker. This recipe allows you to prepare pinto beans in a crock pot in advance, whether you cook them during the day or overnight.
Check out my recipe in Spanish Frijoles en la slow cooker
Discover how the slow cooker can save you time while you focus on other tasks.
The slow cooker has become a game-changer in the kitchen, allowing you to prepare mouthwatering dishes effortlessly.
I use it to cook a variety of meals, including pozole, beef barbacoa, and charro beans, which are staples in my household.
Slow Cooker Bean Cooking Method
Cooking beans in a slow cooker is both simple and convenient. You can set them to cook overnight, ensuring they are ready for a hearty lunch in the morning.
It's also a great option for busy days when you don't have time to monitor the stove.
Below, I'll provide you with a basic recipe for cooking raw beans in a slow cooker.
Once you have cooked beans on hand, you can easily prepare delicious charro beans or refried beans that will surely delight your family and guests.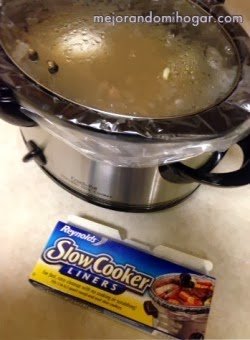 How to cook Mexican beans in the Slow cooker
Ingredients:
2 pounds (1 kg) of beans
16 cups of hot water
1 tablespoon of salt
2 cloves of garlic
¼ of an onion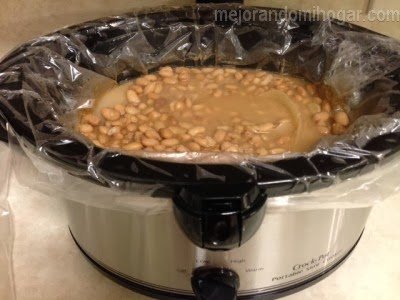 Start by cleaning the beans, and removing any impurities or debris.
Place the beans in a colander and rinse them thoroughly under a stream of cold water.
In your slow cooker, combine the cleaned beans, salt, garlic, and onion. I used the Reynolds slow cooker liners for easier cleaning.
Add the hot water, then cover the slow cooker. Now you have two options:
If you want the beans to cook in four hours, set the cooker to "High."
If you plan to leave them cooking overnight, select the "Low" setting for six hours.
You're all set! Once the beans are ready, you can serve them directly from the slow cooker.
You can also use them in various dishes, such as soups, stews, and more. Alternatively, transform them into flavorful charro beans or refried beans to enjoy with tostadas or your preferred side.
With these steps, you'll have perfectly cooked beans ready to enhance your favorite meals.
Check out more recipes: