Barbacoa tacos are a typical Sunday brunch in Mexico. This is a simple, homemade recipe, but it is better than many restaurants I have tried.
Includes affiliate links.
This recipe is also in Spanish: Barbacoa de Res con lengua y cachete
In México, people usually go to the butcher and buy the beef barbacoa ready to eat. Let's prepare it with this easy recipe and make some delicious barbacoa tacos!
In my hometown, you can see men buying barbacoa on Sunday mornings. The better places have a long line where you can buy it warm and freshly made, with salsa and tortillas to take away.
The traditional beef barbacoa recipe is prepared in a pit that is made on the floor, with firewood where meat is placed and is covered with maguey stalks. That is why you can see places where they announce that "barbacoa en penca de maguey" is sold.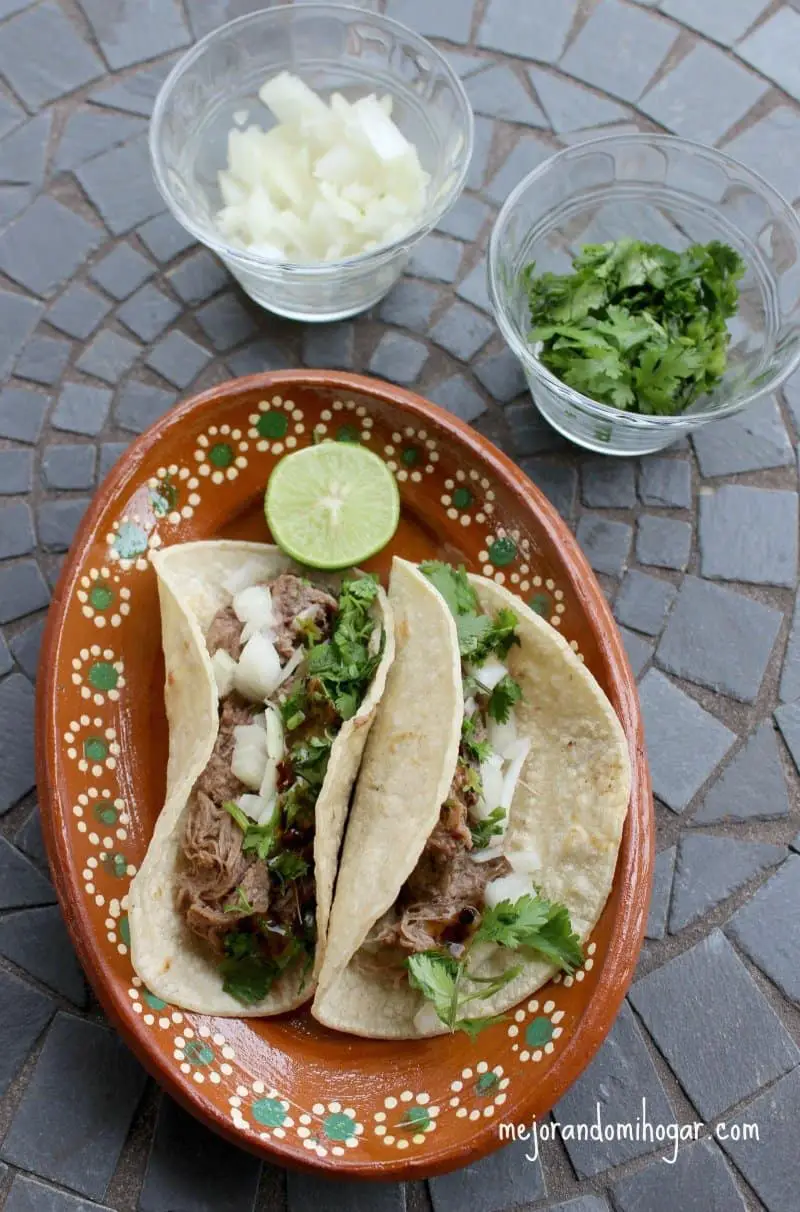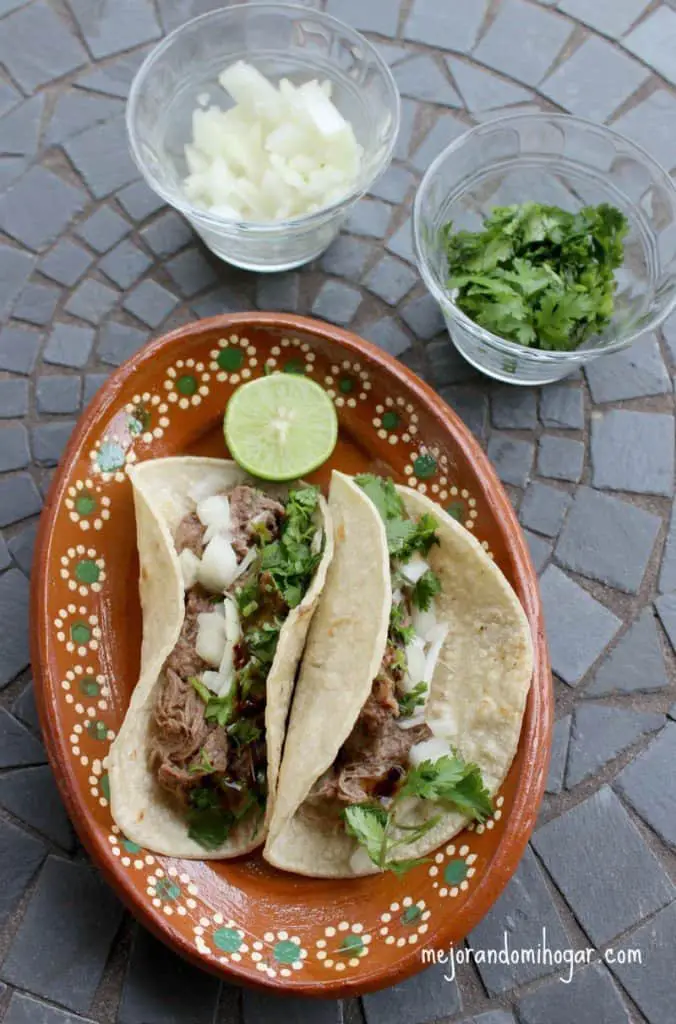 Barbacoa can be made of beef, lamb or mutton, but the one that is most used in my family is beef. And it is delicious if you also serve it along with menudo.
This is how many people eat it: You take a bite out of the barbacoa taco and take a spoonful of Menudo.
Meat cuts for Mexican barbacoa tacos
Tongue
Cheek
Chamberete (beef shank)
Skirt
Sirloin
Lips
Head
Eye
You can combine different cuts to change the flavor and texture; my personal favorite is a combination of the dry, meaty tongue and the fatty cheek.
HOW CAN THE BARBACOA BE PREPARED?
In a pit. (en pozo)
Pressure Cooker or Steamer
Slow cooker
Instant pot
Stove (It will take a long time)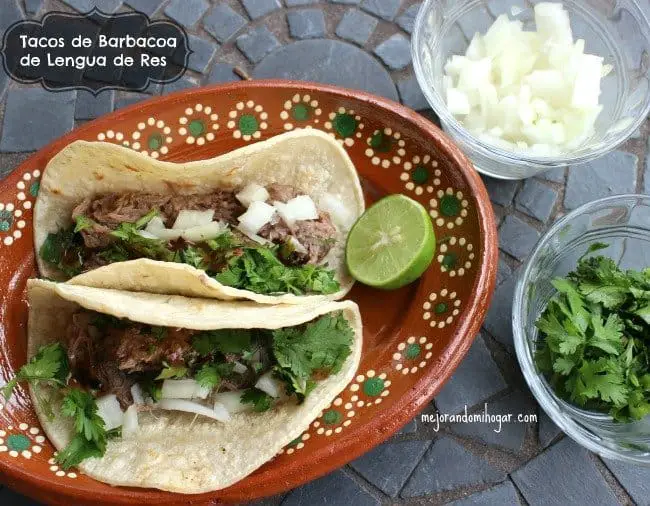 My family loves it, but here in the United States it is not easy to find and if you do it's usually very greasy, so I am used to cooking it.
I almost always prepare it on Saturday nights, to keep the tradition of having barbacoa tacos on Sundays.
I put the meat in the slow cooker or Crock-Pot and in the morning it will be ready for some great tacos!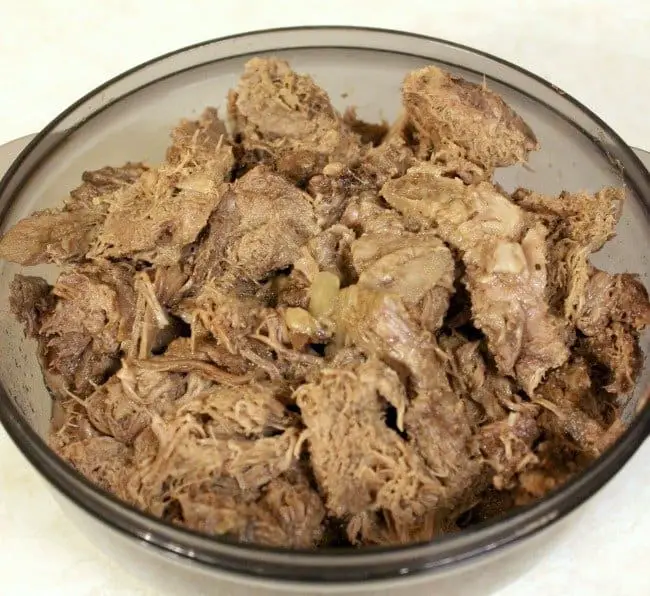 how to make beef barbacoa in a steamer
And if you want to know how to make beef barbacoa in a steamer, follow the same instructions, but wrap the meat in aluminum foil.
Add water to the pot, place the steamer accessory that goes inside, and then place in there the meat wrapped in aluminum foil.
Cook over medium-high heat for about three hours.
The beef tongue contains little fat, unlike the cheek. Personally, I like to combine the two types of meat.
It is important to know that when meat is fully cooked the original quantity is reduced.
I hope you enjoy this easy barbacoa tacos recipe with your family, and I also invite you to read how to cook beans in the slow cooker.
BARBACOA TACOS (TONGUE AND CHEEK BARBACOA)

INGREDIENTS
(For 5 People)
3 lbs Beef Tongue
3 lbs Beef cheek
10 bay leaves
4 garlic cloves
½ Onion
Water
3 tablespoons of Salt
To garnish
1 onion
1 bunch of cilantro
Corn Tortillas, or Flour Tortillas.
Green sauce
Lemons
First of all, wash the beef tongue and cheek, very well until it no longer has blood.
If the cheek has a lot of fat, you can remove some of it.
If the tongue is too large, you can cut it in half.
Place the cheek and beef tongue in the slow cooker or crock-pot with enough water to cover.
Add the bay leaves, garlic cloves, onion, and salt.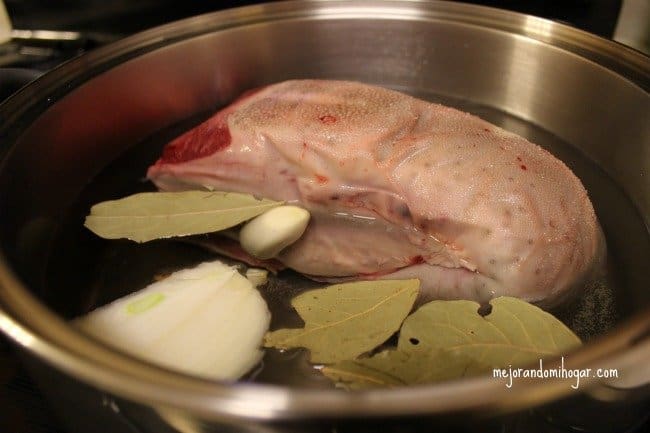 Cover the pot and turn on high, let barbacoa cook for approximately 6 hours. (If you leave it on slow, it takes about 8 hours) . I usually leave it slow overnight.
After this time the meat should be so soft that it can be easily shredded.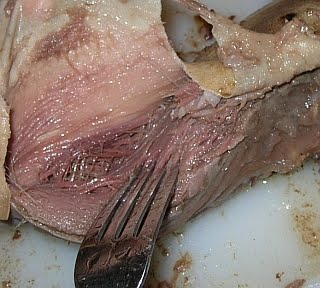 Meanwhile, you can make a delicious green sauce.
You can also chop the onion, cilantro and cut the limes.
Take out the pieces of beef cheek and chop, separate in a container.
Do the same with the pieces of beef tongue and remove the skin with a fork or knife, as shown in the photo.
Throw away the tongue skin because it is very hard.
Shred the tongue and mix it with the cheek.
Heat tortillas, either corn or flour.
Fill the barbacoa tacos, add onion, cilantro, lime, and sauce to taste.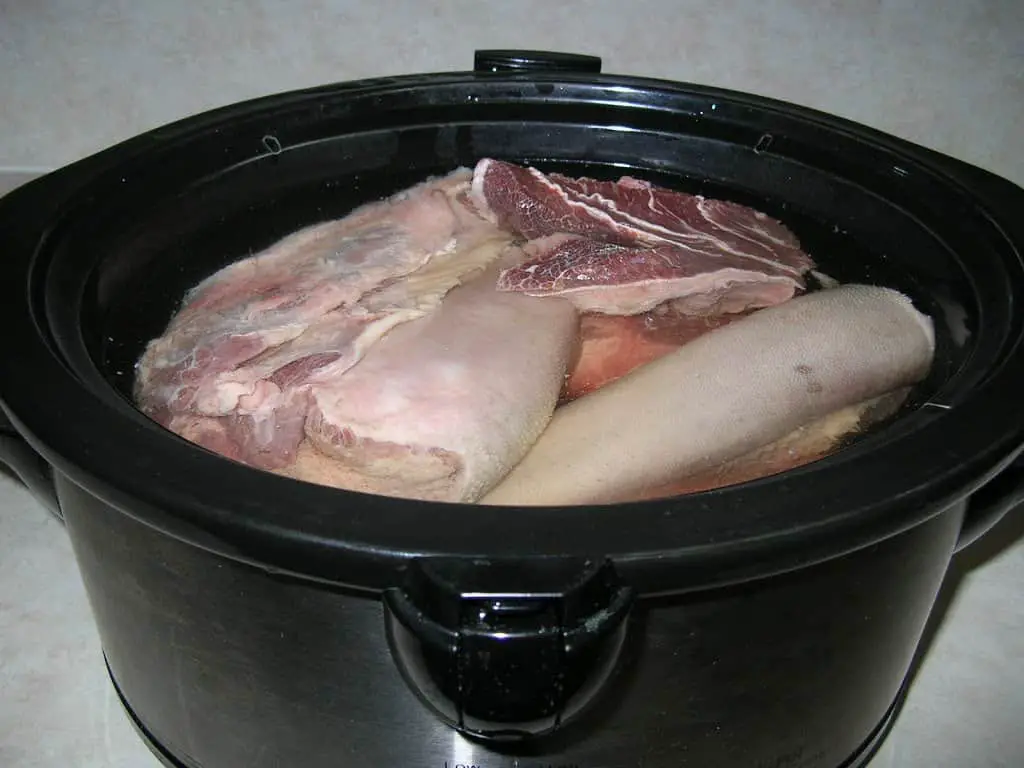 This is a really good barbacoa tacos recipe.
I hope you enjoy it!
More recipes with beef tongue: