Things to do in Galveston with kids from enjoying the beach to visiting museums there's a lot of family-friendly activities to do in this beautiful Texas city.
Go to The Island of Galveston, Texas to one of the beaches of Texas that has a lot to offer, it is located 50 miles from downtown Houston and there are many activities for the whole family.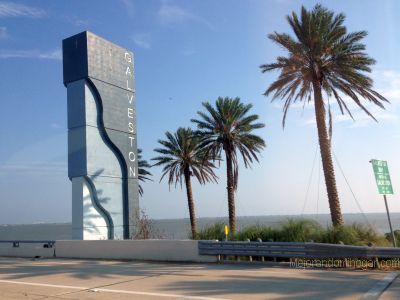 We live very close to the city of Dallas and we are only four and a half hours away, so from time to time when we take advantage and we go to drive, the kids love it, it is a good beach choice close to home.
Before the children entered classes we escaped to Galveston.  I'm sharing some tourist attractions that you should not miss, in addition to enjoying the beach, sand and sun, of course!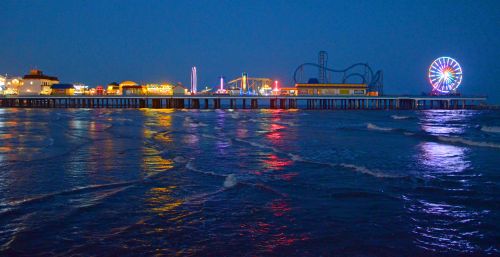 Things to do in Galveston with kids
The New Galveston Island Historic Pleasure Pier is a beachside themed amusement park in the Gulf of Mexico, open 365 days a year, there you can find formal and fast-food restaurants, some of the rides are: Pirate's Plunge Flume, Iron Shark Rollercoaster, Texas Star Flyer, Gulf Glider, Cyclone coaster, Sea Dragon swing, Rock & Roll cars, Sky Shooter, Carousel, Frog Hopper for kids, Texas Tea Cups, etc.
Moody Gardens Hotel and its different attractions. I invite you to read my article about all that this Hotel has to offer, including everything, water park, Rainforest, Aquarium, Music Museum and more. You can stay at the hotel or visit only the attractions.
Schlitterbahn Galveston Island Waterpark. The water park with more than 30 attractions and what surprised me is that it is open until December, how do they do? With a convertible technology in which you become indoor or roofed in the cold months. The park includes attractions such as Water Coasters, Wave Pool, Slides, Children's Games, Whitewater Rapids, the Boogie Bahn surf ride, and the Transportainment Interconnected Transportation System®.
Lone Star Flight Museum. Museum with an exhibition of different types of aircraft and its history Moody Mansion. Built-in 1895 and purchased by W. L. Moody Jr. 1900, after a hurricane. Mr. Moody celebrated more than 80 Christmases with their children, kept home as a house room until 1986, and now the house remains intact with its stuff and furniture.
Bishops Palace. Built from 1887 to 1982 and regarded as an example of Victorian exuberance. It is made of marble, high floors, and exotic materials.
Ocean Star Offshore Drilling Rig Museum. This museum has three floors of models and interactive exhibits showing us the history of oil and how the machines operated.
Rosenberg Library Museum. It is located inside the Rosenberg Library. There are exhibits documenting the history of Galveston and the Republic of Texas.
Seawolf Park USS Stewart/USS Cavalla. This museum is the home of the most famous submarine of the second world war.
The Grand 1894 Opera House Self Guided Tour. Very important in Galveston's history, he survived storms and hurricanes that hit that region. It is one of the few theaters in this era in all of Texas and is registered as a historic place.
Texas Seaport Museum & 1877 Tall Ship ELISSA. You can't miss living this experience. It is a ship with more than 135 years of history called ELISSA. Plus you can browse it!
Great Storm Theater. The history of the hurricane on the island of Galveston has been digitally restored. This documentary shares personal stories of survivors and how the city reclaimed. It was one of the worst disasters in American history. Now you can see it in high definition.
Harbor Tours. Do you feel more like speeding and boating? Well, you can't miss the different walks on offer. Like going to see the dolphins or renting a boat for a family event.
Galveston Duck Tours. How would you like to go in a truck for a tour of the city and suddenly get into the water? Well, don't miss this ride!
Treasure Isle Tour Train. Enjoy an hour and a half of walking around the city of Galveston on a small train. The trip includes the old and new Galveston.
Pirates, Legends of the Gulf Coast. Learn about the history, myths, and legends of Jean Lafitte, one of the most famous pirates who lived in Galveston and defended the U.S. at the Battle of New Orleans.
Haunted Mayfield Manor. Come to the Mansion of Terror and visit 12 rooms and open places that will make you scream in fear!
Tree Sculpture Tour. Hurricane Ike knocked down many trees in September 2008 on Galveston Island, but these trees come back to life turned into sculptures, thanks to homeowners, most of them concentrated in the East End Historic District, you can visit them in a private tour or by yourself.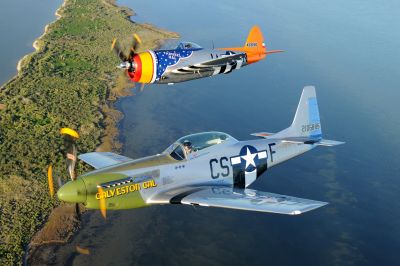 Have you visited any of these places in Galveston? 
Check out more trips: