How to make Mexican pork carnitas in the slow cooker. This is an easy recipe to make pulled pork for tacos, tortas or as a main dish.
I received product from Hamilton Beach. My opinions are honest and personal.
If you work away from home, or like me staying at home with more work than any other paid job, what we want most is to save time in everything and gradually we are gaining experience and grabbing questions to achieve it.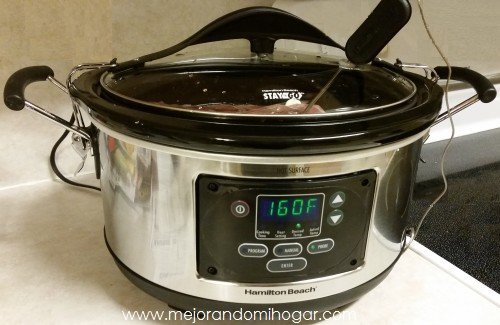 I like to cook, but I don't like to waste a lot of time doing it, the more practical the better, that's why I've become a lover of the oven and slow cooker pots, these pots are a marvel, in them I cook from beans, beef tongue and even often , I place the ingredients and forget about them!

Most of the time, I leave my slow cooker working at night, so in the morning I have the meat ready, but still use early and at dinner time, the food is ready. My newest pot is the Hamilton Beach Set'n Forget ®, which unlike the other slow cooker pots I knew has 3 cooking options:
Programmable. If you are going to leave the house, you can schedule the pot a certain cooking time, after this time, change the mode and stop cooking, just keep the food warm, so when you get the food is ready and hot.
Manual. In this option you only choose high temperature, low or just heat, without time.
Probe. It uses a thermometer or probe that are already included and is inserted in the case of cooking a large piece of meat, such as a pernil, turkey or pork roast, in my case I cook a pork roast or pork in chunk for carnitas and they were very good , before closing the pot you insert the probe into the meat and program the temperature that has to reach, when it reaches the temperature, the pot will stop cooking and it will only keep the food warm.
This time I prepare some pork carnitas, I like to prepare others, so during the week I make different dishes, it can be one day tacos of carnitas, cakes, carnitas in green sauce, already the work is minimal, because the meat is already cooked.

CARNITAS SLOW COOKER RECIPE
(MEXICAN PULLED PORK)

Ingredients
1 5-pound Pork Leg or Palette (2.5 kgs)
Half an onion
4 garlic cloves
4 bay leaves
1 1/2 cups water
1 cup orange juice
2 tablespoons chicken broth (or salt)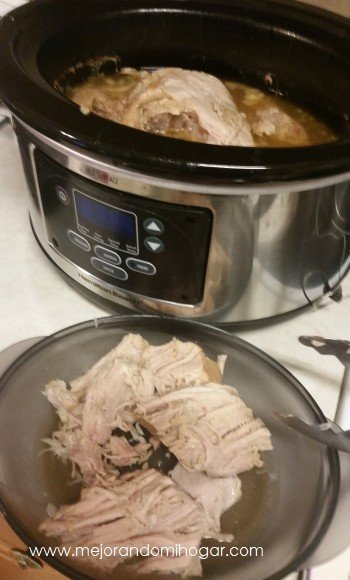 Add all ingredients to the Hamilton Beach Set'n Forget ® (or any) slow cooker.
Cover, insert the included thermometer and program at the 160F temperature which is indicated for pork. In the case of this recipe and using this option, the pot took about 7 hrs, the pork was very soft, juicy and easy to defrost.
If your pot does not have a thermometer, set the temperature to High and leave it around 6-7 hours for the amount of meat I use.
When the meat is ready, you can drain it, drain it and use it or fry it to make it a little golden brown.
With these carnitas you can make tacos, cakes, carnitas in salsa verde, carnitas en mole, etc.
I hope you like the recipe, which is not the traditional recipe of carnitas, but an easier one for practical women like me!
And now I invite you to a Hamilton Beach Set'N Forget Slow Cooking Pot Sweepstakes ®
(Finished)